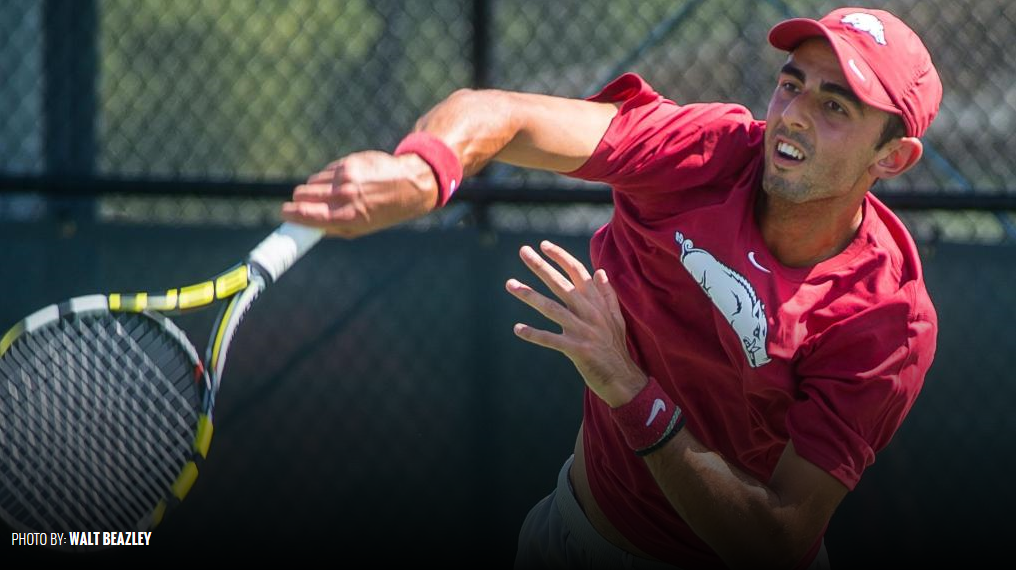 @RazorbackMTEN Travels to Face No. 13 Ole Miss
FAYETTEVILLE, Ark. – The University of Arkansas men's tennis team (11-6, 1-2 SEC) will hit the road to face SEC foe No. 13 Ole Miss (9-3, 1-1 SEC) at the Gillom Sports Center in Oxford, Mississippi at 5 p.m., CT on Thursday.
LAST TIME OUT:
The Razorbacks were defeated 4-0 by Mississippi State at the A.J. Pitts Tennis Centre on Saturday.
The match got off to a heated start as Arkansas and Mississippi State each claimed a doubles match apiece. Despite junior Santiago Munoz and freshman Branch Terrell losing the No.1 doubles court to No. 27 ranked Julian Cash and Florian Lakat 6-3, sophomore Johan den Toom and junior William Alabanese made up ground. Playing in the No. 3 position, the Razorback pair netted a 7-5 win over Juan Cruz Estevarena and Robin Haden.
With the doubles point coming down to the No. 2 spot, senior Jovan Parlic and junior Giammarco Micolani fought in a close match with No. 46 Mate Cutura and Tassilo Schmid, but ultimately fell 7-5.
In singles, Micolani won a commanding 6-4 first set over No. 114 Florian Lakat. But, the overall match was decided quickly as Arkansas fell in straight sets on courts five, two and four to solidify the Bulldogs' 4-0 win.
QUICK HITS:
– The Razorbacks look to collect their second SEC win and first conference road win of the season.
– Playing primarily in the No. 6 spot, freshman David Herrerias has won eight consecutive singles matches. The Castro Urdiales, Spain native's 6-2, 6-2 win over Alabama's Sean Donohue proved key in the Razorbacks' victory against the Crimson Tide on March 5 and his 10-2 dual record is the best on the team.
– After struggling in the beginning of dual play, junior Giammarco Micolani has won six of his last seven matches in the No. 1 position. Most notably, Micolani defeated then-No. 98 ranked Jakob Sude of Oklahoma State 6-4, 6-7 (4), 10-8 on Feb. 8.
– Leading the Razorbacks in dual doubles play is the duo of den Toom and Alabanese. Competing in the No. 3 spot, the pair holds a 7-1 record and has not faced defeat since Feb. 8.
A LOOK AT NO. 13 OLE MISS (9-3, 1-1 SEC):
Mississippi men's tennis was most recently upset by unranked Alabama 4-2 in Tuscaloosa, Alabama on Saturday. The Rebels took the doubles point, winning courts 1 and 3. But Alabama got momentum back on its side as Ole Miss' William Kallberg retired from play in the No. 4 singles position. The Crimson Tide went on to win matches in the No. 5, 1 and 3 spots.
Two Ole Miss players are currently ranked in the ITA singles top 125. Senior Nik Scholtz is No. 23, while junior Stefan Lindmark came in at No. 82. In the doubles rankings, Kallberg and freshman Gustav Hansson are No. 38.
Ole Miss is scheduled to play No. 2 Baylor on Tuesday at 5 p.m.
For more information on Arkansas men's tennis, follow @RazorbackMTEN on Twitter.