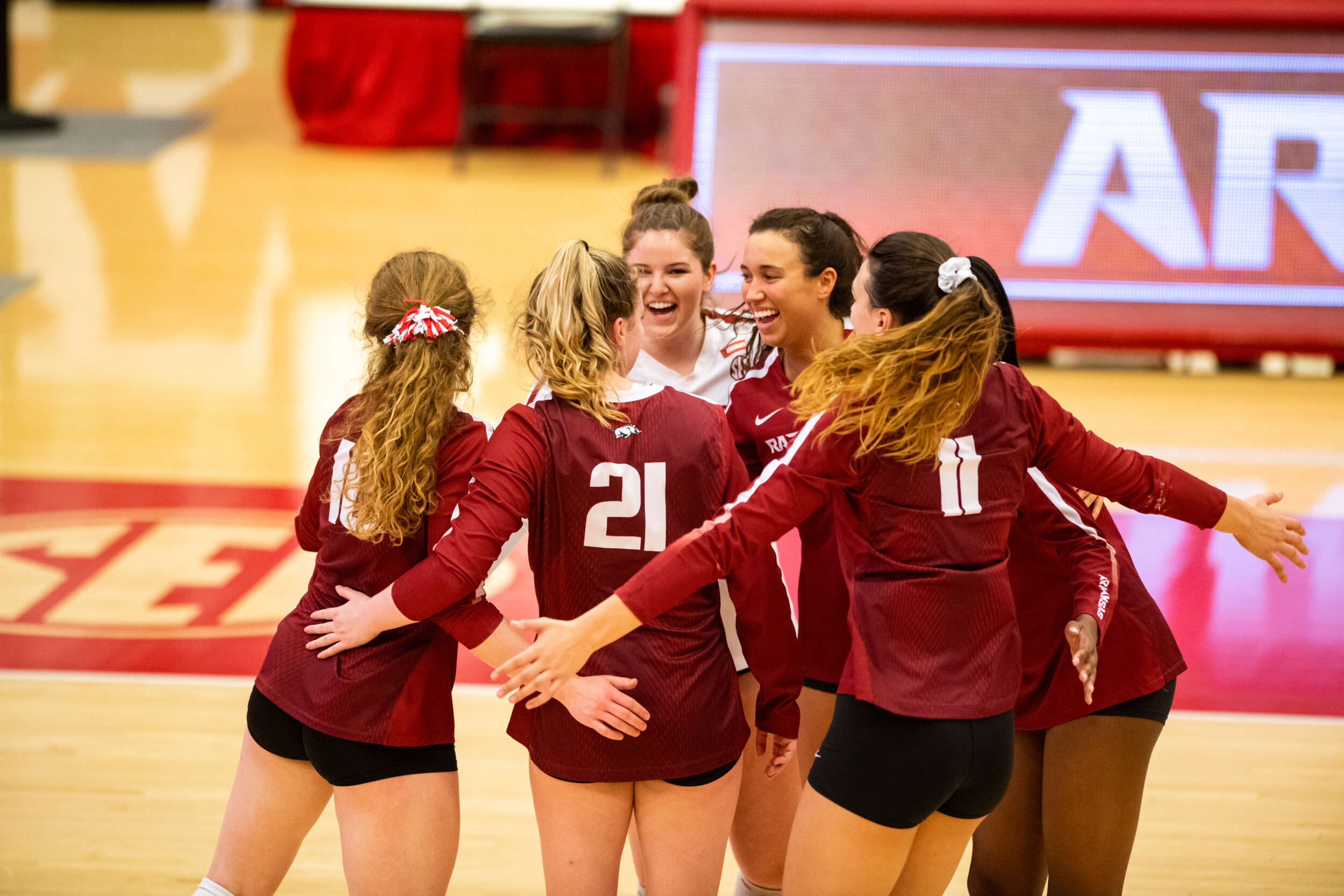 Razorbacks announce 2021 volleyball schedule; 13 home matches set
Razorback volleyball kicks off the program's 26th season with the Arkansas Classic beginning August 27 as part of a 29-match campaign, including 13 home matches inside Barnhill Arena.
The 2021 version of the classic will feature the Louisiana Tech Bulldogs from Conference USA, and two in-state foes; the Little Rock Trojans from the Sun Belt, and the Arkansas-Pine Bluff Golden Lions from the SWAC.
The Razorbacks will hit the road for three invitationals, first traveling to Bozeman, Mont. (Sept. 2-4) to face Montana State, Utah State and Portland. The following week, the squad heads to the Tulsa Invitational in Tulsa, Okla. (Sept. 10-11) to face Tulsa, Oral Roberts and Stephen F. Austin.
Wrapping up the non-conference season, Arkansas will proceed to Raleigh, N.C. for the NC State Challenge (Sept. 16-17), featuring NC State and 2020 NCAA tournament team Georgia Tech.
The Hogs are 22-12 in non-conference matches under sixth-year Head Coach Jason Watson.
Coming off a strong conference-only 2020 season, Arkansas kicks off the 18-game SEC schedule with a home match versus LSU on Sept. 22. Following a bye-week, the Razorbacks visit the defending national champion Kentucky Wildcats for a two-match series beginning Oct. 22. The Hogs host 2020 SEC runner-up Florida in a two-match tilt on Nov. 11-12.
The conference season includes nine home matches, three of which are against 2020 NCAA tournament teams – Missouri and Florida twice.
The Razorbacks have a preseason test in an exhibition match at Barnhill Arena against the Missouri State Bears slated for Aug. 21.
2021 Schedule Quick Facts:
Four opponents were in the 48-team 2020 NCAA Tournament
SEC Opener: Sept. 22 versus LSU
29 regular-season matches | 12 home – 9 road – 8 neutral
One first-time opponent: Portland
Season tickets for the 2021 Arkansas volleyball season are now on sale and can be purchased by clicking HERE or calling the Razorback Ticket Center at 479.575.5151.