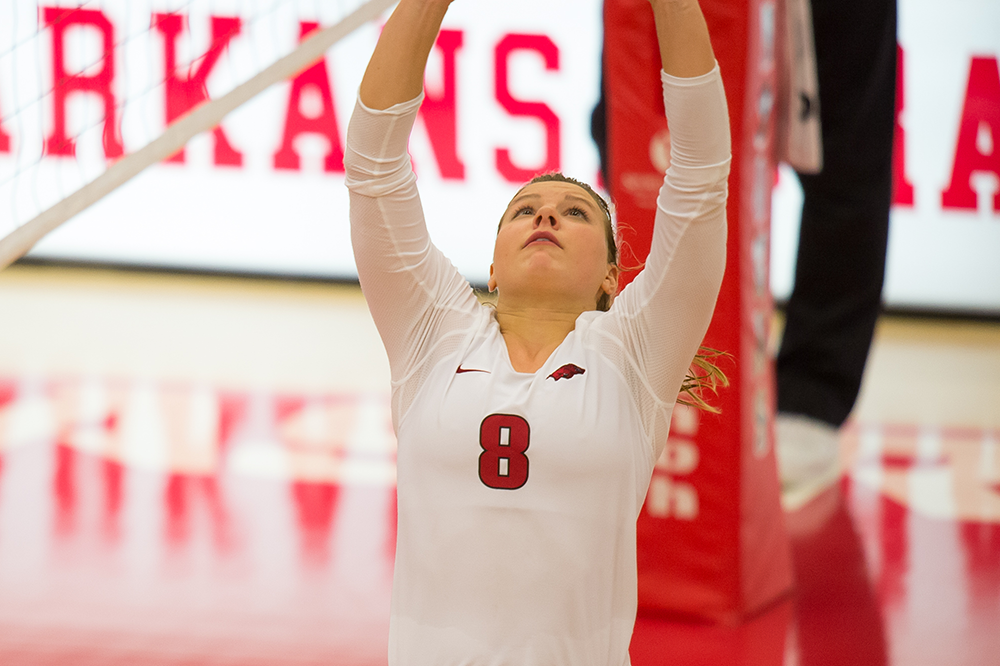 Razorbacks announce spring schedule
FAYETTEVILLE, Ark. – Head coach Robert Pulliza and the University of Arkansas volleyball team have announced their 2015 spring schedule which begins Saturday, April 11, in Kansas City. The four-date spring schedule features two home matches that will be played at Barnhill Arena in Fayetteville.
The Razorbacks are set to face Drake, Kansas, Missouri State and host UMKC at the spring-opening tournament on April 11. Arkansas returns to Barnhill Arena on April 18 to play Kansas for a second time. Match time for Arkansas-Kansas is still to be determined. The team will then play a midweek matchup on April 23 against Missouri State with first serve scheduled for 7 p.m. in Springfield, Mo. In their spring finale, the Razorbacks will host TCU on April 25 at 11 a.m.
2015 Arkansas Volleyball Spring Schedule (all times central)
April 11 – at UMKC Tournament (Kansas City, Mo.)
April 18 – vs. Kansas (Barnhill Arena) – TBA
April 23 – at Missouri State (Springfield, Mo.) – 7 p.m.
April 25 – vs. TCU (Barnhill Arena) – 11 a.m.
As announced in February, Pulliza is also set to host his 2015 Arkansas Volleyball Coaches Clinic on April 24 at Barnhill Arena. The one-day clinic will begin at 10 a.m. (CT) and cost $95 including lunch for all attendees who are encouraged to stick around for the Arkansas-TCU match and Red-White football scrimmage the following day.
Dates for the 2015 Arkansas Volleyball Summer Camps are also fast approaching. The camp schedule features Lil' Backs Camp (June 29-July 1), Position Camp (July 6), All-Skills Camp (July 7-9), Team Camp I (July 10-12), Team Camp II (July 14-16), Junior High Play Day (July 18) and Serving Clinic (July 18). For more camp information, visit the Razorback camp home page at ArkansasVolleyballCamps.com.
For more information on Arkansas volleyball, follow @RazorbackVB on Facebook, Instagram and Twitter.