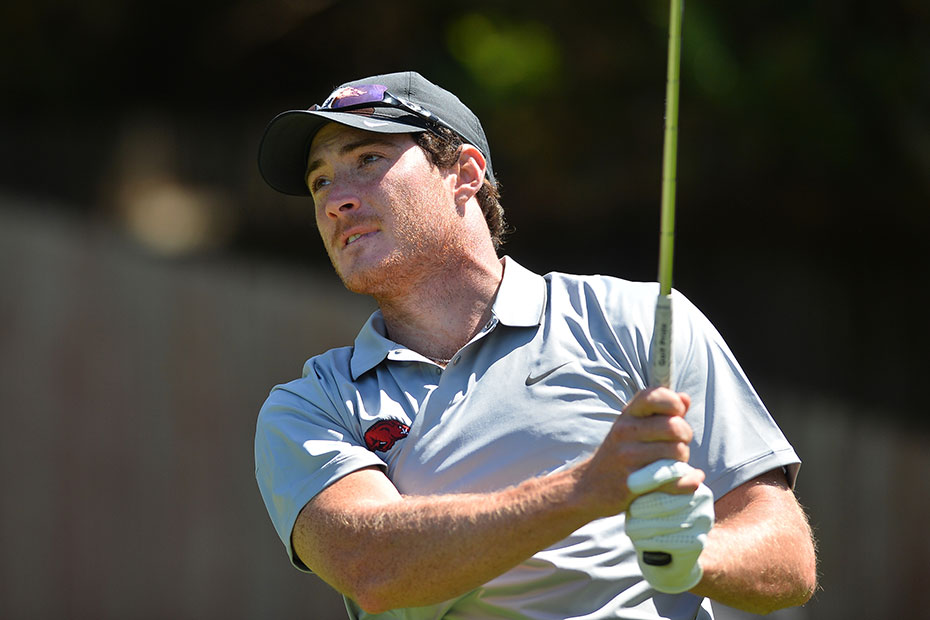 Razorbacks Cap Regular Season at Aggie Invite
Live Scoring | McMakin Video Preview
FAYETTEVILLE, Ark. – In one last tune-up before the SEC Championship, the No. 23 Arkansas men's golf team travels to Bryan, Texas this weekend to take part in the Aggie Invitational.
The 54-hole event will be played at the Jack Nicklaus designed Traditions Club, a par 72, 7,146-yard course that opened in 2004. Teams will play 36 holes on Saturday, April 2, before coming back for 18 holes on Sunday, April 3. Live scoring is available at Golfstat.com or via the Golfstat Live app.
The 15-team field features seven teams ranked in the top 40 in the country, including three teams in the nation's top 20 with Oklahoma State (12), Oklahoma (15) and LSU (18). Arkansas remains in the top 25, checking in at No. 23 in the latest Golfstat national rankings.
"We'll go up against another really good field with tough conditions at The Aggie so it will suit our guys really well, said head coach Brad McMakin. "We've got guys pushing each other and that makes a big difference. We didn't have that in the fall and that's one of the reasons we've been playing really well lately.
The Razorbacks are looking for their second victory of the spring season and the sixth top five finish of the 2015-16 campaign. Arkansas finished third in the Aggie Invite last spring, with four of the five players returning to the starting lineup for the event this year.
Taylor Moore makes his fourth straight start at the top of the lineup as the senior leads the team with a 71.3 stroke average in nine tournaments. He has shot under par in eight of his last 12 rounds and has finished in the top three in three of his last four events, including a victory at the All-American Intercollegiate.
Nicolas Echavarria has caught fire in the spring and finished in the top 20 in four of five events, including a victory at the Southern Intercollegiate. He is second on the team with a 72.0 stroke average and paces the Razorbacks with 77 birdies on the year.
Alvaro Ortiz played as an individual last week in Florida and posted a top 15 finish, tying for 12th overall in one of the toughest regular season fields this year. He has 18 birdies over his last six rounds and his 73.0 stroke average in eight events is good for third on the team.
Charles Kim will tee off third in the Razorback lineup looking for his fourth top 30 finish of the spring season. The freshman enters the weekend with four consecutive counting scores and three rounds under par in his last four events.
Kolton Crawford rounds out the starting lineup as one of three Razorbacks to play in all 10 tournaments this year. He has a 73.1 stroke average, four rounds under par and four top 20 finishes.
@RazorbackMGolf Lineup (Stroke Average)
Taylor Moore, Sr. (71.3)
Nicolas Echavarria, Sr. (72.0)
Alvaro Ortiz, So. (73.0)
Charles Kim, Fr. (73.7)
Kolton Crawford, R-Sr. (73.1)
Aggie Invitational Participants (Golfstat Rankings)
Arkansas (23)
Baylor (28)
Charlotte
Kent State
LSU (18)
Ohio State
Oklahoma (15)
Oklahoma State (12)
Michigan
New Mexico State
North Texas
Texas A&M (27)
Texas Tech (36)
UC Riverside
UTSA
For more information on Arkansas men's golf, follow @RazorbackMGolf on Twitter.