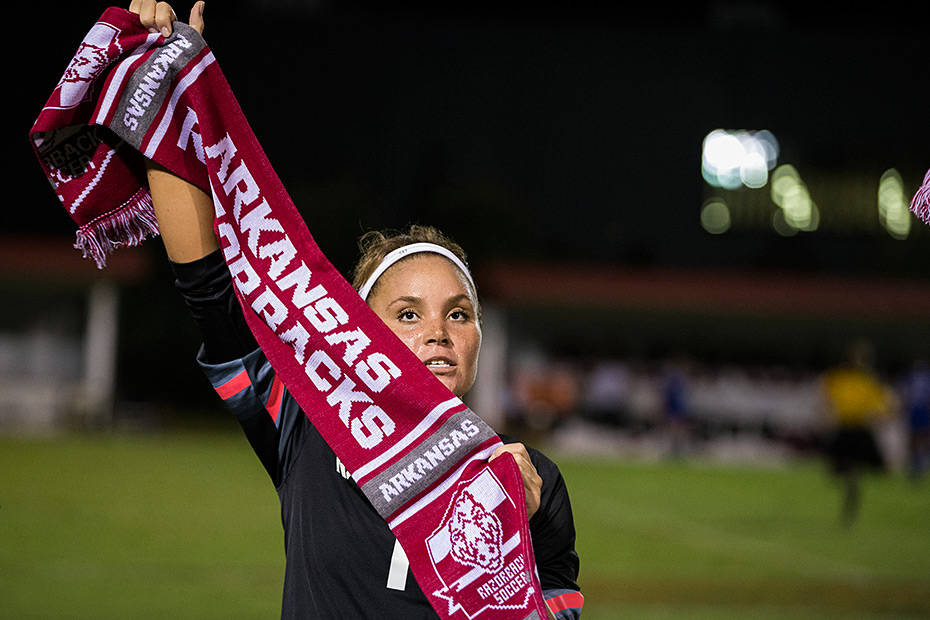 Razorbacks Continue To Build Forward Momentum
FAYETTEVILLE, Ark. – The Razorbacks' season continues after the team's stunning 2-1 upset of No. 2 Duke Friday night at Razorback Field in front of an electric, record-breaking crowd.
Arkansas will face a pair of non-conference opponents at home this week beginning with UMKC on Monday at 6 p.m. and Northern Iowa on Thursday at 6 p.m.
UMKC (0-1-2) vs. Arkansas (3-0-0), Aug. 29, 6 p.m.
This will be the second time the Razorbacks have faced off against the Roos in program history, with both matches taking place at Razorback Field. The teams last met in 2015 with Arkansas securing a 1-0 win.
UMKC returns 10 starters from a team that went 14-6-1 in 2015. The Kangaroos posted a 7-2-1 record in the Western Athletic Conference, finishing tied for second in the regular season standings and advancing to the semifinals of the conference tournament as the third-seeded team.
Picked third in the WAC preseason coaches' poll, UMKC is off to a 0-1-2 start in 2016, falling on the road to Omaha, playing to a draw on the road against Creighton and also drawing at home in a rain-shortened match against Missouri State.
The game will be streamed online via SEC Network+.
Northern Iowa (1-2-1) vs. Arkansas (3-0-0), Sept. 2, 6 p.m.
Arkansas will face off against Northern Iowa for the first time in program history, hosting the Panthers at Razorback Field on Thursday night. Selected sixth in the Missouri Valley Conference preseason poll, the Panthers are 1-2-1 in 2016, drawing on the road against North Dakota, falling to North Dakota State and South Dakota State and topping St. Ambrose at home.
SEC Stats Watch
As of Saturday, Aug. 27, Arkansas is one of two undefeated and untied teams in the Southeastern Conference. Alabama is off to a 4-0 start and South Carolina is 2-0-1 through three games with a match Sunday night against UCF.
Arkansas is third in points (22), assists (6) and assists per game (2.0); tied for second in goals (8), corners (27) and goals per game (2.67).
Freshman Stefani Doyle is second in goals (4), third in goals per game (1.33), tied for fourth in points (8) and points per game (2.67).
Senior Alexandra "Sparky" Fischer is tied for first in assists (4) and assists per game (1.33).
Senior Lindsey Mayo and freshman Kayla McKeon are both tied for second in game-winning goals (1).
Season Tickets
Season tickets are available for purchase through the Razorback Ticket Center at 800-982-HOGS (4647) or online at ArkansasRazorbacks.com. Each season ticket package will include a new 2016 Razorback Soccer scarf.
Single-game tickets are $5 and free for children 17 and under. Gates open one hour prior to kickoff.
For more information about Razorback Soccer, follow @RazorbackSoccer on Twitter, Instagram and Facebook.