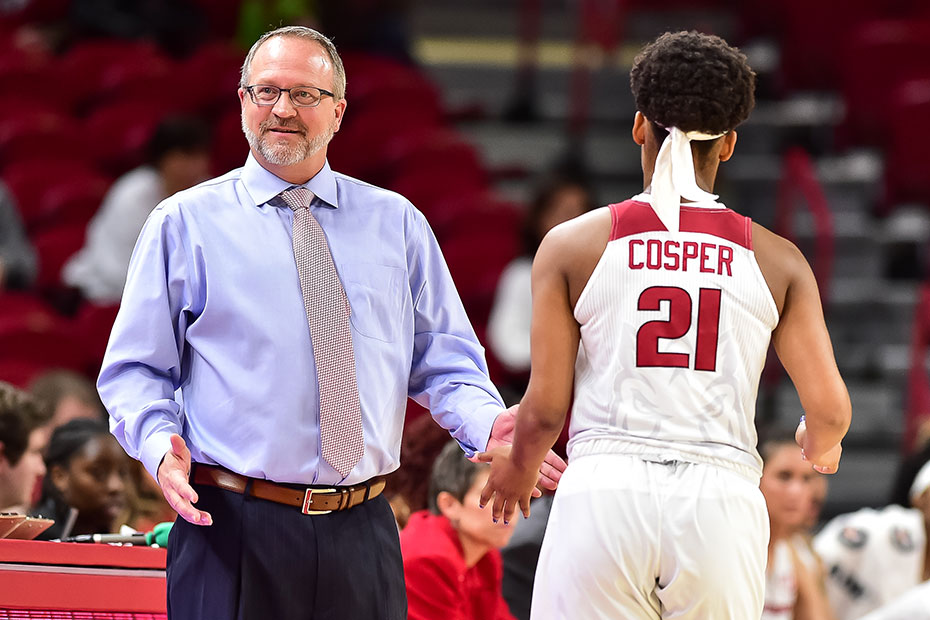 Razorbacks Face No. 15 Missouri
FAYETTEVILLE, Ark. – The University of Arkansas women's basketball team is coming off an 85-point effort against No. 11 Tennessee and hosts No. 15 Missouri in Bud Walton Arena on Sunday at 4 p.m.
The game airs live on the SEC Network. Fans are invited to "Pack the House" and tickets are just $1.
Scouting Arkansas
The Razorbacks (12-12, 3-8 SEC) are coming off a solid performance against the Lady Vols in which Devin Cosper and Malica Monk posted career-best numbers. Monk leads the team with 16.4 points per game and Cosper averages 15.7 ppg. Jailyn Mason also averages double figures with 10.4 ppg.
The Razorbacks finish with three of their last five regular season games in Bud Walton Arena. Arkansas ranks second the SEC and is 20th in the country with just 12.4 turnovers per game. The Razorbacks rank second in the SEC and is 18th in the country with 614 3-point field goals attempted and third in the SEC with 7.6 3-point field goals made per game and for 3-pointers made with 182.
Scouting Missouri
Both Arkansas and Missouri like to shoot the 3. There were 21 combined 3-point field goals in the first meeting. Missouri ranks first in SEC-only games averaging 8.5 3-point field goals per game while Arkansas is fourth with 6.8 per game. The gap narrows in all games with Missouri second (7.9 per game) and Arkansas third (7.6 per game).
The Tigers held off a strong fourth quarter by Kentucky in its most recent outing picking up an 83-78 win in Columbia and improving to 19-5 overall and 7-4 in the SEC. Sophie Cunningham is the Tigers' leading scorer and she is fifth in the SEC averaging 18.5 ppg. She ranks third in free throw percentage and second in 3-point field goal percentage
More Information
For more information about Arkansas women's basketball, follow us on Twitter and Instagram at @RazorbackWBB and on Facebook at Facebook.com/RazorbackWBB. Be sure to subscribe to our YouTube Channel, "Kickin' It In The Neighborhood" for an inside look at the Razorback women's basketball program and check out The Neighborhood podcasts at CoachNeighbors.com.