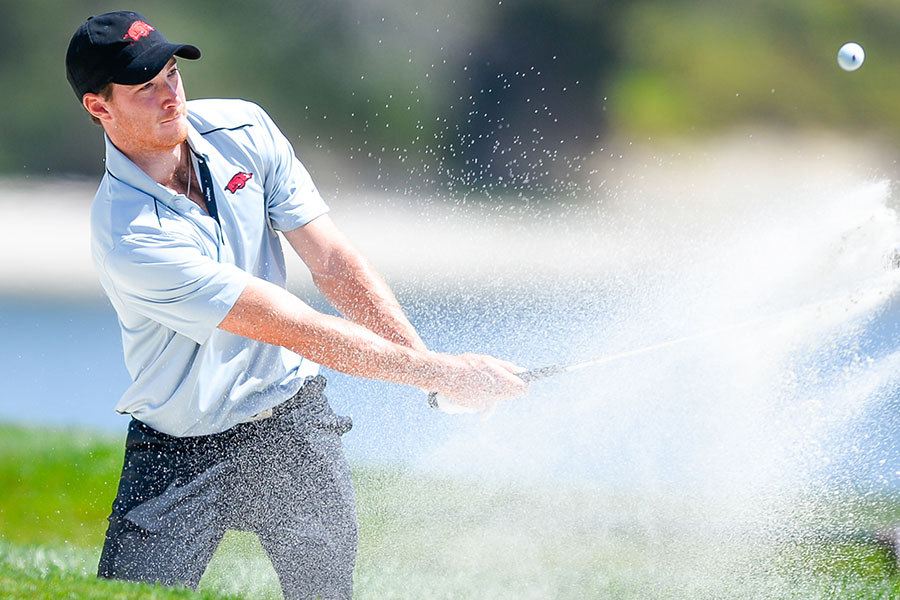 Razorbacks Finish Fourth At Bayou City Collegiate
HUMBLE, Texas – Highlighted by a three-under 69 by junior Taylor Moore, Arkansas received four counting scores of even-par or lower in the final round of the Bayou City Collegiate Championships held at the Golf Club of Houston en route to posting a three-under 285 to finish in fourth place in the 15-team field.
The three-under 285 is Arkansas' lowest score of the weekend, as it opened the tournament with back-to-back even-par 288s. The Razorbacks have shot 288 or lower in all six rounds in the spring, posting a pair of top 5s with a head-to-head record of 23-4.
Arkansas' 12 counting scores over the weekend featured nine at even-par or lower, including three each from redshirt junior Kolton Crawford and Moore. The 36-hole leader for the second straight weekend, Crawford was Arkansas' top finisher in a tie for second place at five-under. Crawford's 71-68-72/211 scorecard saw him play the front nine at four-under and bogey-free over the final two rounds.
Moore, the reigning SEC Golfer of the Week, picked up where he left off at the end of the second round with a bogey-free 69 on Sunday. Moore closed the final 11 holes on Saturday without a bogey to shoot 72 after a one-under 71 in the first round. A native of Edmond, Okla., Moore's tie for fifth place (-4) is his second straight top five while he's shot even-par or lower in all six rounds in the spring.
Redshirt sophomore Zach Coats continued his solid play with his second even-par 72 of the weekend. Coats produced a strong finish to his 72 on Sunday, playing the final 11 holes two-under with no bogeys. Coats went bogey-free on the par 72, 6982 yard course's back nine twice over the weekend, finishing in a tie for 29th place (72-75-72/219). The final counting even-par 72 came from freshman Alvaro Ortiz, which was his lowest round of the tournament. Ortiz moved up six spots into a tie for 42nd (74-76-72/222), while junior Nicolas Echavarria posted his second straight one-over 73.
Playing his second straight tournament as an individual, freshman Emil Soegaard closed his weekend with a one-under 71 to move up 12 spots on the individual leaderboard.
McMakin Post-Round Sound
"I'm pleased with our play this weekend. Kolton and Taylor have played outstanding the first two weeks. We didn't have our best this week, but we have made great improvements for the fall."
@RazorbackMGolf Lineup 
T2. Kolton Crawford – 71(-1)-68(-4)-72(E)/211(-5)
T5. Taylor Moore – 71(-1)-72(E)-69(-3)/212(-4)
T29. Zach Coats – 72(E)-75-72(E)/219
T42. Alvaro Ortiz – 74-76-72(E)/222
T69. Nicolas Echavarria – 81-73-73/227
IND – T60. Emil Soegaard – 78-76-71(-1)/225
Bayou City Collegiate Championships Final Standings (Golfstat Ranking) 
1. South Carolina (9) – 290-275-285/850(-14)
2. Sam Houston State – 295-280-277/852(-12)
3. Baylor (8) – 297-285-278/860(-4)
4. Arkansas (38) – 288-288-285(-3)/861(-3)
5. Houston (30) – 293-291-284/868
6. Southeastern Louisiana – 302-286-281/869
7. Troy – 294-292-284/870
8. Charlotte – 291-288-296/875
9. McNeese State – 294-302-280/876
10. UTSA – 294-293-293/880
11. New Mexico State – 298-293-291/882
12. Louisiana – 301-300-291/892
13. Lamar – 299-297-297/893
14. Rice – 304-308-283/895
15. Northern Illinois – 311-307-301/919