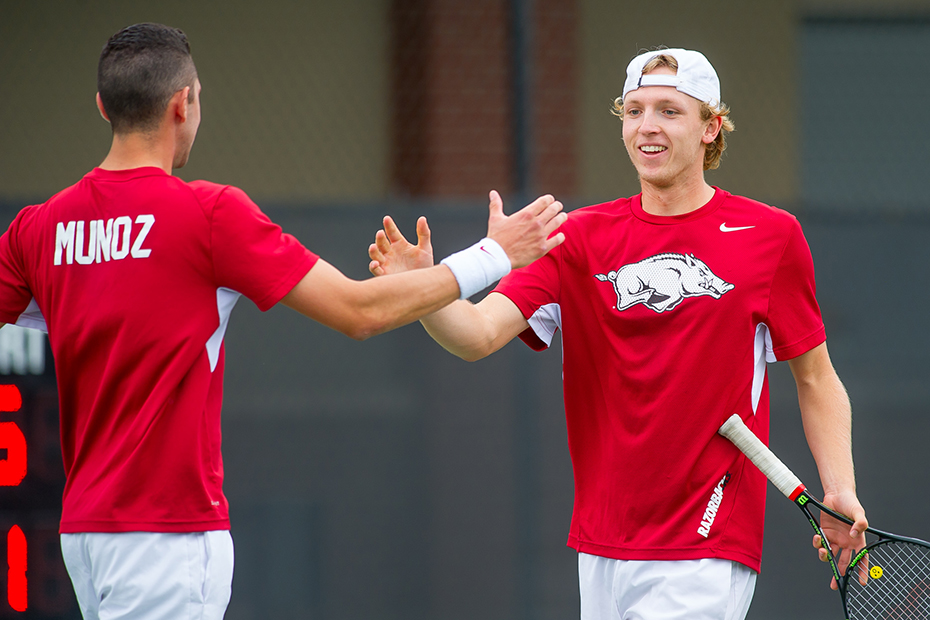 Razorbacks Going Dancing In Stillwater
FAYETTEVILLE, Ark. — In a season of rewriting history, the Arkansas men's tennis team is primed to add another chapter to the story.
The No. 19 Razorbacks were the fifth team announced during the NCAA Selection Show on Tuesday evening, being paired with Wichita State in the Stillwater Regional. Arkansas (19-8, 7-5 SEC) and the Shockers (17-10, 2-1 MVC) are set to play Saturday, May 14 at 9 a.m. CDT at Michael and Anne Greenwood Tennis Center.
Host school No. 16 Oklahoma State and Bryant round out the four-team sub-bracket, playing each other following the first match Saturday at approximately 12 p.m. The two winners advance to the Round of 32, with that matchup being Sunday, May 15 at 1 p.m.
"We are grateful to be back in the NCAA Tournament and excited for the challenge," head coach Andy Jackson said. "[Wichita State head coach] Brad Louderback and I have been coaching against each other for 30 years. His teams play great doubles and are tough fighters. We are eager for the opportunity to play and advance."
This is the 18th NCAA Tournament appearance in program history, and the first for Arkansas since 2006. Ten years ago, the Razorbacks were placed in the Columbus Regional, defeating Michigan 4-1 then falling to host Ohio State by a score of 4-0.
Arkansas has an all-time NCAA Tournament record of 12-17 and has reached the Round of 16 on two occasions. The Razorbacks advanced out of the Fayetteville Regional in 2004 with wins over Oklahoma State (4-3) and Tennessee (4-2). The team also reached the Round of 16 in 1980 by defeating Michigan 5-0 in Athens, Georgia. In both of those years, it was USC who ousted Arkansas from the bracket in the following match.
The Arkansas women's tennis team is also headed to Stillwater, Oklahoma, for its opening rounds of the NCAA Tournament. Head coach Michael Hegarty's Razorbacks (16-13, 5-8 SEC) will face Tulsa in the first round Friday, May 13 at 10 a.m.
For more information on Razorback men's tennis, please follow @RazorbackMTEN on Twitter.