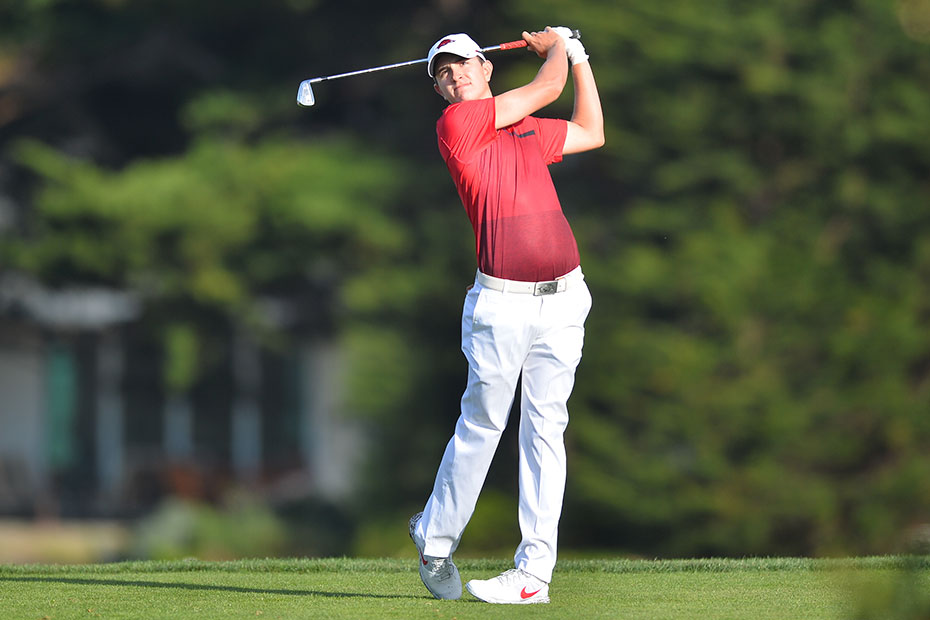 Razorbacks Houston Bound for All-American Intercollegiate
Live Scoring  |  McMakin Preview
FAYETTEVILLE, Ark. – The Arkansas men's golf team returns to action Friday in the Lone Star State, taking part in the All-American Intercollegiate on Feb. 19-21 at the Golf Club of Houston in Humble, Texas.
The three-day event, hosted by the University of Houston and the Rice Owls, features a 16-team field paced by five teams in the top 50 of the latest GolfWeek rankings. The 54-hole tournament is played at the home of the PGA's Houston Shell Open on the 6,982-yard par-72 course.
The teams will tee off No. 1 and No. 10 Friday and Saturday at 9 a.m., followed by an 8:30 a.m. shotgun start Sunday morning for the final round. Live scoring will be available on BirdieFire.com by clicking here. Arkansas will be paired with South Carolina and host Houston during the opening round.
The Razorbacks are coming off a third place finish at the Sea Best Invitational at TPC Sawgrass in their first tournament of the spring, posting rounds of 287-290-281/858 to finish behind Florida and Liberty in the 15-team field and record an 11-2-1 head-to-head mark against the competition.
In his first collegiate tournament, newcomer Charles Kim finished tied for 23rd as he carded rounds of 72-72-73 to claim SEC Freshman of the Week honors. The transfer from Texas was the No. 24 player on the Junior Golf Scoreboard and No. 28 in the GolfWeek rankings in the 2015 class.
Arkansas is looking for its fourth consecutive top five finish in Houston after a run of three straight top 5 finishes dating back to the fall that have produced a 28-10-1 head-to-head record over that span.
Senior Nicholas Echavarria leads the way for Arkansas with a 72.1 stroke average in 15 rounds this year. He has a team-best six rounds under par, including a two-under 69 on the final day of the spring opener at TPC Sawgrass. Taylor Moore and Kolton Crawford follow in the lineup for head coach Brad McMakin as the duo has recorded 76 birdies on the season and each have top 10 finishes to their name.
Alvaro Ortiz and Kim round out the Razorback lineup in Houston. Ortiz has five rounds under par in 2015-16 and Kim made his collegiate debut at TPC Sawgrass two weeks ago.
@RazorbackMGolf Lineup (Stroke Average)
Nicholas Echavarria, Sr. (72.1)
Taylor Moore, Sr. (72.4)
Kolton Crawford, R-Sr. (72.9)
Alvaro Ortiz, So. (72.9)
Charles Kim, Fr. (72.3)
All American Intercollegiate Participants (GolfWeek Rankings)
Arkansas (34)
Baylor (39)
Charleston Southern (56)
Charlotte (70)
Houston (50)
Houston Baptist (190)
McNeese State (78)
Louisiana Tech (127)
New Mexico State (117)
Northern Illinois (192)
Rice (161)
Sam Houston State (173)
SMU (29)
South Carolina (26)
Troy (76)
UTSA (106)
For more information on Arkansas men's basketball, follow @RazorbackMGolf on Twitter.