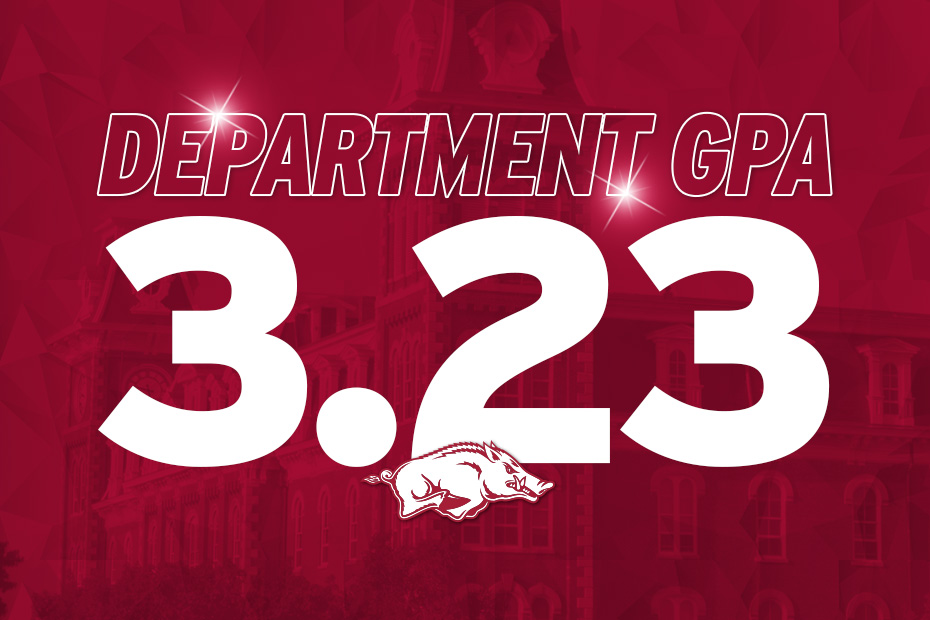 Razorbacks Making The Grade
FAYETTEVILLE, Ark. – For the 13th consecutive semester, University of Arkansas student-athletes combined to record a cumulative GPA above a 3.0 by posting a cumulative GPA of 3.23 following the 2016 spring semester. Razorback student-athletes also combined to earn a 3.23 term GPA for the spring semester.
"Congratulations to our more than 460 student-athletes who combined to record another outstanding spring semester and full academic year in the classroom," Vice Chancellor and Director of Athletics Jeff Long said. "Thanks to the hard work of the young men and women in our program as well as the commitment of our coaches and academic support staff to helping them succeed, we have seen continued progress in every academic measurable. That has resulted in record academic performance and most importantly a significant increase in the number of Razorback student-athletes graduating."
Twelve Razorback sport programs earned a term GPA exceeding 3.0 while 14 programs boast a cumulative GPA of 3.0 or better following the spring 2016 semester. Gymnastics turned in a 3.62 spring term GPA to lead the way for all women's sports. Golf was the top men's program for the term with a 3.37 GPA. Football earned a 2.94 term GPA, which is the highest recorded by that program since prior to the department's merger of men's and women's programs.
Nearly 300 Razorbacks (299), including 65 percent of all student-athletes, earned a spot on the honor roll after earning a term GPA of 3.0 or better for the 2016 spring semester. The percentage marked a 10 percent improvement from the 2015 spring semester (55 percent) and matched the percentage achieved in the fall 2015 semester (65 percent). A program-record 70 Razorback student-athletes earned a perfect 4.0 term GPA, besting the previous mark of 63 set in the fall 2015 semester.
A total of 155 student-athletes posted their highest term GPA in the spring 2015 semester. That marked an increase of 46 student-athletes from the 109 who earned a personal best term GPA in the fall 2015 semester.
Earlier this month, 76 Razorback student-athletes were eligible to participate in spring commencement ceremonies. Combined with fall commencement ceremonies, 100 Razorback student-athletes added their name to Senior Walk as graduates of the University of Arkansas.
2015-16 Razorback Athletics Academic Report Card:
Overall Department Cumulative Spring 2016 GPA is 3.23
Spring 2016 Department Term GPA is 3.23
13th consecutive semester that the overall department GPA is above a 3.00
Spring 2016 highest overall and women's sport term GPA – Gymnastics -3.62

Fall 2015 highest overall and women's sport term GPA – Swimming/Diving – 3.56

Spring 2016 highest men's sport term GPA – Men's Golf -3.37

Fall 2015 highest men's sport term GPA – Men's Golf – 3.43

Spring 2016 highest men's sport cumulative GPA – Men's Golf – 3.37

Fall 2015 highest men's sport cumulative GPA – Men's Golf – 3.38

Spring 2016 highest overall and women's sport cumulative GPA – Swimming/Diving – 3.55

Fall 2015 highest overall and women's sport cumulative GPA – Swimming/Diving – 3.53

Twelve (12) teams earned a 3.00 or above for the term GPA for the spring and 14 teams earned a 3.00 or above cumulative GPA
Sixteen (16) teams earned a 3.00 or above GPA for the fall term and 16 teams earned a 3.00 or above cumulative GPA
Seventy (70) student-athletes earned a 4.0 term GPA for spring is a record high and beats our previous record from Fall 2015, which was 63 student-athletes
Football spring term GPA 2.94 – highest term GPA for football program
Personal Best – 155 students earned their highest term GPA during the fall or spring.

Spring 2016 – 160 student-athletes
Fall 2015 – 109 student-athletes

299 student-athletes (65%) earned a 3.00 or higher for Spring 2016, an increase from Spring 2015 – 276 students – (60%)

Razorback Honor Roll (3.00 – 3.49 GPA) – 134 student-athletes
Athletic Director's List (3.50 – 3.99 GPA) – 95 student-athletes
Academic Champion (4.00 GPA) – 70 student-athletes

298 student-athletes (65%) earned a 3.0 or higher for Fall 2015

Razorback Honor Roll (3.00 – 3.49) – 136 student-athletes
Athletic Director's List (3.50 – 3.99) – 99 student-athletes
Academic Champions (4.00) – 63 student-athletes