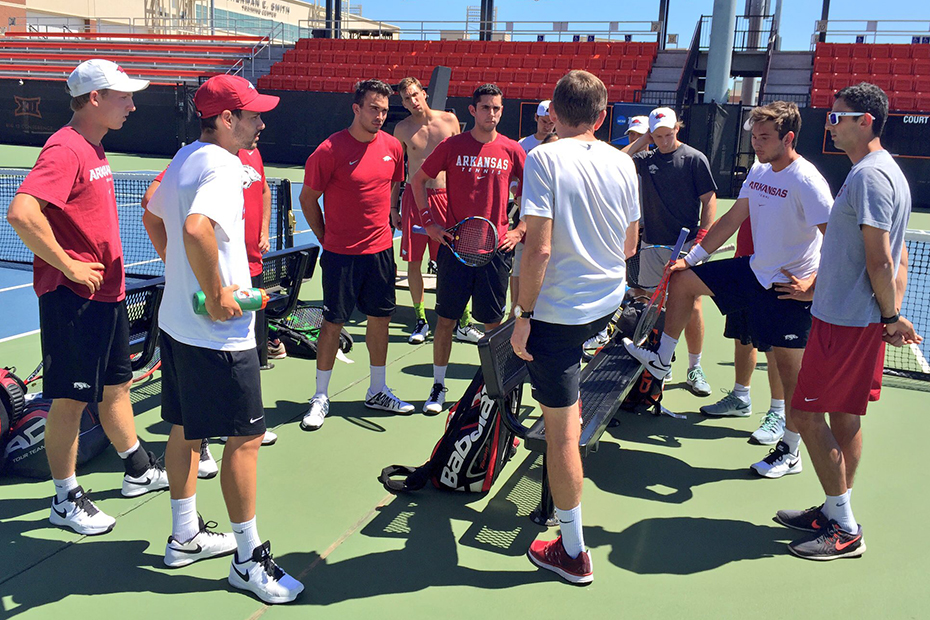 Razorbacks Meet Shockers In NCAA First Round
STILLWATER, Okla. — Certain feelings reside within the No. 19 Arkansas men's tennis team as the Razorbacks prepare for their first NCAA Regionals appearance in 10 years.
It's not tension, anxiety or nerves.
It's focus, optimism and confidence.
When Arkansas faces off against Wichita State at 9 a.m. Saturday morning at Michael and Anne Greenwood Tennis Center, the Razorbacks have the opportunity to advance to the round of 32 to face the winner of host No. 16 Oklahoma State and Bryant.
"It has been a while since we last played, but we're ready to face the challenge of Wichita State," head coach Andy Jackson said. "We're really excited because this is what we have worked toward all year."
Even though Arkansas hasn't won a match in the NCAA Tournament since 2004, these 2016 Razorbacks are no strangers to etching their names in the history books.
This squad defeated Texas A&M for the first time since 1995, Ole Miss for the first time since 1988 and Texas for only the second time since 1989; all en route to reaching the top 25 for the first time since 2006.
Clearly, Arkansas is capable of toppling giants – with a possible matchup against the Cowboys looming in the next round – but this special season hasn't been without bumps in the road. On the heels of a three-match losing streak, the Razorbacks will have their hands full with the Missouri Valley Conference champion in the first round.
The Shockers earned an automatic bid to the NCAA Tournament by claiming the MVC Tournament with victories over Illinois State and Drake on April 30 and May 1, respectively. In the finals, Wichita State pulled the upset against the No. 51 Bulldogs by a score of 4-3, only three weeks after falling to them 4-1 in a regular season matchup between the two.
A big reason for the Shockers' reversal was the return of their top singles player, Tin Ostojic. The No. 95 senior from Zagreb, Croatia, earned an automatic bid to the individual NCAA Championships by being the highest-ranked player in the conference. Although he missed the last four regular season matches due to injury, but returned for the MVC Tournament to help guide the Shockers to the title.
It was the third conference championship title (2010, 2013 and 2016) for head coach Brad Louderback, who came to Wichita State in 2009 with decades of experience, including stops at Illinois and Oklahoma State in the 1980s.
For more information on Razorback men's tennis, please follow @RazorbackMTEN on Twitter.