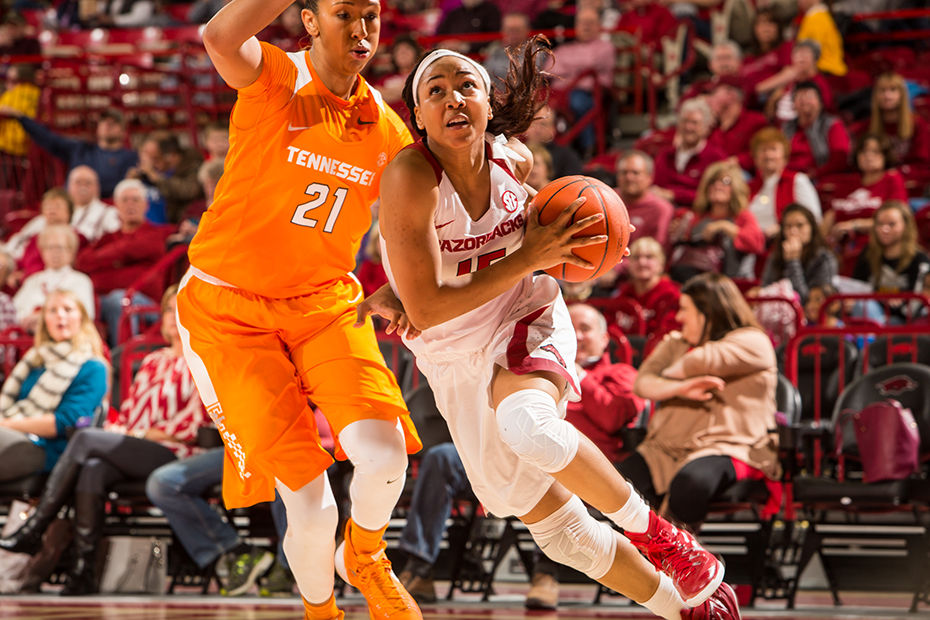 Razorbacks on the Road at No. 23 Tennessee
GAME NOTES
FAYETTEVILLE, Ark. – "They are still Tennessee."
That is the mindset of the University of Arkansas women's basketball team as they travel to Knoxville, Tennessee, to face the No. 23 Lady Vols in Southeastern Conference action Thursday at 6 p.m. on the SEC Network Plus.
There has been a lot of talk about Tennessee "being down" this year and Arkansas has defeated the Lady Vols once this season, getting a 64-59 win in Bud Walton Arena in January.
But it is still Tennessee and this meeting is on their home court, a place they have won 10 games this year.
Arkansas faces several challenges in this contest including being on the road, suffering with some recent offensive lapses and facing a balanced opponent with three players who score in double figures.
The Razorbacks need junior Jessica Jackson to start fast to avoid a big defect early in the game. Arkansas has trailed after the first period in 10 games and been tied with opponents in four others. The Razorbacks are mostly even with teams for the final 30 minutes and the slow starts have often been the difference in games.
In addition to Jackson, Arkansas will need offense from Devin Cosper and Kelsey Brooks along with continued good defense from lone senior Melissa Wolff. It will take a balanced effort by the Razorbacks to pick up the road win this week.
NOTES:
• Jessica Jackson has scored in double figures 19 times this year
o She has 70 double figure scoring games in her career
o Her 12 points against No. 13 Mississippi State was her eighth consecutive game with double figures
• Devin Cosper has had 12 double digit games as a Razorback this year
• Jordan Danberry, Kelsey Brooks and Alecia Cooley have all scored in double figures in six games
• Arkansas is in the midst of a four-game stretch in which they face three ranked teams
o No. 13 Mississippi State, at No. 23 Tennessee, Vanderbilt, at No. 21 Missouri
For more information on Arkansas women's basketball, follow @RazorbackWBB on Twitter.