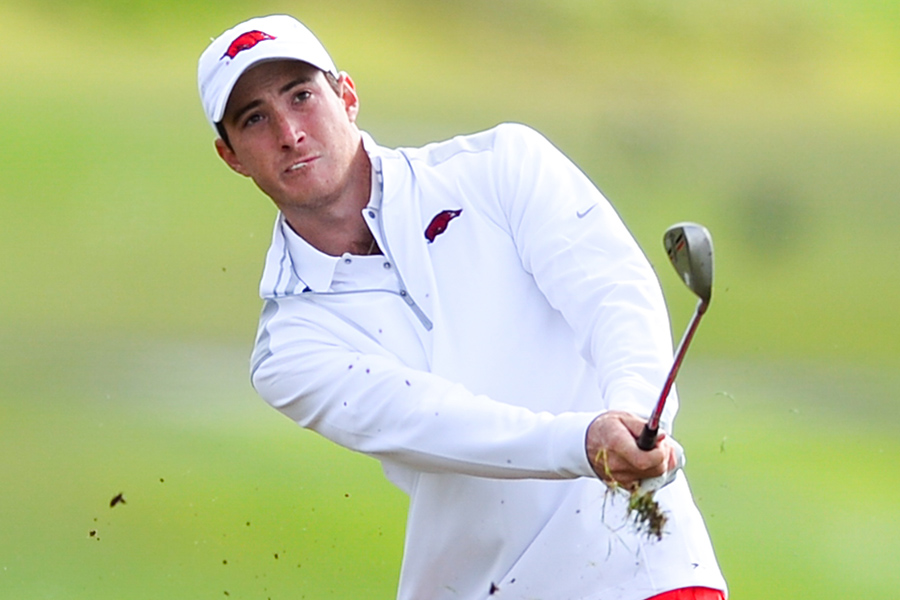 Razorbacks One Off The Lead At Aggie Invite
BRYAN, Texas – Led by the junior duo of Kolton Crawford and Taylor Moore, the No. 32 Arkansas men's golf team concluded the 36-hole opening day of the Aggie Invitational held at Traditions Golf Course just one stroke off the lead in sole possession of fourth place.
Part of a 13-team field that features 11 teams in the top 100 of Golfweek's current rankings and seven in the top 50, the Razorbacks were one of two teams to break 300 in the morning before closing the day with a five-stroke improvement in the afternoon with a 293. Arkansas is just one stroke back of host Texas A&M, No. 16 Oklahoma and New Mexico State.
Sunday's final round will get underway at 8 a.m. CT with the Razorbacks playing alongside No. 9 LSU and No. 10 Texas Tech off the first tee. Live scoring is available at www.Golfstat.com or follow @RazorbackMGolf on Twitter for in-round updates.
With a combined seven top 10s between them over four spring events, Crawford and Moore each finished the opening day inside the top 10. The team low-man in the morning with an even-par 72, Crawford ended the day in sole possession of sixth place with another 72, highlighted by two birdies in his final four holes. The Mansfield, Texas native is one of two players in the field to shoot even-par or lower in both rounds.
Moore's one-under 71 in Saturday's' second round was the lowest score turned in by a Razorback on the day and his team-leading 11th under-par round of the year. The Edmond, Okla. product's 76-71/147 scorecard has him in a tie for eighth place, while leading the field in par 3 scoring (-2) and the team in birdies (8).
Freshman Alvaro Ortiz and redshirt sophomore Zach Coats each turned in a pair of counting scores on the day. Ortiz played bogey-free golf over the opening 14 holes in the afternoon en route to a 73 after a 76. Ortiz is tied for 15th place. Coats has now turned in a counting score in 12 straight rounds, extending the streak on Saturday with a 74 and 77. Coats is coming off a career-best fourth place finish at the Towson Invitational last weekend.
@RazorbackMGolf Lineup
6. Kolton Crawford – 72-72/144 (E)
T8. Taylor Moore – 76-71/147
T15. Alvaro Ortiz – 76-73/149
T26. Zach Coats – 74-77/151
T68. Nicolas Echavarria – 83-83/166
T51. Emil Soegaard – 81-76/157 – INDIVIDUAL
Aggie Invitational Standings (Golfweek Ranking)
T1. Texas A&M (41) – 303-287/590
T1. Oklahoma (16) – 302-288/590
T1. New Mexico State (67) – 301-289/590
4. Arkansas (32) – 298-293/591
5. LSU (6) – 297-298/595
6. Texas Tech (10) – 308-291/599
7. California (21) – 307-297/604
8. North Texas (78) – 311-296/607
9. Kent State (87) – 314-297/611
10. UTSA (88) – 315-300/615
11. Michigan (47) – 318-302/620
12. Bowling Green (184) – 312-326/638
13. Princeton (190) – 336-321/657