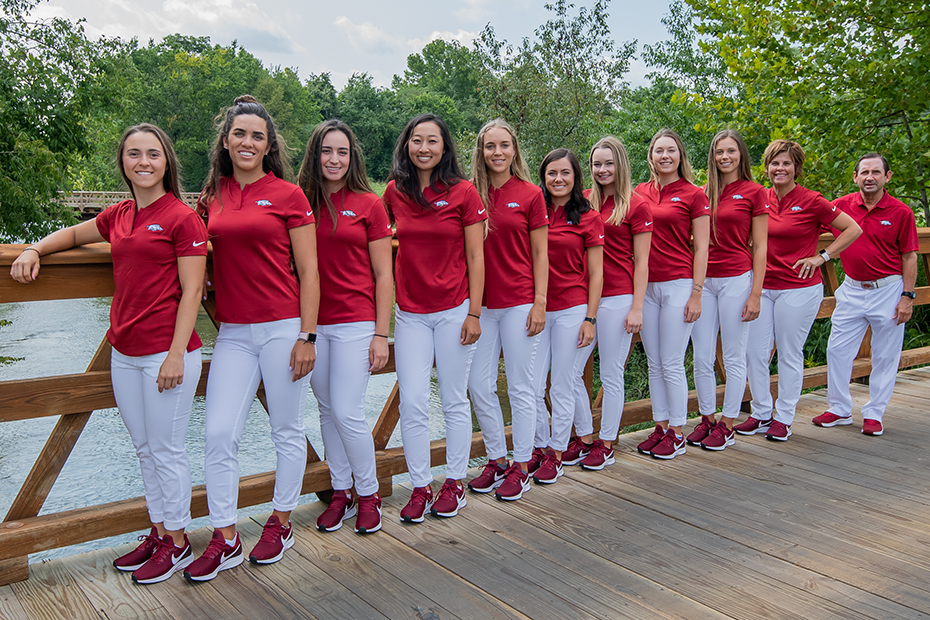 Razorbacks Open Season In South Carolina
Tee Times
FAYETTEVILLE, Ark. – The third-ranked University of Arkansas women's golf team tees off the 2018-19 season at the Powerade Cougar Classic at the Yeamans Hall Club in Hanahan, South Carolina, Sept. 9-11.
The Razorbacks open the season ranked No. 3 in both the Golfweek.com and Women's Golf Coaches Association preseason polls. Arkansas' senior-laden lineup features the No. 2-ranked player in Maria Fassi and No. 8 Dylan Kim as the Razorbacks look to continue the momentum from last year's record-setting season.
Fassi and Kim return as All-Americans with Fassi coming off a six-win season in 2017-18. They, along with senior Kaylee Benton, headline this week's lineup which also includes sophomore Maria Hoyos and redshirt freshman Brooke Matthews.
Arkansas Lineup '17-18 Average
Dylan Kim 71.56
Kaylee Benton 73.82
Maria Hoyos 73.58
Brooke Matthews –
Maria Fassi 70.50
Participating Teams (19 (Golfweek/WGCA Ranking)
Arkansas (3/3), Baylor (20/20), Boston College, Charleston Southern, College of Charleston, Florida (12/12), Florida State (15/15), Furman (14/14), Georgetown, Indiana, LSU, Maryland, North Carolina (RV/RV), NC State (RV/RV), Penn State, Tennessee, UCF, Vanderbilt (25/25) and Wake Forest (17/17).
Course
Yeamans Hall Club – Hanahan, S.C. – Par 72 – 6,261 yards
Live Scoring
www.Golfstat.com
Tee Times
Sunday, Sept. 9 – First Round – 7:30 a.m. (CT) off the No. 1 tee and 7:42 a.m. (CT) off the No. 10 tee
Monday, Sept. 10 – Second Round – 7:30 a.m. (CT) off the No. 1 tee and 7:42 a.m. (CT) off the No. 10 tee
Tuesday, Sept. 11 – Final Round – 8:00 a.m. (CT) shotgun start
Tournament Notes
After a year's absence due to golf course renovations, the Cougar Classic returns to Yeamans Hall Club for its 15th edition. The field will include eight teams ranked inside the Top 25 at the end of last season. Headlining the field individually will be the current ANNKIA Award winner Maria Fassi and the NCAA Individual Champion Jennifer Kupcho from Wake Forest.
More Information
Keep up with all of the latest news and information and get behind the scenes looks into our program on our social media accounts. Follow us on Twitter at @RazorbackWGolf and check out our Facebook page "Razorback Women's Golf." Stats, news and player information can be found at ArkansasRazorbacks.com.