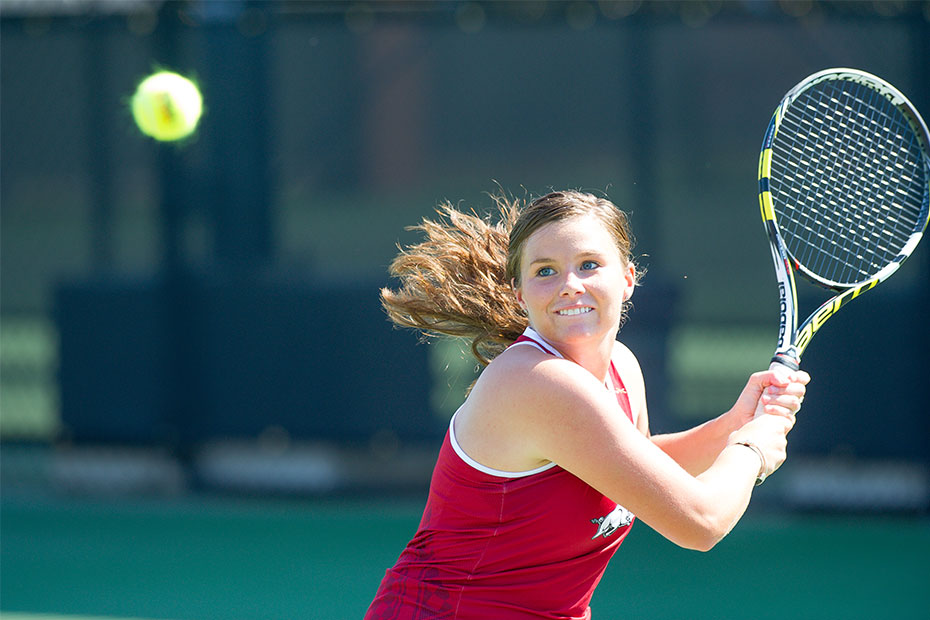 Razorbacks Open Spring Season
FAYETTEVILLE, Ark. – Eight months removed from the program's seventh trip to the NCAA Tournament in the last 10 years, Arkansas women's tennis will see its first dual-match action of 2016 Saturday when it hosts Houston at Dills Indoor Courts.
First Serve: Noon
Live Stats: Click Here
Admission: FREE
Promotions
• The first 200 fans in attendance will receive an Arkansas women's tennis T-shirt.
• One lucky fan in attendance will win a pair of tickets to next Thursday's Arkansas-Kentucky game.
From Coach Hegarty
"We are excited to open the spring season at home against a quality opponent in Houston. Our non-conference schedule is designed to prepare us for the always great SEC slate."
The Opponent
The University of Houston from Houston, Texas plays in the American Athletic Conference. The Cougars finished 22-6 last season and appeared in the NCAA Tournament for the fourth time in program history. Houston begins 2016 ranked No. 38 in the Oracle/ITA poll under first-year head coach Courtney Steinbock.
Series History
Saturday's contest marks the 24th time between the Razorbacks and the Cougars with Houston holding a 12-11 advantage in the series. However, Arkansas has captured nine consecutive victories over the Cougars, winning the last meeting, 4-2, on April 14, 2013 in Houston, Texas.
2016 Schedule
The Cougars are one of 17 teams on Arkansas' 2016 schedule that participated in last year's NCAA Tournament. The SEC landed the most number of schools (12) among the top 42 in the Oracle/ITA preseason poll, including No. 1 Vanderbilt, No. 3 Florida, No. 4 Georgia, No. 10 Texas A&M, No. 15 Alabama, No. 21 LSU, No. 24 Kentucky, No. 25 Ole Miss, No. 28 South Carolina, No. 29 Mississippi State, No. 36 Arkansas, and No. 42 Auburn.
Season Openers
Arkansas is 33-3 (.916) in season-opening matches, including a perfect 12-0 under head coach Michael Hegarty.
2014-15 Overview
The Razorbacks return eight letterwinners and are coming off a 2014-15 season where they captured 16 wins and earned their 13th appearance in the NCAA Tournament. The 2016 campaign will mark Arkansas' 13th season under head coach Michael Hegarty, who is the program's all-time winningest coach and has led the Razorbacks to seven NCAA Team Championship appearances.
New Dual Meet Format:
• No-ad scoring in singles and doubles
• Three doubles matches played with no-ad scoring, each match one set to 6, with a tie-break at 6-all.
• Followed (after a 10 minute intermission) by six singles matches with no-ad scoring, each match 2 out of 3 sets, with  tie-breaks at 6-all.
• No Warm-up with opponents (in doubles and in singles)
• Clinch/Clinch: Once the doubles point has been clinched, the remaining doubles match shall be stopped.  And in singles, once the team match has been clinched, any remaining singles matches shall be stopped (unless otherwise agreed upon by both coaches prior to the start of the dual meet match).
Up Next
Arkansas will travel to Los Angeles for the ITA Division I Kick-Off Weekend Jan. 22-23, which takes place at 15 campus sites. The Razorbacks will compete against Fresno State and either UC-Irvine or host UCLA. The 15 schools that win both of their matches at these events will be invited to play in the 2016 ITA National Women's Team Indoor Championship hosted by the University of Wisconsin from Feb. 5-8.