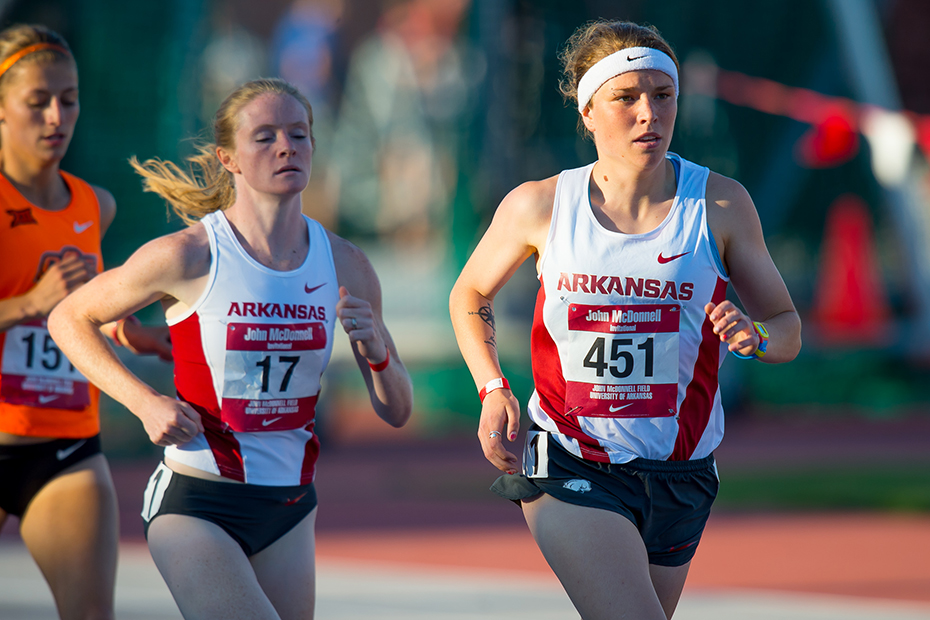 No. 1 Razorbacks Prepare For Road Tests
Meet Notes
LSU Invitational Schedule
Payton Jordan Invitational Schedule
FAYETTEVILLE, Ark. – Coming off a successful home-stand at last weekend's John McDonnell Invitational, the Arkansas women's track and field team will travel to Baton Rouge, Louisiana and Stanford, California for competitions at the LSU Invitational and Payton Jordan Invitational.
USTFCCCA Rankings
For the third time this outdoor season the Razorbacks have been selected as the No. 1 team in the nation by the USTFCCCA.
The LSU Invitational will feature competition between seven of the best programs in the NCAA including: Alabama, No. 1 Arkansas, No. 5 Florida, No. 2 Kentucky, No. 6 LSU, No. 15 Miami and No. 12 Texas A&M.
Events to Watch
Nine-time All-American Taylor Ellis-Watson will finally open up in her premier event taking on the 400-meter dash at Bernie Moore Stadium in Baton Rouge.
The senior out of Philadelphia could potentially face off against top Florida sprinters Kyra Jefferson and Robin Reynolds who both have NCAA top-10 times this season. Ellis-Watson also can expect a challenge from Miami's Shakima Wimbley who has a personal best in the event of 50.84 seconds from 2015.
The 200 may also be one of the most exciting events on track as Arkansas 100 hurdle record-holder Payton Stumbaugh will contest against several strong sprinters in hopes of racing to a sub-23 performance.
Arkansas also expects a solid contribution from the field as senior pole vaulters Ariel Voskamp and Megan Zimlich are poised to jump into the 2016 14 foot club in the near future.
On the West Coast, several Razorbacks will go head-to-head against the best collegians and professionals in the 1,500, 5K, 10K and 3,000-meter steeplechase (3KSC).
1,500 Entries
• Devin Clark – PR: 4 minutes, 20.82 seconds
• Therese Haiss – 2015 NCAA first round qualifier | PR: 4:19.26
• Nikki Hiltz – 2015 All-American | PR: 4:16.13
5,000 Entries
• Valerie Reina – 2015 NCAA first round qualifier | PR: 16:06.66
The 10K may be one of the most anticipated races of the weekend as three-time NCAA champion Dominique Scott-Efurd may be in action against 2015 NCAA outdoor 10K champion Molly Seidel for the first time since the 2015 NCAA Cross Country Championships in Louisville, Kentucky.
One of the best distance runners in Arkansas history, Scott-Efurd has a personal best in the event of 32:11.60 (Olympic standard – 32:15.00) from the 2015 season.
Already among the top collegians in the 3KSC, Jessica Kamilos will test out her improved athleticism at Cobb Field this Sunday.
A 2015 NCAA semifinal qualifier in the event, Kamilos will contest the dynamic race with last year's silver-medalist, Courtney Frerichs of New Mexico.
"This week is even more important because we really start to line everybody up straight in to their primary events," said head coach Lance Harter. "Dominique Scott is going to run the 10,000 in a field of many select pro athletes. Our 1,500 meter crew of Therese Haiss, Devin Clark, and Nikki Hiltz they'll all run the 1,500 which is their primary event. Then, the sprint crew, jump crew, and throw crew will all go to LSU and that's a clash of all the sprint titans hitting head-to-head at LSU's track. This is one of those where we split the forces and give them an opportunity to run against the best of the best. It's coming fast to a conclusion of the season so we got to make sure that we take care of business."
A live results link for both meets will be made available to fans at arkansasrazorbacks.com prior to the start of competition.
For more information on Arkansas track and field including in-meet updates, follow @RazorbackTF on Twitter.