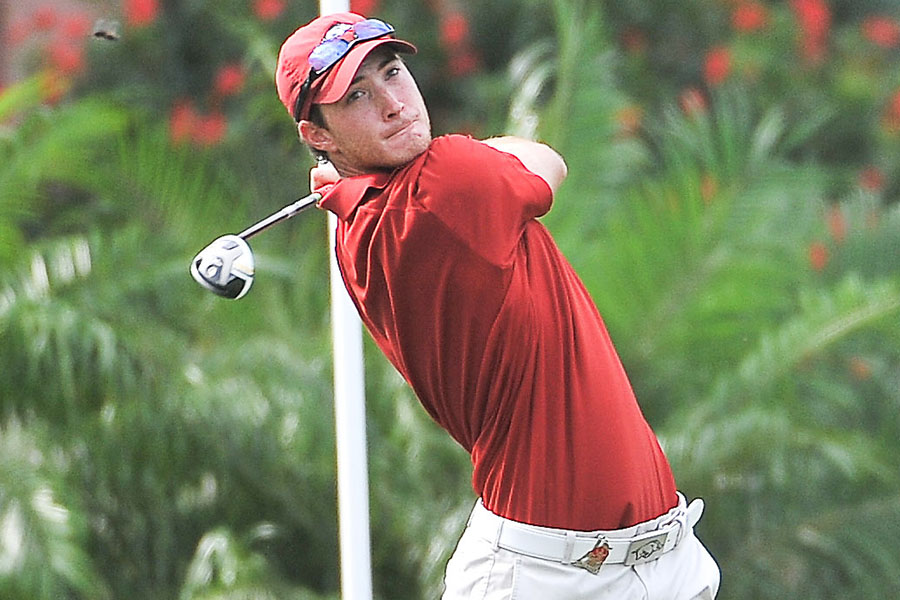 Razorbacks Start The Spring Season Strong
GAINESVILLE, Fla. – Behind 36-hole leader Kolton Crawford and junior Taylor Moore, the Arkansas men's golf team positioned itself in second place heading into Sunday's final round of the SunTrust Gator Invitational with a pair of even-par 280s at Mark Bostick Golf Course.
Crawford wasted no time getting his spring season started off right with a bogey-free two-under 68 in the morning followed by a one-under 69 to sit in a three-way tie for first place. The only player to card a pair of under-par rounds on the day, Crawford played his first 24 holes bogey-free at four-under.
Arkansas' back-to-back 280s puts it two strokes back of No. 22 USF heading into tomorrow's final round, as the Razorbacks look to defend their title from a year ago. The two teams along with No. 3 Florida State will make up the final group that will go off the first hole starting at 8:10 a.m. CT.
Moore joined Crawford in red figures to start the day with a one-under 69 and capped the 36-hole day with an even-par 70. Moore is part of a tie for seventh place overall in the 75-player field. Junior Nicolas Echavarria jumped 14 spots on the leaderboard with a second round one-under 69. One of four Razorbacks in the top 20, Echavarria sits in a tie for 13th position while freshman Alvaro Ortiz isn't far behind in 18th place. Ortiz was one of three counting scores at even-par or lower in the first round with a 70.
Live stats for tomorrow's final round are available at www.GolfStat.com or via the GolfStat App. Fans can also follow @RazorbackMGolf on Twitter for in-round updates.
@RazorbackMGolf Lineup
T1. Kotlon Crawford – 68(-2)-69(-1)/137(-3)
T7. Taylor Moore – 69(-1)-70/139(-1)
T13. Nicolas Echavarria – 73-69(-1)/142
T18. Alvaro Ortiz – 70-74/144
T48. Zach Coats – 78-72/150
IND – T56. Emil Soegaard – 75-77/152
SunTrust Gator Invitational Field (Golfweek Top 25)
1. USF (22) – 275-283/558
2. Arkansas – 280-280/560
3. Florida State (3) – 279-284/563
4. Florida – 281-286/567
5. Vanderbilt (6) – 293-290/583
6. Liberty – 290-294/584
7. UAB – 295-290/585
T8. Georgia Southern – 296-291/587
T8. Georgia State – 293-294/587
10. North Florida – 294-296/590
11. Mercer – 299-295/594
12. UCF – 309-288/597
13. Charleston – 302-296/598
14. Jacksonville – 307-299/606