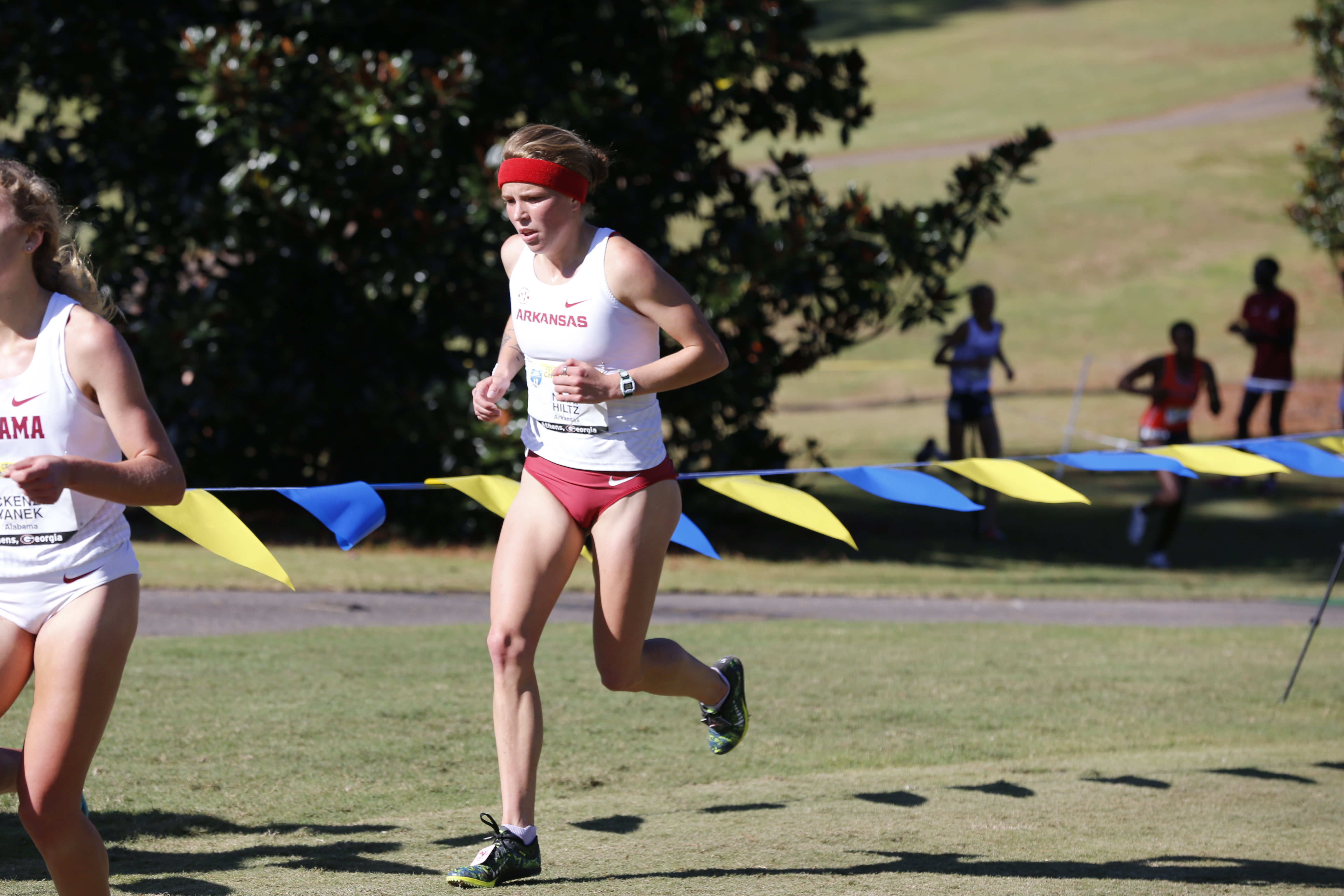 Razorbacks Sweep Regional Awards
NEW ORLEANS. – The sixth-ranked Arkansas women's cross country team swept the South Central Region awards announced Tuesday by the USTFCCCA in recognition of the program's seventh-consecutive regional title. The Razorbacks were one of two teams to sweep region awards.
Nikki Hiltz | South Central Region Athlete of the Year
Pacing the Razorbacks at the regional meet, Nikki Hiltz finished first overall and claimed the individual title with a time of 19:35.50. Hiltz's first place finish marked the fourth-straight year a Razorback has finished in the top spot at the regionals. The Santa Cruz, California native finished as the first Razorback in three of her five races this season, including three top-15 overall finishes.
Hiltz's Season Results (Overall)
Riverside Invitational 6K- 6th (20:15.90)
Joe Piane Invitational 5K- 26th (16:55.10)
Pre-Nationals 6K- 20th (20:15.20)
SEC Championships- 12th (20:49.50)
South Central Regionals- 1st (19:35.50)
Lance Harter | South Central Region Coach of the Year
Responsible for coaching the young group to success, head coach Lance Harter has been named the South Central Region Coach of the Year. It is the 17th time Harter has been named Region Coach of the Year. Harter's squad dominated the regional meet, having all seven runners finish in the top-15, while three finished in the top-10 leading to a 58-point victory for the Razorbacks. The regional meet saw four of the five fastest 6K times by Razorbacks this year, including new personal bests for Nikki Hiltz, Ashton Endsley, Carina Viljoen, Sydney Brown, and Therese Haiss.
Harter's Legacy
• 21 Regional Championships
• 17-time Region Coach of the Year
• 13 Region Individual Champions
Team Results (Top Five)
1. No. 6 Arkansas – 35 (1-2-8-11-13)
2. Texas – 93 (10-16-17-24-26)
3. Baylor – 116 (3-4-20-30-59)
4. SMU – 148 (7-21-35-42-43)
5. Abilene Christian – 163 (5-6-25-36-91)
All-Region Razorbacks
All seven of Arkansas' runners earned All-Region honors as Sydney Brown, Carina Viljoen and Taylor Werner earned All-Region recognition for the second-consecutive year. It was the second-straight season Arkansas had all seven of its runners earn All-Region honors, as the Razorbacks are the only program in the country to accomplish that feat.
Regional Awards
Women's Athlete of the Year: Nikki Hiltz, Arkansas
Women's Coach of the Year, Lance Harter, Arkansas
Up Next
The Razorbacks make a return trip to Louisville, Kentucky Saturday for the NCAA Championships. The races are scheduled to begin at 9:45 a.m. CT as Arkansas will make its final push for a championship.
2017 Cross Country Schedule
Fri, Sept. 1 – Cowboy Duals (Stillwater, Okla.) 2nd of 4
Sat, Sept. 16 – Riverside Invitational (Riverside, Calif.) 1st of 29
Sat, Sept. 16 – Southern Stampede (Joplin, Mo.) 5th of 32
Fri, Sept. 29 – Joe Piane/Notre Dame Invitational (South Bend, Ind.) 4th of 20
Sat, Sept. 30 – Chile Pepper Festival (Agri Park) 1st of 45
Sat, Oct. 14 – Pre-Nationals (Louisville, Ky.) | 1st of 43
Fri, Oct. 27 – SEC Championship (Athens, Ga.) | 1st of 14
Fri, Nov. 10 – NCAA South Central Regional (College Station, Texas) | 1st of 14
Sat, Nov. 18 – NCAA Championship (Louisville, Ky.)
For more information on Arkansas track and field including in-meet updates, follow @RazorbackTF on Twitter.