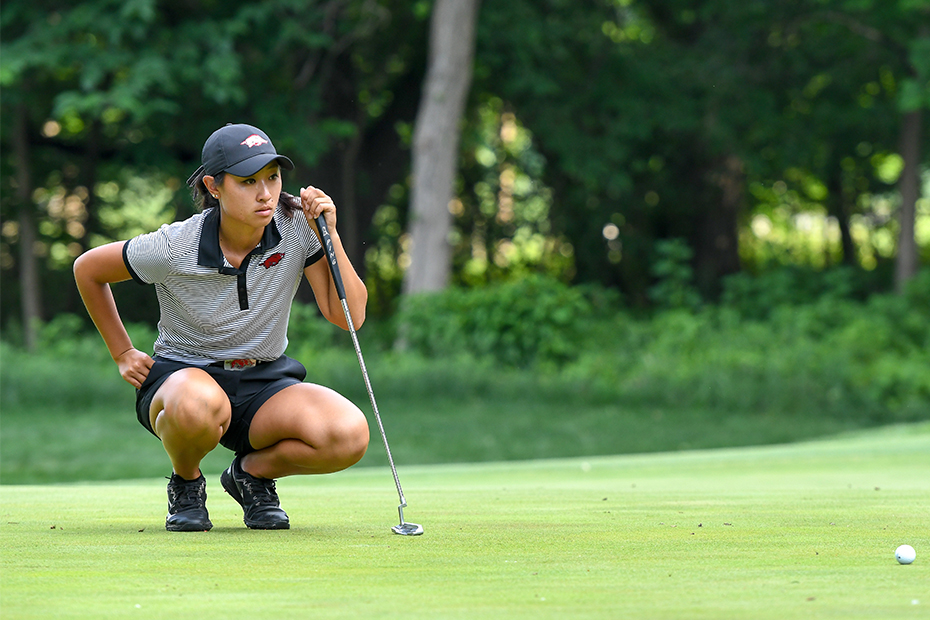 Razorbacks Tee It Up In Puerto Rico
FAYETTEVILLE, Ark. – The winter break from competition is over and the No. 7 University of Arkansas women's golf team gets the spring started at the Lady Puerto Rico Classic at Rio del Mar Country Club in San Juan, Puerto Rico, on Sunday.
The event is the first of four regular season spring tournaments leading up to postseason play that includes the Women's and Men's NCAA Championships at Blessings Golf Club in May.
The Lineup (Golfstat ranking)
| | | |
| --- | --- | --- |
| Dylan Kim | #4 | 70.09 |
| Kaylee Benton | #67 | 72.50 |
| Maria Fassi | #23 | 71.13 |
| Brooke Matthews | #43 | 72.13 |
| Cara Gorlei | #79 | 73.83 |
| Ximena Gonzalez (Ind) | NR | 75.33 |
The Razorbacks are three-time winners at the event playing to victories in 2014, 2015 and last season.
The four-event fall saw the Razorbacks play to three third place finishes and one sixth place finish. Senior All-American Dylan Kim emerged as the team's leader on the links finishing the fall with a 70.09 stroke average. Senior All-American Maria Fassi was next shooting 71.13 in three events, missing one tournament to play at the LPGA's Qualifying School.
Seniors Kaylee Benton and Cara Gorlei, along with redshirt freshman Brooke Matthews, round out the counting five. Freshman Ximena Gonzalez will play in her second event of the season as an individual this week.
The Field (Golfstat/Golfweek Ranking)
Arkansas (#7/6), Augusta (#47/51), ECU (#63/66), Georgia (#41/41), Indiana (#64/63), Iowa State (#54/45), Kent State (#10/10), Maryland (#48/47), NC State (#45/49), Nebraska (#103/108), Northwestern (#15/13), Purdue (#29/25), TCU (#21/20), Virginia Tech (#59/62)
NCAA Championships
The University of Arkansas and Blessings Golf Club are the proud hosts of the 2019 NCAA Women's and Men's National Championships. The women's event begins May 17 and is immediately followed by the men's championship beginning May 24. For more information or to volunteer for the event, log on to www.NCAAGolf19.com
More Information
Keep up with all of the latest news and information and get behind the scenes looks into our program on our social media accounts. Follow us on Twitter at @RazorbackWGolf and check out our Facebook page "Razorback Women's Golf." Stats, news and player information can be found at ArkansasRazorbacks.com.