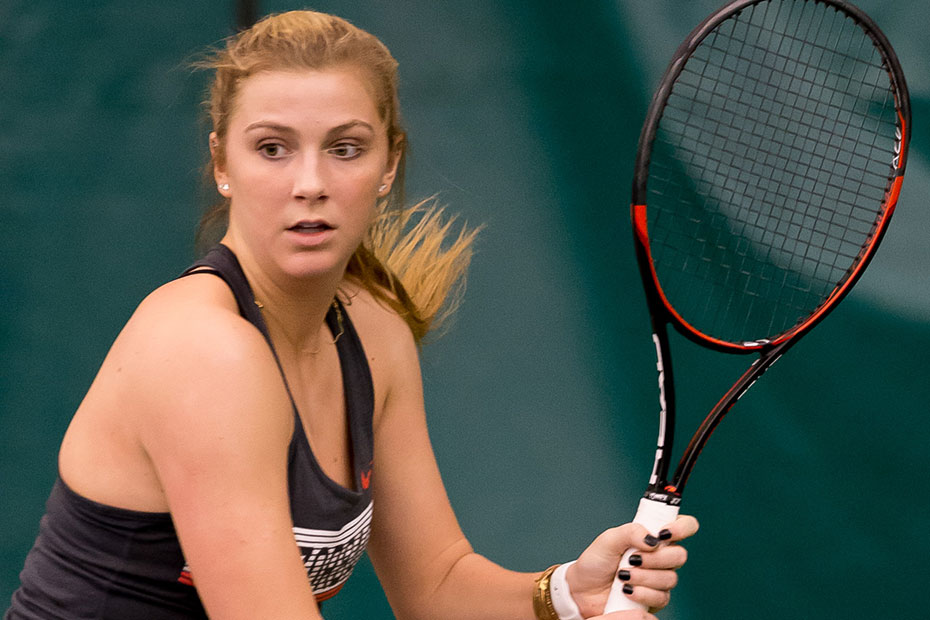 Razorbacks Welcome Pair Of Top-20 Teams
FAYETTEVILLE, Ark. — Arkansas will look to build on its 1-0 start in Southeastern Conference play when it hosts No. 17 Kentucky and No. 4 Vanderbilt this weekend.
The Razorbacks (5-5, 1-0 SEC) will play the Wildcats (9-3, 1-1 SEC) at 5 p.m. CT Friday before they take on the Commodores (9-2, 2-0 SEC) at noon CT Sunday. Both matches will take place at the George M. Billingsley Tennis Center.
Live Coverage
Fans can follow both matches via live scoring at RazorbackStats.com.
Promotions
Admission is free. All matches will feature complimentary pizza, Keurig products, popcorn and Pepsi soft drinks for all fans in attendance. Students in attendance Friday will also have the opportunity to win an Apple Watch courtesy of University of Arkansas Associated Student Government.
Last Time Out
Arkansas opened league play with a 4-1 win over Missouri last Friday. The Razorbacks started fast and finished strong, earning the doubles point with back-to-back wins at the top two spots and securing three of four singles victories. Junior Ana Oparenovic, who is the No. nation's No. 87 ranked singles player, delivered the clinch with a 6-3, 6-4 win at the No. 2 spot. Vanderbilt is coming off a 4-0 win against Alabama, while Kentucky is coming off a 4-3 loss to No. 18 Auburn.
League Leaders
Moving up six spots in the latest national doubles rankings, the Razorbacks' No. 30 nationally ranked duo of Oparenovic and freshman Tatum Rice, leads all SEC No. 1 doubles pairs with a 9-0 record at the top spot. Overall, Oparenovic and Rice's record ranks No. 2 in the conference.
Singles Success
In singles, sophomore No. 66 Giulia Pairone boasts an 8-0 record, including a 3-0 mark at the top spot. Pairone's 8-0 singles record is fifth best in the SEC.
Dominant Doubles
The Hogs have won the doubles point in nine of its 10 matches this season.
More Notables
Rice is also ranked No. 51 in doubles with sophomore Jackie Carr, while Oparenovic is ranked No. 67 with senior Mia Jurasic.