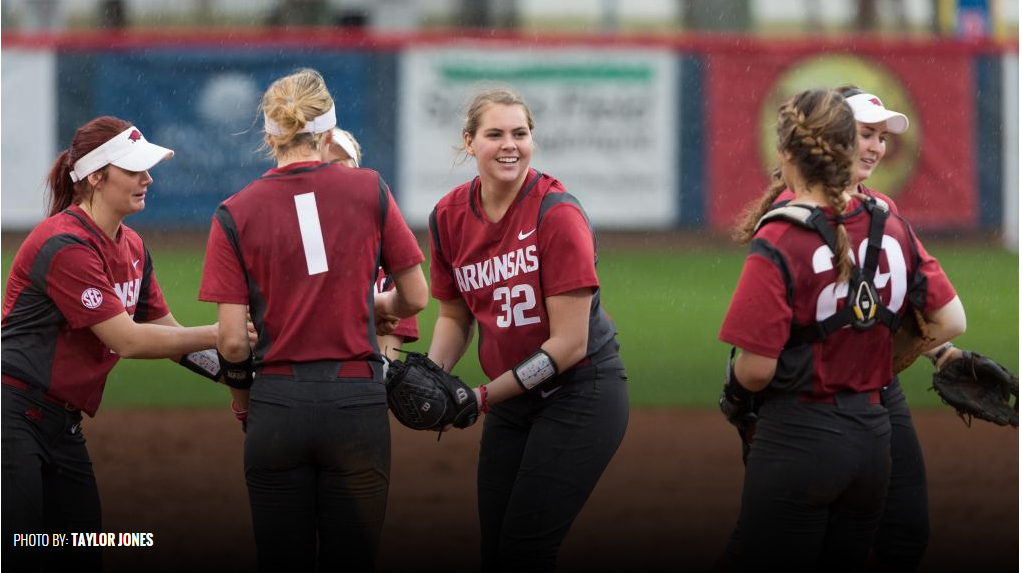 @RazorbackSB Faces Strong Field at Dot Richardson Invitational
ORLANDO, Fla. – The University of Arkansas softball team is in the Sunshine State for the second-consecutive weekend with five games in the 2015 Dot Richardson Invitational. The Razorbacks' slate begins Friday with games against Florida A&M at 3 p.m. (CT) and Liberty at 5:30 p.m. Following the three-day event, Arkansas returns to Fayetteville for its home opener Feb. 20-22 at Bogle Park.
2015 Dot Richardson Invitational | Clermont, Fla.
(all times Central, subject to change)
Game 1: February 13 vs. Florida A&M – 3 p.m.
Game 2: February 13 vs. Liberty – 5:30 p.m.
Game 3: February 14 vs. Louisville – 3 p.m.
Game 4: February 14 vs. UCF – 5:30 p.m.
Game 5: February 15 vs. Chattanooga – 8 a.m.
Razorback Update
Arkansas posted a 2-3 record at the season-opening FAU Kickoff Classic last weekend in Boca Raton, Fla. The team won two of its final three games with victories over LIU Brooklyn and Georgia Tech. Offensively, senior Kasey Fagan leads the Razorbacks with a .533 batting average, followed by junior Stephanie Canfield who is hitting .467 with at least one hit in each of Arkansas' five games this season. Sophomore catcher Nicole Schroeder has the team's lone home run entering the weekend and is tied with Fagan for the team lead with five RBI. In the circle, sophomore Sydney Wright and freshman Allison Stewart each have a win behind complete-game shutouts at the FAU Classic.
Know Your Opponent: Dot Richardson Invitational
Four of the Razorbacks' five opponents this weekend—UCF, Chattanooga, Florida A&M and Louisville—played in last year's NCAA Tournament; the team will also face Liberty at the three-day invitational. In this week's national polls, UCF is receiving votes and sitting just outside of the top 25. Arkansas is set to renew series with UCF (2010), Chattanooga (2004) and Florida A&M (2000) while playing Liberty and Louisville for the first time in program history.
Last Time Out | Feb. 8 vs. Georgia Tech
Sophomore Sydney Wright registered a complete-game shutout in the circle to help the Razorbacks to a 2-0 victory over Georgia Tech in the team's finale of the FAU Kickoff Classic in Boca Raton, Fla. Freshman Autumn Russell scored both runs in the win. In her pitching effort, Wright had a career-high six strikeouts and walked just one hitter. The game was the sixth meeting in the all-time series—now tied 3-3—and the first since the 2010 season.
Take Your Base
Through the first weekend (five games) of her senior campaign, Devon Wallace has drawn a SEC-high eight walks and has been on base at least once in each game. Already the SEC career leader in walks, she is currently in eighth place in NCAA history with 198 career walks. Wallace led the nation with 79 walks in 2013 and carries a .570 on-base percentage for her career. The Double Oak, Texas, native is also just four home runs shy of breaking the program's all-time mark.
Unprecedented TV/Broadcast Coverage
As part of its 2015 schedule, the Razorbacks will play seven games in front of a national television audience. Five of those will be played on Arkansas' home field at Bogle Park in Fayetteville. With the addition of SEC Network PLUS events, 29 of the Razorbacks' games this season will be available to fans either on television or online. Six of Arkansas' television games will be aired live on the SEC Network while the middle game of the Alabama series will be carried on ESPNU.
Swinging the Bat
The Razorbacks are coming off a season in which the 2014 squad set or tied eight single-season program records, seven of which reset for the second time in as many years. Arkansas finished 11th in the NCAA with 6.53 runs per game and produced record figures in batting average (.304), runs scored (359), RBI (325), walks (231), slugging percentage (.484), on-base percentage (.410), triples (14) and sacrifice flies (15).
The Staff
Head coach Mike Larabee and assistant coach Sue Carpenter begin their sixth seasons at Arkansas with three new faces joining the staff during the offseason. Randi Davis was added to the program in July and will handle the pitching staff with Randi Wilson and Shannel Blackshear joining the staff in August as the volunteer assistant and graduate assistant coach, respectively.
For more information on Arkansas softball, follow @RazorbackSB on Facebook and Twitter.