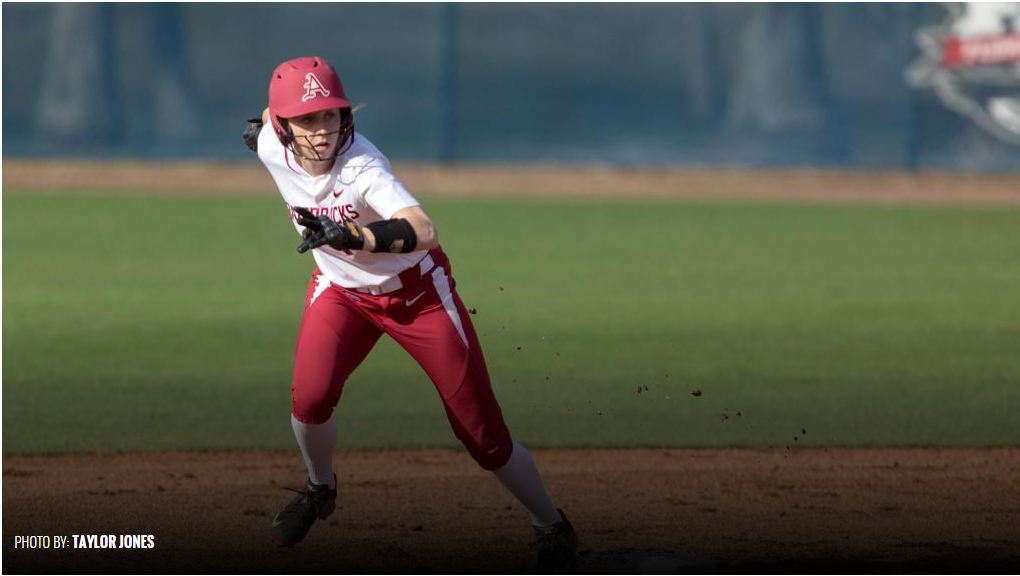 @RazorbackSB Heads to Lousiana for Weekend Games
FAYETTEVILLE, Ark. – The University of Arkansas softball team continues its 2015 schedule this weekend, heading to Louisiana for five games. The Razorbacks' (7-7) open up play at the Lion Classic Scramble in Hammond, La., on Friday, Feb. 27, facing Saint Louis and Tennessee-Martin at 3 p.m. and 5:30 p.m., respectively. Following the three-day event, Arkansas opens Southeastern Conference play March 6-8 at LSU.
2015 Lion Classic Scramble | Hammond, La.
(all times central and are subject to change)
Game 1: February 27 vs. Saint Louis – 3 p.m.
Game 2: February 27 vs. Tennessee-Martin 5:30 p.m.
Game 3: February 28 vs. Saint Louis – 12 p.m.
Game 4: February 28 vs. Southeastern Louisiana – 4 p.m.
Game 5: March 1 vs. Southeast Missouri State – 10 a.m.
Last Time Out
Arkansas was last in action Feb. 20-21 at the Citrus Classic in Orlando, Fla. The Razorbacks finished the weekend's play a perfect 4-0, defeating Jacksonville State, George Washington, Marist and Virginia along the way. Sophomore Sydney Wright was 3-0, with a 1.93 earned-run average and 17 strikeouts in 18.2 innings of work. Senior Kasey Fagan batted .643 on the weekend, collecting nine hits, including four for extra bases and knocking in three runs.
A Look at the Field
Saint Louis, Tennessee-Martin, Southeastern Louisiana and Southeast Missouri State along with Arkansas make up the five-team field. Saint Louis is off to a 4-4 start this year after posting a 30-21 overall mark and 12-5 in the Atlantic 10 a season ago.  Mackenzie Peter leads the team on offense (.500 batting average) while Brianna Lore posts a 1-1 record an 2.40 ERA in the circle. UT-Martin is 5-4 this season, led by Alicia Hansen at the dish (.560 BA) and the pitching of Brooke Kennedy (2-0, 0.00 ERA). Southeastern Louisiana is 4-7, led offensively by Katie Lacour (.526 BA) and defensively by Nicole Ayala (2-1, 1.59 ERA). Southeast Missouri State is 2-3 this season with Taylor McDannold batting .667 and Keaira Schilling 2-2 with a 6.08 ERA.
Fagan's Fast Start
Senior Kasey Fagan leads the team at the plate through the first 14 games, batting .478. Collecting 22 hits, she has seven multi-hit games already this season.
Unprecedented TV/Broadcast Coverage
As part of its 2015 schedule, the Razorbacks will play seven games in front of a national television audience. Five of those will be played on Arkansas' home field at Bogle Park in Fayetteville. With the addition of SEC Network PLUS events, 29 of the Razorbacks' games this season will be available to fans either on television or online. Six of Arkansas' television games will be aired live on the SEC Network while the middle game of the Alabama series will be carried on ESPNU.
Swinging the Bat
The Razorbacks are coming off a season in which the 2014 squad set or tied eight single-season program records, seven of which reset for the second time in as many years. Arkansas finished 11th in the NCAA with 6.53 runs per game and produced record figures in batting average (.304), runs scored (359), RBI (325), walks (231), slugging percentage (.484), on-base percentage (.410), triples (14) and sacrifice flies (15).
The Staff
Head coach Mike Larabee and assistant coach Sue Carpenter begin their sixth seasons at Arkansas with three new faces joining the staff during the offseason. Randi Davis was added to the program in July and will handle the pitching staff with Randi Wilson and Shannel Blackshear joining the staff in August as the volunteer assistant and graduate assistant coach, respectively.
For more information on Arkansas softball, follow @RazorbackSB on Twitter.