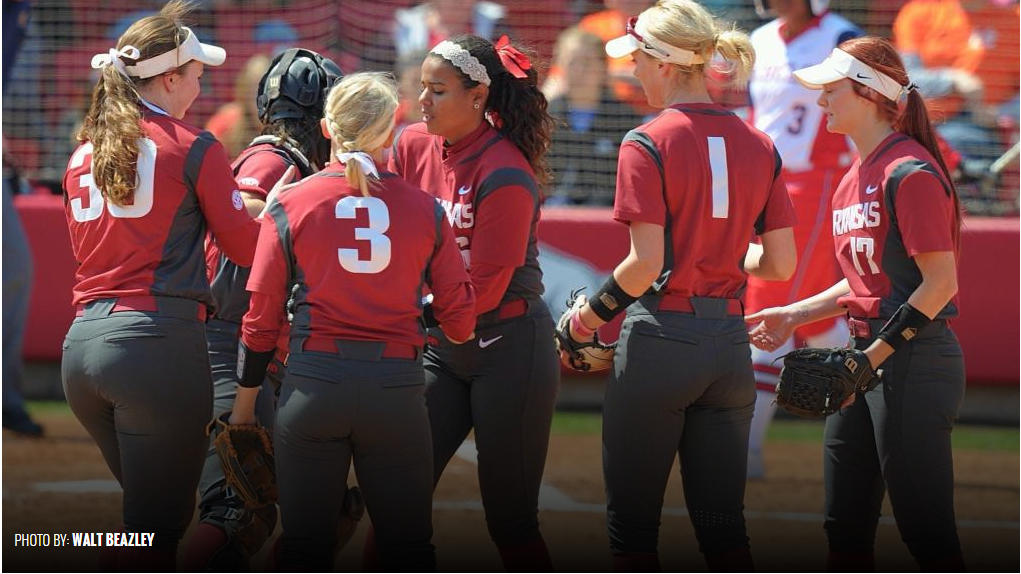 @RazorbackSB Heads to Tulsa for Midweek Matchup
FAYETTEVILLE, Ark. – The University of Arkansas softball team will look to get back on track this week, beginning Tuesday evening when it heads to Tulsa, Okla., to play the Golden Hurricane. First pitch is set for 5 p.m. from the Collins Family Softball Complex and the game will be broadcasted on Cox Sports TV (check local listings).
Arkansas will be making the return trip to Tulsa as the teams are meeting up for the second time this season. Tulsa spoiled the Razorbacks home opener on March 10, coming away with a 5-4 win at Bogle Park.
Following the midweek matchup, Arkansas returns home for a three-game series with Mississippi State April 4-6.
Arkansas (14-20, 0-9 SEC) at Tulsa (21-12, 4-2 AAC)
Tuesday, March 31 | 5 p.m. CT
Collins Family Softball Complex | Tulsa, Okla.
Live Stats
Watch on Cox Sports TV (check local listings)
Arkansas Notes
Rounding the Bases
• Freshman Tori Cooper led the way offensively for the Razorbacks in the three-game series against Ole Miss, batting .333 in three starts while knocking in a pair of runs and leading the team in hits (3). In five at-bats across two starts and a pinch-hit appearance, redshirt sophomore Nicole Schroeder batted .400 and slugged .625 including an RBI double against Ole Miss. Freshman Madison Yannetti continues her strong play in recent games as she batted .333 in the Ole Miss series and is batting .312 with a .500 slugging percentage in the team's last seven games.
• Senior Kasey Fagan made her return to the lineup against Ole Miss, starting all three games after having to miss the team's previous eight following an injury. Fagan recorded two hits and scored a run in her first three games back.
Freshmen Step Up
Already with 20 of the 28 players on the roster as underclassmen, a trio of freshman, earning starting roles in recent games, have stepped up for Coach Larabee. Tori Cooper leads all underclassmen, batting .308 on the season. On a four-game hitting streak, Cooper is batting an even .500 to go along with a .667 slugging percentage in the team's last four games. Loren Krzysko has equally been on a tear lately, hitting .364 and reaching base in each of the last four games. She also has three RBIs in that span. The third freshmen in the trio is Madison Yannetti, who leads the team in batting (.385) in SEC only games. Yannetti batted .333 with a pair of hits in the Ole Miss series, and across the team's last seven games is batting .312, including connecting for her first career home run against Georgia (3/21).
Wallace Rewrites Record Book
Senior Devon Wallace has left her imprint all over the Arkansas softball record book. In the series against Texas (3/14-16), she set new program records for career home runs (44) and runs scored (172). The Double Oak, Texas, native additionally is the career leader in walks (225) and intentional walks (12). Wallace is currently on pace to be the career leader in a number of other categories as she currently ranks first for: highest batting average (.362), highest slugging percentage (.689), and highest on-base percentage (.568).  Her 186 career hits is eighth, trailing leader Jessica Bachkora (2007-10) who has 227.
Kasey at the Bat
Senior Kasey Fagan has made her return to the lineup after missing the team's previous eight games.  Fagan ranks second on the team with a .367 average, while seven of her 33 hits have gone for a double which leads the team. Fagan also posts eight multi-hit games this season and had a season-long 10-game hitting streak snapped against LSU March 6.