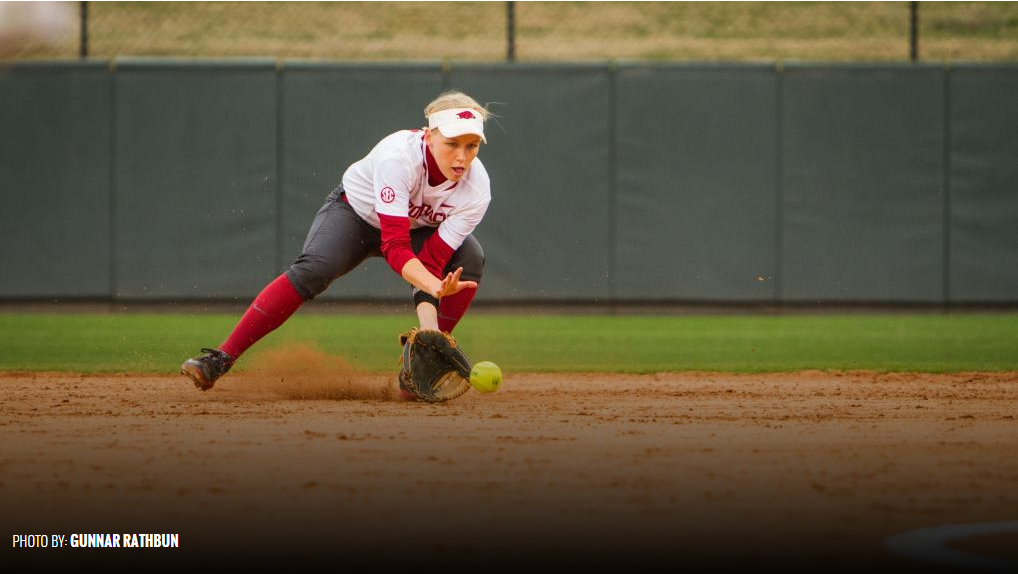 @RazorbackSB on the Road at Jacksonville State Tuesday
JACKSONVILLE, Ala. – As part of the team's spring break trip, the University of Arkansas softball team remains on the road and heads to Jacksonville, Ala., to play the Jacksonville State Gamecocks Tuesday afternoon at 4 p.m. CT. The Razorbacks and Gamecocks will be meeting up for the second time this season, after Arkansas won the first matchup in Orlando, Fla., Feb. 20 by a final of 4-0. Coming off a sweep on the road at the hands of No. 8/8 Georgia March 20-21, Arkansas will be seeking to snap a six-game losing streak before returning home to Bogle Park March 27-29 when it hosts Ole Miss.
The Midweek Matchup – Arkansas (13-17, 0-6 SEC) at Jacksonville State (18-7, 2-0 OVC)
Tuesday, March 24 | 4 p.m. CT | University Field | Jacksonville, Ala.
Live Stats
Rounding the Bases
• The Razorbacks were swept by No. 8/8 Georgia in their last time out. Arkansas lost Friday's game one and then dropped both games of a doubleheader on Saturday.
• Senior Sierra Bronkey and freshman Madison Yannetti led the way offensively in their three starts against the Bulldogs. Bronkey led the team in batting with a .500 average while Yannetti hit .429. Yannetti also hit her first career home run in the fifth inning in game two of Saturday's doubleheader.
• Bronkey also leads the team with a .556 batting average and a .636 on-base percentage in SEC only games. She has appeared in five of six conference games, starting four.
Last Meeting (Feb. 20, 2015): Arkansas 4, Jacksonville State 0 – Orlando, Fla.
Arkansas defeated Jacksonville State by a final of 4-0 while competing in the Citrus Classic. Sydney Wright earned the win for the Razorbacks, pitching a four-hit shutout while striking out five. Arkansas scored once in the first, twice in the second and then tacked on an insurance run in the seventh. Senior Devon Wallace collected three hits and three RBIs on the day to lead the team offensively.
Wallace Rewrites Record Book
Senior Devon Wallace has left her imprint all over the Arkansas softball record book. In the series against Texas (3/14-16), she set new program records for career home runs (44) and runs scored (171). The Double Oak, Texas, native additionally is the career leader in walks (218) and intentional walks (12). Wallace is currently on pace to be the career leader in a number of other categories as she currently ranks first for: highest batting average (.365), highest slugging percentage (.698), and highest on-base percentage (.569).  Her 184 career hits is tied for eighth, trailing leader Jessica Bachkora (2007-10) who has 227.