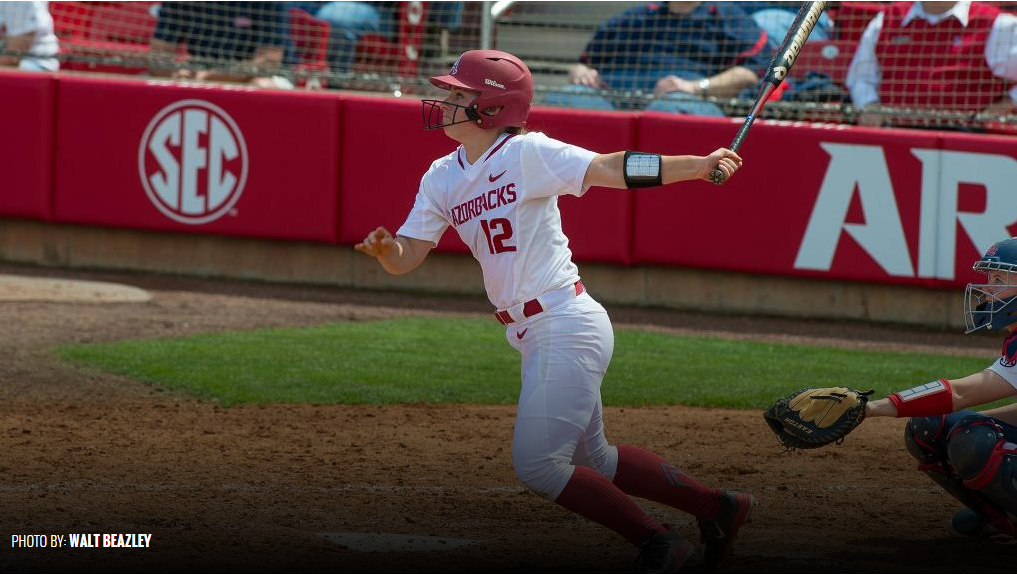 @RazorbackSB Plays Host to Mississippi State
FAYETTEVILLE, Ark. – Playing its second-straight Southeastern Conference series at Bogle Park, the University of Arkansas softball team hosts Mississippi State in a wrap-around series this weekend April 4-6. All three games against the Bulldogs will be televised, with SEC Network+ carrying the game April 4 while April 5-6 will be broadcasted on SEC Network.
Arkansas (14-21, 0-9 SEC) vs. Mississippi State (26-10, 5-7 SEC)
Saturday, April 4 | 1 p.m. | SEC Network+
Sunday, April 5 | 5 p.m. | SEC Network (Melissa Lee, Amanda Scarborough)
Monday, April 6 | 6 p.m. | SEC Network (Melissa Lee, Amanda Scarborough)
Promotions
Immediately following the game Saturday, there will be an Easter Egg Hunt at the ballpark.
Rounding the Bases
• Senior Devon Wallace, adding to her record-breaking Arkansas resume, became the first Razorback ever to be selected in the National Pro Fastpitch College Draft. Wallace was selected in the fourth round, No. 20 overall, by the Pennsylvania Rebellion in the 2015 Draft Wednesday, April 1, at the CMA Theater in Nashville, Tenn.
• Senior Kasey Fagan has made her return to the lineup, starting each of the last four games after missing the previous eight due to injury. Fagan has recorded three hits and a run scored over the last four games.
• Over the team's last three games, and among players who have started all three, freshmen Tori Cooper, Loren Krzysko and Madison Yannetti lead the team in batting (.286) and have accounted for two hits apiece.
• In its last time out, Arkansas was tripped up on the road by Tulsa, falling 10-2 in six innings. The Razorbacks had six hits on the evening including RBIs from Devon Wallace and Shelby Hiers.
2015 NPF College Draft
• Senior Devon Wallace became the first Razorback ever to be drafted into the National Pro Fastpitch league. Wallace was selected in the the fourth round with the No. 20 overall pick by the Pennsylvania Rebellion Wednesday, April 1, at the CMA Theater in Nashville, Tenn.
• The Rebellion, founded in 2013, selected Wallace with their only pick in the fourth round and their fifth overall pick. Among the other Rebellion draftees include: Miranda Kramer (LHP, Western Kentucky), Shelby Davis (OF, Oklahoma State), Maddie O'Brien (SS, Florida State), Cheyenne Cordes (INF, Cal), Emily Weiman (RHP, NC State), Emma Johnson (RHP, Kent State), and Amber Parrish (C/INF, North Carolina).
• Wallace was one of six Southeastern Conference players taken in the 2015 draft.
• Full draft recap
Freshmen Step Up
Already with 20 of the 28 players on the roster as underclassmen, a trio of freshman, earning starting roles in recent games, have stepped up for Coach Larabee. Tori Cooper leads all underclassmen, batting .296 on the season. Hitting safely in four of the last five games, Cooper is batting an even .300 to go along with a .400 slugging percentage in the team's last four games. Loren Krzysko has equally been on a tear lately, hitting .300 and reaching base at a .500 clip in the last four games to go along with a pair of RBIs. The third freshmen in the trio is Madison Yannetti, who leads the team in batting (.385) in SEC only games. Yannetti batted .333 with a pair of hits in the Ole Miss (3/27-29) series, and across the team's last eight games is batting .278, including connecting for her first career home run against Georgia (3/21).
Able to Respond
One of Coach Larabee's preaching points to his team is being able to respond with runs after the opposing team scores. Arkansas has shown capable of doing just that, responding with at least one run in their next at-bat .326 percent of the time following the adversary scoring.
Wallace Rewrites Record Book
Senior Devon Wallace has left her imprint all over the Arkansas softball record book. In the series against Texas (3/14-16), she set new program records for career home runs (44) and runs scored (176). The Double Oak, Texas, native additionally is the career leader in walks (225) and intentional walks (12). Wallace is currently on pace to be the career leader in a number of other categories as she currently ranks first for: highest batting average (.362), highest slugging percentage (.687), and highest on-base percentage (.567). Her 187 career hits is eighth, trailing leader Jessica Bachkora (2007-10) who has 227.