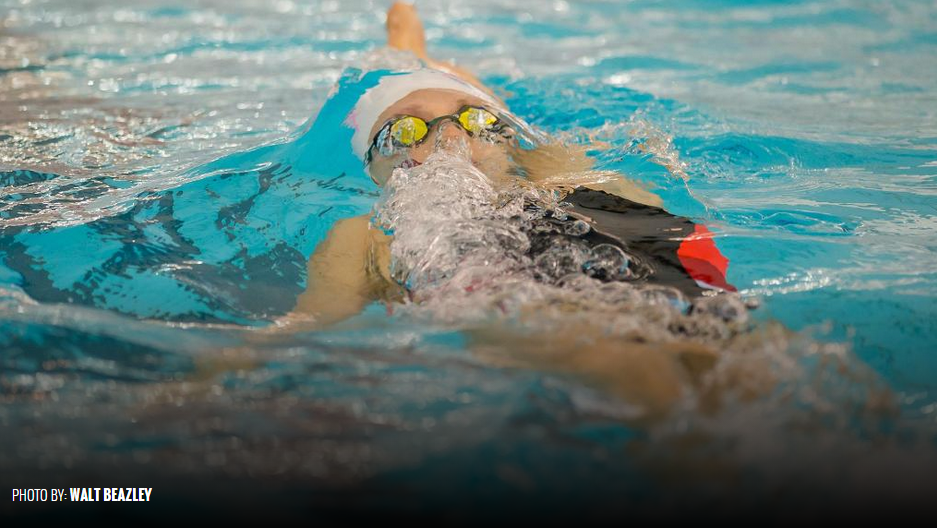 @RazorbackSD Downs Second Program Record in Day Two of Invite
ATLANTA – For the second day in a row, junior Anna Mayfield inked her name in the Arkansas swimming and diving record book as the Razorbacks closed the second day of competition of the Georgia Tech Invitational Friday evening in the GT Aquatic Center. Mayfield's 100 backstroke time of 53.61 downed a two-year old program record set in 2012 by Shana Lim (53.66).
Senior Nikki Daniels snagged the Razorbacks' first finals win of the invitational in the 100 breaststroke with a time of 59.89. In the preliminaries, Daniels' came dangerously close to an NCAA 'A' cut time of 59.12, swimming a new season-best 59.58. Daniels is one of the first swimmers in the nation to dip below the one minute mark.
Following the 400 IM prelims, freshman Chelsea Tatlow lead the field heading into the finals with a time of 4:13.71, a lifetime-best for the Colombia, Missouri native. In the finals, Tatlow secured a second-place finish with a time of 4:13.86.
In the 200 free, Mayfield clocked a top-time of 1:46.84 in the prelims, followed by junior Maddie Monroe touching the wall second (1:47.90). In the finals, Mayfield picked-up a fourth-place finish with a time of 1:47.62.
The 800 freestyle relay team of junior Nina Drolc, Mayfield, Monroe and junior Rachel Stoehr took second (7:16.84) and the 200 medley relay team of Mayfield, Daniels, senior Susanna White and Drolc snagged a fourth-place finish (1:39.64).
Six Razorbacks clocked new lifetime bests during day two of the competition. Mayfield (53.61, 100 backstroke), Tatlow (4:13.71, 400 IM) and freshmen Courtney Nall (59.28, 100 backstroke), Anya Quedens (1:57.22, 200 freestyle), Maddie Edwards (1:05.25, 100 breaststroke) and Chloe Hannam (4:22.57, 400 IM).
On the diving side, freshman Nicole Gillis took 12th in the 1-meter boards with a score of 259.65.  In total, the Razorbacks clocked eight NCAA 'B' cuts and qualified 19 swimmers for finals competition on day two.
UP NEXT
The Razorbacks will dive back into competition for day third and final day of the Georgia Tech Invite, starting with the 200 backstroke prelims at 10 a.m.
For more information on Arkansas swimming and diving, follow @RazorbackSD.
400 IM (Prelims): 1st – Chelsea Tatlow (4:13.71^B), 9th – Chloe Hannam (4:22.57), 17th – Rachel Kessler (4:26.86), 23rd – Jessie Garrison (4:29.74)
400 IM (Finals): 2nd – Chelsea Tatlow (4:13.86B), 8th – Chloe Hannam (4:23.71), 20th – Rachel Kessler (4:29.38), 21st – Jessie Garrison (4:27.58)
100 Fly (Prelims): 13th – Liz Braun (55.62), 14th – Susanna White (55.62), 18th – Taylor Weiss (55.86), 19th – Olivia Weekley (55.98), Jessie Garrison (56.67), 51st – Katie Kearbey (58.38), 70th – Erin Beu (1:00.60)
100 Fly (Finals): 13th – Taylor Weiss (55.14), 14th – Susanna White (55.22), 17th – Liz Braun (55.75), 20th – Olivia Weekley (56.27), 30th – Jessie Garrison (57.00)
200 Free (Prelims): 1st – Anna Mayfield (1:46.84^*B), 2nd – Maddie Monroe (1:47.90), 5th – Rachel Stoehr (1:48.83), 8th – Nina Drolc (1:49.53), 15th – Aiden Lister (1:50.84), 66th – Anya Quedens (1:57.22), 74th – Jordan Kimmey (1:58.21)
200 Free (Finals): 4th – Anna Mayfield (1:47.62B), 5th – Nina Drolc (1:48.54), 7th – Rachel Stoehr (1:48.57), 8th – Maddie Monroe (1:49.45), 13th 0 Aiden Lister (1:49.85)
100 Breast (Prelims): 1st – Nikki Daniels (59.58*^B), 5th – Julia Banach (1:02.38), 27th – Maddie Edwards (1:05.25), 34th – Erika McGovern (1:06.92), 45th – Anya Quedens (1:13.33)
100 Breast (Finals): 1st – Nikki Daniels (59.89B), 4th – Julia Banach (1:02.12), 26th – Maddie Edwards (1:05.33)
100 Backstroke (Prelims): 2nd – Anna Mayfield (53.61@B), 19th – Liz Braun (56.57), 47th – Courtney Nall (59.28)
100 Backstroke (Finals): 2nd – Anna Mayfield (53.69B), 16th – Liz Braun (56.34)
1-meter Diving (Prelims): 12th – Nicole Gillis (259.65), 14th – Shelby Bartlett (257.70), 28th – Meghan Clark (233.65)
200 Medley Relay: 4th – Anna Mayfield, Nikki Daniels, Susanna White, Nina Drolc (1:39.64)
800 Free Relay: 2nd – Nina Drolc, Anna Mayfield, Maddie Monroe, Rachel Stoehr (7:16.84)
# – personal best at Arkansas
B – NCAA 'B' cut time
! – Lifetime-best
^ – Season-best time
@ – Arkansas Record
* – Arkansas top-five time