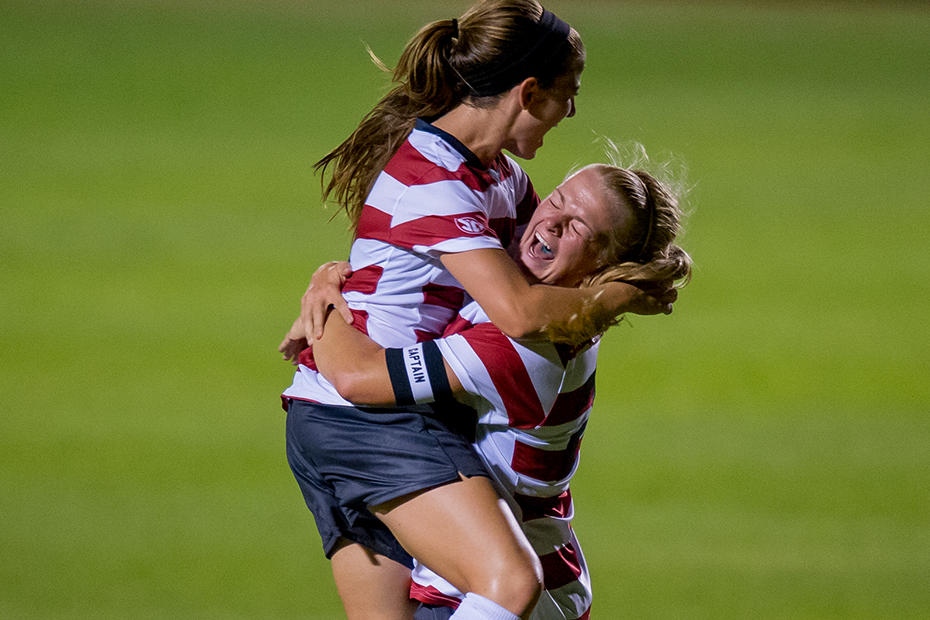 @RazorbackSoccer Earns Second Straight NCAA Tournament Bid
Official NCAA Release | NCAA Tournament Bracket (Interactive)
FAYETTEVILLE, Ark. – The Arkansas women's soccer team nervously watched as 61 schools were announced during Monday's NCAA Tournament Selection Show before finding out its postseason fate. Ultimately, the Razorbacks were selected for a first round matchup against Big 12 foe Oklahoma this weekend. The contest will be Friday, Nov. 14 (7 p.m. CT) at John Crain Field in Norman, Okla.
– TV/live stream: TBA
– Tickets: On sale Tuesday morning (Nov. 11)
(405) 325-2424 or toll-free (800) 456-GoOU OR at SoonerSports.com
Prices: Adult: $9 | Youth/Seniors/Groups: $5 | OU/ARK students: $3
With its selection on Monday, Arkansas (8-6-6) captured its second straight NCAA Tournament appearance, as they will battle a Sooner State opponent in the first round for the second consecutive season. Last year, the Razorbacks defeated Oklahoma State, 2-1, in Stillwater, Okla., to spark a Sweet 16 run in the program's NCAA Tournament debut.
Oklahoma (10-8-4), earned an at-large bid after spectacular run in the Big 12 Tournament, which saw the No. 6-seeded Sooners make a run all the way to the conference championship. OU picked up five wins against top 25 teams this season and will be playing in the program's third NCAA Tournament and its first since the 2010 campaign.
Head coach Colby Hale's rigorous 2014 schedule ultimately paid off, as his team was able to pick up eight results against teams inside the RPI top 70, to give his team an RPI of 52. Arkansas played against 11 of the 64 teams announced in this afternoon's NCAA Tournament Selection Show, while the Southeastern Conference had seven other schools representing them in the Tournament.
The Razorbacks finished the regular season with an 8-6-6 mark, giving the program its first back-to-back winning season since the 2008, 2009 seasons. Arkansas finished an even 4-4-3 in SEC play, marking the first time the team posted a non-losing record in conference play since the 2012 campaign.
These two programs have played one another seven times, with Oklahoma claiming victory in each matchup. The last time the Razorbacks and Sooners battled came in 2005, where OU defended its home pitch, winning 3-0.
Check back with ArkansasRazorbacks.com for ticket information.
For more information on Arkansas soccer, follow @RazorbackSoccer on Twitter.
Bracketing Information
– The championship bracket consists of 64 teams.
First Round (Nov. 14, 15, or 16): Thirty-two, two-team First Rounds will be conducted at non-predetermined campus sites.
Second/Third Rounds (Nov. 21 & 23): Eight, four-team Second/Third Rounds will be conducted at non-predetermined campus sites.
Quarterfinals (Nov. 28, 29, or 30): Four, two-team Quarterfinals will be conducted at non-predetermined campus sites.
All rounds are single-elimination with four teams advancing to the Women's College Cup in Boca Raton, Fla.