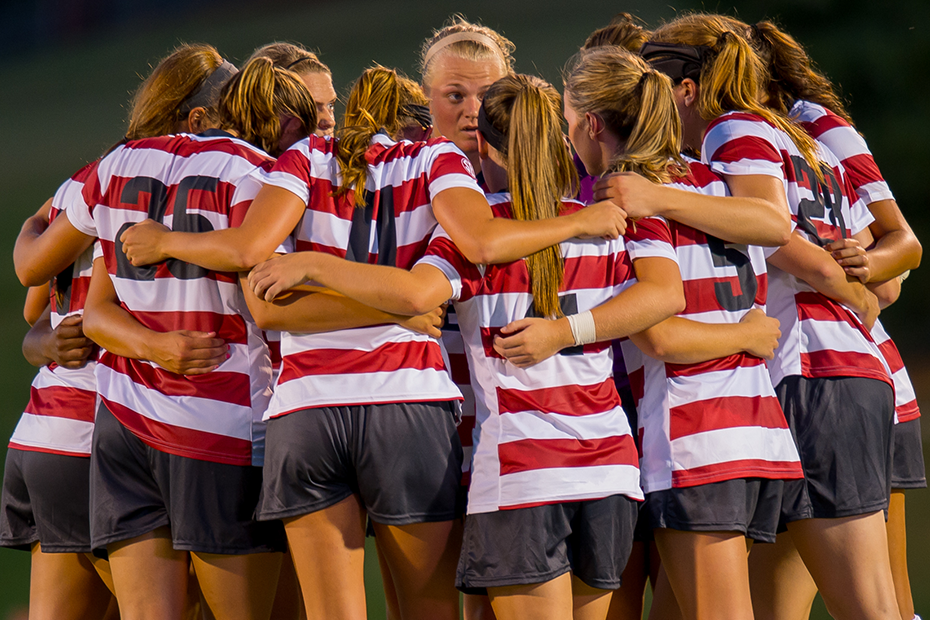 @RazorbackSoccer To Find Out College Cup Fate On Monday Afternoon
NCAA Championship Central | NCAA College Cup
FAYETTEVILLE, Ark. – After falling to No. 8 seed Georgia in the first round of the SEC Tournament on Monday, Nov. 3, the Arkansas women's soccer team will finally find out its College Cup fate on Monday afternoon.
The Razorbacks (8-6-6, 4-4-3 SEC) sit at No. 41 in the latest version of the NCAA Women's Soccer RPI, which was updated on Nov 3.
"We feel like we have positioned ourselves very well," said head coach Colby Hale. "We played one of the toughest schedules in the country, we made the conference tournament for the third straight year, our RPI is improved on from last year and we have nine top 80 results. We are young in our development as a program and excited to be in the mix for our second straight NCAA tournament."
Thirty-one teams make it into the College Cup by winning their respective conference tournaments. The NCAA Division I Women's Soccer Committee decides the 33 at-large selections, of which the Razorbacks are hoping to be a part of.
The 64 teams and College Cup Championship bracket will be announced Monday during the Selection Show at 3:30 p.m. CT. The Selection Show will be broadcast online on NCAA.com.
For more information on Arkansas soccer, follow @RazorbackSoccer on Twitter.
@RazorbackSoccer Results Over RPI Top 80 Teams
No. 21 Kentucky
No. 28 Oklahoma State
No. 34 Texas
No. 36 Georgia
No. 54 Alabama
No. 56 Tennessee
No. 64 Ole Miss
No. 67 Rice
No. 72 Stephen F. Austin
Bracketing Information
– The championship bracket consists of 64 teams.
First Round (Nov. 14, 15, or 16): Thirty-two, two-team First Rounds will be conducted at non-predetermined campus sites.
Second/Third Rounds (Nov. 21 & 23): Eight, four-team Second/Third Rounds will be conducted at non-predetermined campus sites.
Quarterfinals (Nov. 28, 29, or 30): Four, two-team Quarterfinals will be conducted at non-predetermined campus sites.
All rounds are single-elimination with four teams advancing to the Women's College Cup in Boca Raton, Fla. Full details of Women's College Cup matchups will be determined on November 30.
List Of Automatic Qualifiers
America East: New Hampshire
American Athletic: Connecticut
Atlantic 10: Dayton
ACC: Florida State
Atlantic Sun: Florida Gulf Coast
Big 12: West Virginia
Big East: DePaul
Big Sky: Northern Arizona
Big South: High Point
Big Ten: Wisconsin
Big West: Cal State Fullerton
CAA: Northeastern
CUSA: Rice
Horizon: Valparaiso
Ivy League: Harvard
MAAC: Rider
MAC: Buffalo
MVC: Illinois State
MWC: San Diego State
NEC: Central Connecticut
OVC: SIUE
Pac-12: UCLA
Patriot League: Boston University
SEC: Texas A&M
Southern: Mercer
Southland: Houston Baptist
SWAC: Prairie View A&M
Summit: South Dakota State
Sun Belt: South Alabama
West Coast: BYU
WAC: Seattle