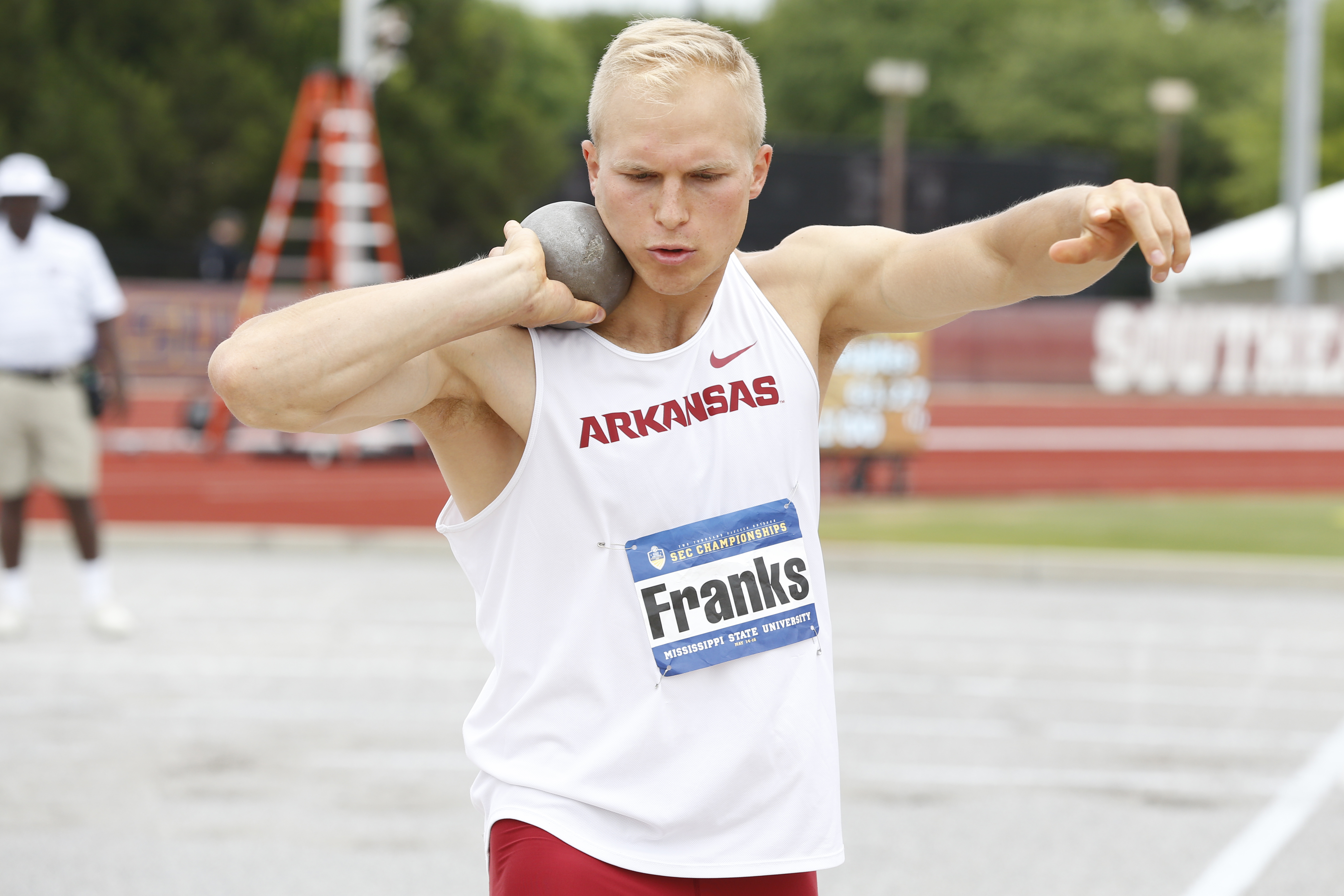 @RazorbackTF Men Crack Top Five in USTFCCCA Top 25
FAYETTEVILLE, Ark. – The University of Arkansas men's track and field team is up three spots to a season-high No. 5 in Monday's release of the USTFCCCA national rankings. The Razorbacks' climb comes on the heels of the team's runner-up finish at the conference meet in Starkville, Miss. The postseason continues May 28-30 at the NCAA West Preliminary in Austin, Texas.
The Arkansas men scored 95 points on their way to a second-place team finish at the 2015 SEC Outdoor Championships in Starkville, Miss. The Razorbacks were aided by three event titles with first-place performances by Kemoy Campbell at 5,000 meters, Omar McLeod in the 110-meter hurdles and Stanley Kebenei in the 3,000-meter steeplechase. The team also benefited from seven season-best marks during the three-day conference meet.
The weekend also featured a pair of all-time sprint performances in program history. Having already posted a runner-up finish in the long jump, Jarrion Lawson tied the No. 3 time by an Arkansas sprinter with his 10.19 at 100 meters. He was also part of the 4×100-meter relay with Eric Hawkins, Kenzo Cotton and Marqueze Washington that combined for a time of 39.12, good for No. 2 in the program's record book.
The 2015 SEC Outdoor Championships will also air as a two-hour highlight show May 21 on ESPNU at 7 p.m. (CT) with Dwight Stones and Larry Rawson handling play-by-play and color commentary duties, respectively, with Jill Montgomery reporting from the track. Arkansas is one of nine SEC teams ranked in this week's national poll with six inside the top 10.
Through the first eight weeks of their 2015 outdoor campaign, the Razorbacks have registered 23 top-48 marks within the NCAA West Preliminary event rankings. After a declaration period, entries for the NCAA West Preliminary will be released Thursday afternoon. One of Arkansas' seven season-best efforts last weekend came from Nathanael Franks who scored 7,343 points in the decathlon to put himself in position to qualify for the national meet.
The top-12 qualifiers in each event from the preliminary rounds will advance to the 2015 NCAA Outdoor Championships in Eugene, Ore., which will host the nation's best June 10-13 at Hayward Field.
For more information on Arkansas track and field including in-meet updates, follow @RazorbackTF on Twitter.