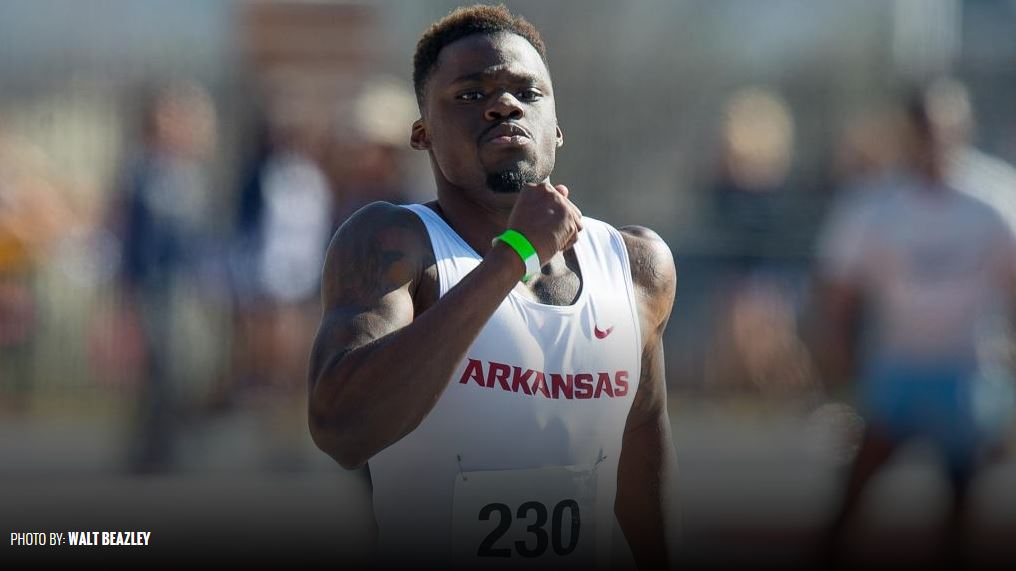 @RazorbackTF Men Up To No.7 In USTFCCCA Poll
FAYETTEVILLE, Ark. – On the heels of an NCAA-leading performance during its last outing, the University of Arkansas men's track and field team moves up to No. 7 in Monday's release of the USTFCCCA national poll. The Razorbacks were eighth last week and have been as high as No. 6 during the outdoor campaign. Arkansas returns to competition this weekend at the 106th Drake Relays in Des Moines, Iowa.
Through the first month of its outdoor season, Arkansas has registered five top-20 performances within the NCAA event rankings. Running in his first steeplechase of the season, Stanley Kebenei posted an NCAA-leading time of 8:31.86 to win at this past weekend's Mt. SAC Relays in Walnut, Calif. He is No. 2 in the program's record book with a career-best time of 8:24.45 and was the 2014 NCAA runner-up in the event.
The team also picked up a top-20 effort from Kemoy Campbell who clocked a time of 3:42.30 at 1,500 meters at the Mt. SAC Relays. Campbell also owns a top-10 mark at 10,000 meters with a time of 28:45.84 from the Stanford Invitational. Arkansas' remaining top-20 performances belong to Andrew Irwin in the pole vault and Jarrion Lawson in the long jump.
Individually, Omar McLeod continues to hold a spot among the nation's best on the Bowerman Watch List. The two-time defending NCAA indoor champion in the 60-meter hurdles has yet to compete during the outdoor season. He broke the collegiate record with a time of 7.45 in his last race and is No. 2 in school history with a time of 13.44 in the 110-meter hurdles. He is set to open his outdoor campaign this weekend at the Drake Relays.
Competing in the nation's toughest conference, Arkansas is one of nine SEC teams in Monday's top-25 release. All nine of the teams are positioned within the top 18 spots including five inside the top 10. The SEC Outdoor Championships will be contested April 14-16 at Spencer Stadium in Starkville, Miss.
The Razorbacks' next home meet is scheduled for May 1 with the Arkansas Twilight. For more info regarding purchasing tickets for home events, call 800-982-HOGS (4647), email raztk@uark.edu or visit the Razorback Ticket Center located just east of Baum Stadium.
For more information about Arkansas track and field including in-meet updates, follow @RazorbackTF on Twitter.