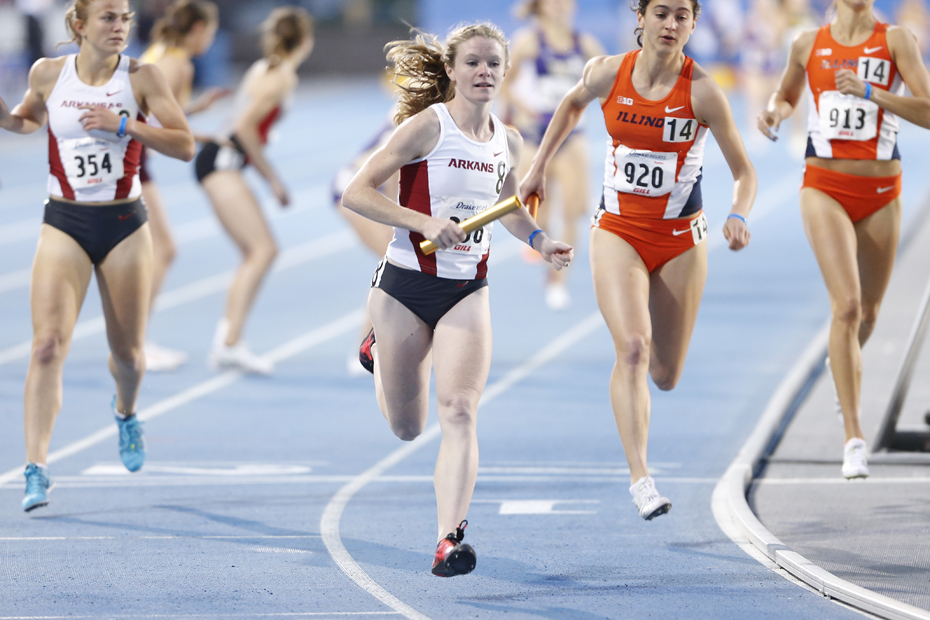 @RazorbackTF Women Up to No. 2
FAYETTEVILLE, Ark. – The University of Arkansas women's track and field team is up three spots to No. 2 in this week's USTFCCCA national poll. The Razorbacks' previous season-high ranking was No. 3 in the April 6 poll. Monday's release marks the first outdoor ranking based primarily on in-season performances.
Arkansas' ascension comes after a busy weekend at the 106th Drake Relays in Des Moines, Iowa. The Razorbacks won two Drake Relays titles and won the Hy-Vee Cup which is awarded to the highest-performing team in the five scored relay events. The sprint-medley relay team of Taylor Ellis-Watson, Daina Harper, Chrishuna Williams and Regine Williams broke the meet record with its time of 3:43.64.
The Razorback women have racked up 20 top-25 national marks through the first five weeks of the outdoor season including NCAA-leading efforts from Dominique Scott at 10,000 meters and Sandi Morris in the pole vault. The team has additional top-five performances from Scott at 1,500 meters, Ellis-Watson at 200 meters, Jessica Kamilos in the steeplechase and Alex Gochenour in the heptathlon.
The Razorbacks close out the regular season this weekend with the Arkansas Twilight and the Payton Jordan Invitational. Friday's home meet begins at 11 a.m. (CT) with running events slated for a 6 p.m. start. For the second time this season, the distance crew will head west to compete Saturday at the Payton Jordan meet in Palo Alto, Calif.
In a show of the league's strength, the SEC continues to lead the country with nine teams inside the top 25 including six top-10 programs. The Razorbacks' postseason begins May 14-16 with the SEC Outdoor Championships in Starkville, Miss., at Spencer Stadium/Maddox Track. Arkansas is the defending outdoor champion and has won five of the past seven SEC competitions overall.
Contact the Razorback Ticket Center at 800-982-4647 or email raztk@uark.edu to purchase tickets for home events. For more information about Arkansas track and field including in-meet updates, follow @RazorbackTF on Twitter.