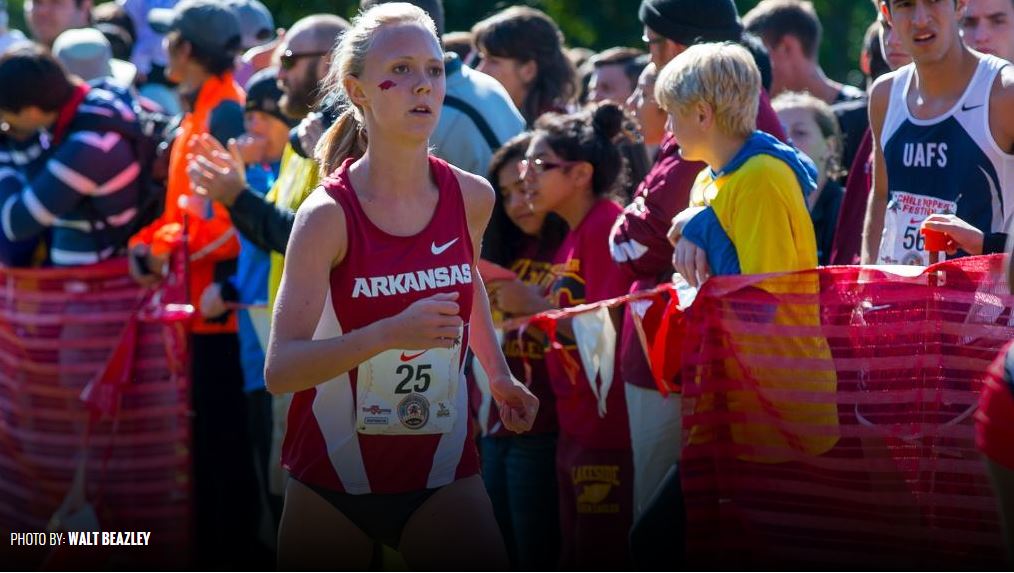 @RazorbackTF's Schrader Earns Spot On US Juniot National Cross Country Team
BOULDER, Colo. – Freshman Kelsey Schrader earned a spot on the United States Junior World Cross Country Team with her fifth place finish at the 2015 United States Junior World Cross Country Team Trials on Saturday.
"Today Kelsey made her first USA team and gained a coveted position on the Junior World Cross country team," said Arkansas Women's Cross Country and Track and Field head coach Lance Harter. "This is a huge leap forward in her continued development at Arkansas."
The race was run at Flatirons Golf Course and hosted by the USA Track and Field Association. The top six competitors in the race earned a spot on Team USA and compete in Guiyang, China at the 2015 IAAF World Cross Country Championships later this year.
Schrader clocked a 22:17.00 to finish four seconds in front of the next athlete, Shaelyn Sorensen of Wisconsin. Ahead of the Razorback harrier was Colorado's Kaitlyn Benner (1st place) and Valerie Constien (2nd place), Katie Rainsberger from the Kokopelli Racing Team and Lauren Gregory.
The freshman adds this achievement to an already solid freshman cross country campaign. In the fall, Schrader was named the SEC All-Freshman team. She competed in seven of the teams eight races, placing inside Arkansas' top five once. The Dekalb, Ill. native finished in 19th-place at the SEC Championship (Oct. 31) setting a personal-best 6K time of 20:42.76 and ended her first year with a 154th-place finish at the NCAA Championship (Nov. 22) where she finished the 6K course in 21:35.70.
TOP SIX FINISHERS
Kaitlyn Benner (Colorado) – 21:48
Valerie Constien (Colorado) – 21:54
Katie Rainsberger (Kokopelli Racing Team) – 22:11
Lauren Gregory – 22:13
Kelsey Schrader (Arkansas) – 22:17
Shaelyn Sorensen (Wisconsin) – 22:21
For more information on the Arkansas women's cross country team, follow @RazorbackTF on Twitter.