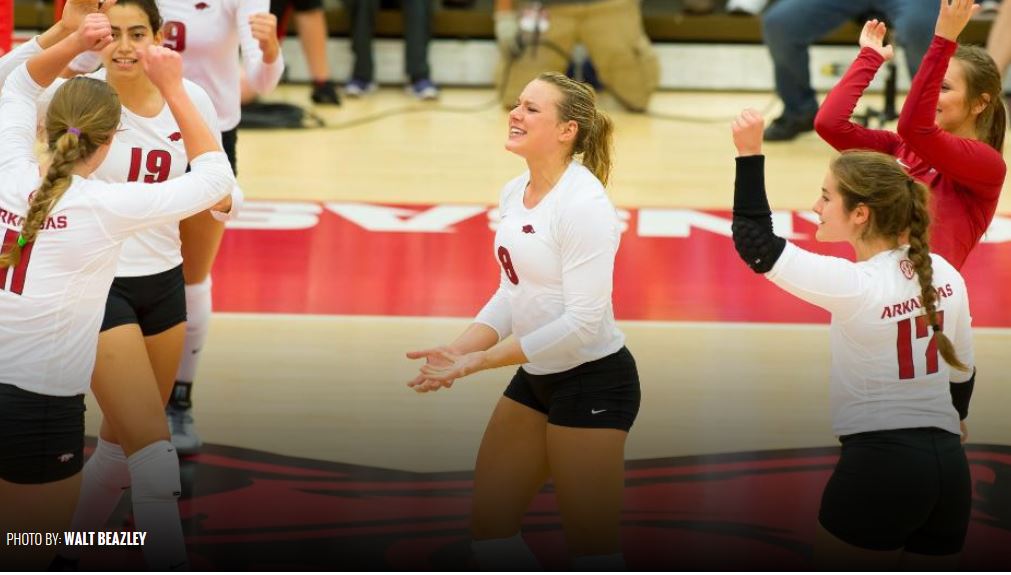 @RazorbackVB Home Stand Begins Friday vs. South Carolina
FAYETTEVILLE, Ark. – The University of Arkansas volleyball team begins its final home stand of the season Friday with an SEC matchup with South Carolina. First serve is scheduled for 7 p.m. (CT) at Barnhill Arena. The #BeatLSU pep rally for Saturday's football game will be held following the match. General admission is $5 for all home matches while UA students and fans 17 years and younger receive free admission.
Fan Promotions | Friday vs. South Carolina
• #BeatLSU Pep Rally: The theme for the pep rally is GO HOGS GLOW! All participating groups must be in attendance for the volleyball match.
• #FreeFoodFriday: First 50 UA students will receive a voucher for FREE hot dog, popcorn and drink.
• Women's Basketball Appreciation: Fans can redeem their tickets from Friday's 11 a.m. women's basketball game for FREE admission.
• Football Ticket Offer: Show your Arkansas-LSU football ticket at the door for FREE admission.
• Volleyball Bingo: Fans can pick up bingo cards at the marketing table for chance to win prizes during the match.
The last time a pep rally was held in conjunction with a volleyball match, Razorback fans responded with a Barnhill attendance record of 3,015. Students attending volleyball matches this season are asked to use the street-level entrance on Stadium Drive. Vouchers for #FreeFoodFriday will be located at that entrance. Doors at Barnhill Arena open at 6 p.m.
Friday's match against South Carolina (15-10, 5-7 SEC) is the first of three-consecutive matches at Barnhill to close out the team's 2014 home schedule. The Razorbacks own a 22-10 advantage in the all-time series with South Carolina and have won 11 of the 15 matches played in Fayetteville. Arkansas has won eight of the last nine matches dating back to the 2009 season including four in a row at Barnhill Arena.
Setter Bailee Hankenson is the reigning SEC Freshman of the Week in recognition of her standout effort at Auburn and Georgia. The Decatur, Ind., native averaged 10.88 assists per set on her way to becoming the Razorbacks' first Freshman of the Week since the 2010 season (Raymariely Santos). During SEC play, Hankenson is the top freshman setter and fifth overall with 10.90 assists per set against conference opponents.
In their last weekend outing, the Razorbacks posted a pair of road victories at Auburn and Georgia which improved the team's record to 13-13 overall and 7-6 in conference play. Arkansas began the weekend with a sweep at Auburn before closing out the road trip with a five-set victory at Georgia. Chanell Clark-Bibbs registered a career-high 21 kills in Sunday's win over the Bulldogs.
Clark-Bibbs has double-digit kills in five of the last six matches and during conference play, is ranked in the top 10 of five stat categories—hitting percentage (fourth, .408), blocks (eighth, 1.00 b/s), points (eighth, 3.87 p/s), service aces (ninth, 0.27 a/s) and kills (10th, 3.08 k/s). Meredith Hays continues to lead the SEC with 4.39 kills per set, also good for 20th in the NCAA. The Hereford, Texas, native has a double-double in three-consecutive matches and three of the last four outings.
The remainder of Arkansas' home schedules includes matches against Texas A&M (Nov. 19) and No. 7 Florida (Nov. 23). Both matches will be televised on the SEC Network, the program's fifth and sixth appearances this season on the newly launched network.
For more information on Arkansas volleyball, follow @RazorbackVB on Facebook, Instagram and Twitter.