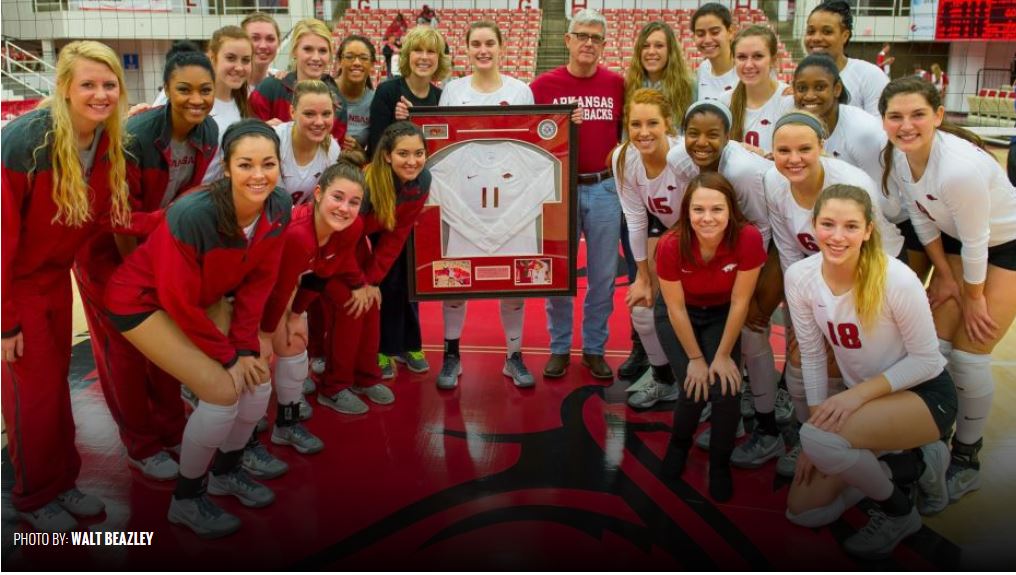 @RazorbackVB Loses to #6 Florida on Senior Day
FAYETTEVILLE, Ark. – The University of Arkansas volleyball team closed out its 2014 home schedule Sunday afternoon with a four-set loss to No. 6 Florida on Senior Day at Barnhill Arena. Following the match, the Razorbacks recognized the careers of outside hitter Meredith Hays and team manager Brittney McCone. With Sunday's result, Arkansas enters the final week of the regular season with a 14-15 overall record and an 8-8 mark in SEC play.
Playing in her final match in front of the home crowd, Hays had 10 kills against the Gators and finished just one dig shy of her 12th double-double of the season. The Hereford, Texas, native is now just 14 shy of becoming just the eighth player in program history to record 500 kills in a single season. She would be the first to do so since the 2007 season. Hays now has double-digit kills in 27 of 29 matches during her senior campaign.
With her eighth assist of the match, freshman Bailee Hankenson became just the sixth Razorback setter to record 1,000 assists in a single season and the second freshman (Tina Rico, 1994) to reach that mark. She joins the short list that also includes Rico, Evgeniya Rangelova, Raymariely Santos, Roberta Tarnauskaite and Ning Zhao. Hankenson finished the match with 30 assists, four digs and two blocks.
Kori Ortiz made her first career start at libero in Sunday's match against Florida (23-3, 17-0 SEC) and led all players with a season-high 16 digs behind the Arkansas block. Holly Hankenson was third on the team with eight digs. Chanell Clark-Bibbs and Liz Fortado tied for the team lead with three total blocks. The two combined for the game-winning block in the first set.
Arkansas played point-for-point with the sixth-ranked Gators to begin the match and trailed by one at the media timeout in the first set. A service ace by Monica Bollinger gave the home team a 22-20 lead late in the set and Hankenson gave the team its first of three set points with a second-touch kill. After a kill by Ana Sofia Jusino set up the third opportunity, Clark-Bibbs and Fortado clinched the opener with a block.
The Razorbacks close out their regular-season schedule with a pair of road matches next week at Tennessee and No. 15 Kentucky. Wednesday's match with the Lady Vols will be televised by the SEC Network with a first serve of 5 p.m. (CT) at Thompson-Boling Arena in Knoxville. It will be Arkansas' seventh appearance on the SEC Network this season.
Final
#6 Florida 3, Arkansas 1 (25-27, 25-12, 25-20, 25-19)
Time: 2:01 | Attendance: 657
Fayetteville, Ark. | Barnhill Arena
#RazorFacts
• Stat Leaders vs. #6 Florida
o Kills: 10 – Meredith Hays
o Digs: 16 – Kori Ortiz
o Blocks: 3 – Chanell Clark-Bibbs, Liz Fortado
• Milestone Watch:
o Bailee Hankenson: sixth setter in program history to record 1,000 assists in a single season
o Meredith Hays: 14 shy of becoming eighth player in program history with 500 kills in a single season
• Next match: Nov. 26 at Tennessee in Knoxville
o First serve at 5 p.m. (CT) on SEC Network
o Seventh appearance on SEC Network this season
For more information on Arkansas volleyball, follow @RazorbackVB on Facebook, Instagram and Twitter.