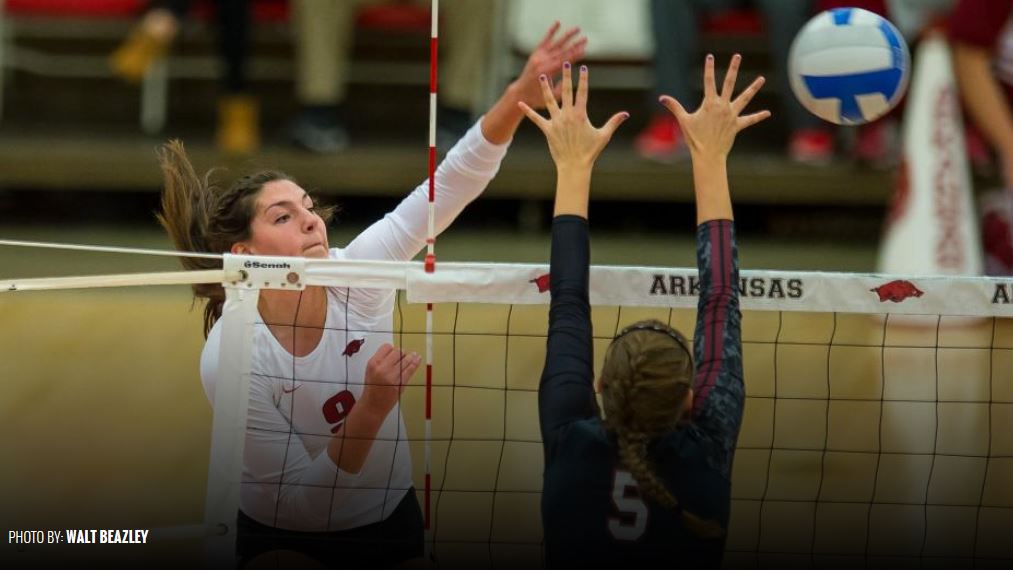 @RazorbackVB Posts Four-Set Win at Tennessee
KNOXVILLE, Tenn. – The University of Arkansas volleyball team began its Thanksgiving road trip Wednesday evening with a four-set win at Tennessee. The Razorbacks were led by a match-high 15 kills from Liz Fortado and a double-double by Meredith Hays. With the result, Arkansas improves to 15-15 overall and 9-8 in SEC play and wins its third-straight match in Knoxville.
Fortado's performance was her third match of the conference season with 15 or more kills. She's hit that mark in two of her last three matches including a career-high 19 kills against South Carolina (Nov. 14) in Fayetteville. Fortado tallied a .375 hitting percentage to go along with three digs and two blocks against Tennessee.
With her 14th and final kill of the match, Hays became the eighth player in program history to register 500 kills in a single season and the first to do so since the 2007 season. She completed the double-double effort with 12 digs and now has a team-leading 12 double-doubles this season to push her career total to 21. Eight of Hays' 12 double-doubles this season have come during SEC play. She also added a career-high four service aces.
Hays and libero Kori Ortiz tied for the team lead at 12 digs. Monica Bollinger was third on the team with seven digs while Barbara Dapic and Holly Hankenson each had six. With her fifth dig of the match, Bollinger moved into 16th place on the program's all-time digs list and now has 786 digs in her Razorback career. Dapic also tied her season high with seven kills and established a career best with a team-high six blocks.
Having dropped the opening set and tied at 4-all in the second, the Razorbacks nine of the next 10 points to take control of the scoreboard. Arkansas was aided by three early kills in the set by Liz Fortado. Tennessee (8-23, 1-16 SEC) cut the lead down to three before the Razorbacks closed out the set on 7-1 run to send the match intermission tied at one set each. In winning the set, Arkansas held the Lady Volunteers to a .000 hitting percentage.
The Razorbacks led by as many as five points in the third set and as late in the game as 19-14 after a Fortado kill. The home team got as close as two points down the stretch but Arkansas went on to secure the set on another kill by Fortado. In the close-out set, the Razorbacks jumped out to a 6-1 lead and stretched the advantage to double figures at 22-12 on a kill by Breana Jones. Arkansas hit .519 in the fourth set on its way to the road win.
Earlier in the day, the league office announced the 2014 All-SEC Team which included both Chanell Clark-Bibbs and Hays. Clark-Bibbs is the 33rd all-conference player in program history while Hays earned her second All-SEC selection to become the 17th Razorback with multiple SEC year-end accolades, and third to do so under head coach Robert Pulliza.
The Razorbacks close out the regular season Saturday evening with a road contest at No. 15 Kentucky. First serve of the SEC finale is scheduled for 6 p.m. (CT) at Memorial Coliseum in Lexington. The match will be streamed on SEC Network+ which is available online through the WatchESPN app.
Final
Arkansas 3, Tennessee 1 (21-25, 25-16, 25-22, 25-13)
Time: 1:52 | Attendance: 736
Knoxville, Tenn. | Thompson-Boling Arena
#RazorFacts
• Stat Leaders at Tennessee
o Kills: 15 – Liz Fortado
o Digs: 12 – Meredith Hays, Kori Ortiz
o Blocks: 6 – Barbara Dapic
• Third-straight win in Knoxville is longest such streak since winning four straight between 1996 and 2002
• Double-digit team blocks (11.0) for the 11th time this season
o Third time during SEC play
o First since Nov. 2 against LSU in Fayetteville
• Double-Double Watch:
o Meredith Hays: 14 kills, 12 digs (12th of the season, 21st of her career)
• Milestone Watch:
o Monica Bollinger: moved into 16th place on program's career digs list
o Meredith Hays: eighth player in program history with 500 kills in a single season
o Meredith Hays: 28 shy of class record for kills (528 – Sara Kincaid, 2003)
• Career Highs
o Barbara Dapic: 6 blocks (previous: 5 vs. Mississippi State – 11/24/13)
o Barbara Dapic: 6 digs (previous: 5 vs. South Carolina – 11/14/14)
o Meredith Hays: 4 aces (previous: 3 vs. Texas A&M – 11/19/14)
• Next match: Nov. 29 at #15 Kentucky in Lexington
o First serve at 6 p.m. (CT) on SEC Network+
For more information on Arkansas volleyball, follow @RazorbackVB on Facebook, Instagram and Twitter.