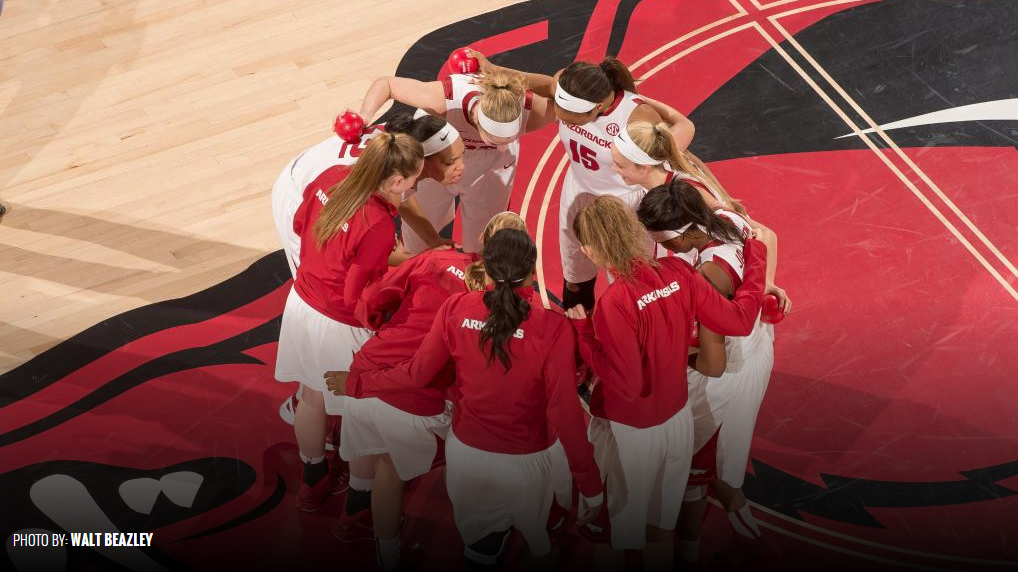 @Razorbackwbb Looks For Season Sweep Of Auburn
Arkansas (14-9, 4-7 SEC) at Auburn (9-15, 0-11 SEC)
JUMP BALL
Just over two weeks removed from when the teams met the first time this season, the University of Arkansas women's basketball team will seek the season sweep of the Auburn Tigers when it takes to Auburn Arena Sunday afternoon. The Razorbacks will also be looking to restart a winning streak, as their three-game conference streak was snapped Thursday night in a loss to No. 15/16 Texas A&M. Auburn is one of three conference teams Arkansas has a home-and-home with this season (Texas A&M, Auburn, Missouri).
RAZORBACK BASKETBALL FIRST FIVE
1. "NEW SEASON" IMPROVEMENT
In the wake of an 0-4 start to conference play, which witnessed the Razorbacks play three straight top-15 opponents, Coach Dykes placed on emphasis on the "new season" – forgetting the first four games and concerning themselves more about the final 12 conference games. The Razorbacks are 4-3 in their "new season," but the record may not reflect all of the improvements Arkansas has statistically displayed. For instance, in the first four games, Arkansas averaged only 53.8 points per game on 32.3 percent shooting but has seen both of those numbers increase over the last seven games to 56.9 points on 37.0 percent. Defense, a staple for Coach Dykes, has shown improvement too after the first four games (63.8 points allowed) compared to the last seven (54.0 points allowed).
2. BANK ON BROOKS
After appearing in all 30 games as a true freshman last season, sophomore Kelsey Brooks has inserted herself as a dynamic option for the Razorbacks this season. The Olathe, Kan., native is twice this season a recipient of the SEC Player of the Week honors (Dec. 1 and 15) and leads the conference and the team in scoring averaging 15.5 per game. She also leads the team in steals per game (1.7), is second in assists per game (2.4), and is fifth on the team in rebounds per game (5.2). Brooks has started all 23 games and scored in double figures in 20 of them, including six of her last seven. In fact, she has led the team in scoring in 13 games and has been over the 20 point-plateau five times. Brooks has made significant improvements in every statistical category from last season. Her biggest jump, however, is in scoring, where she is averaging nine points more this season – 6.4 last season compared to 15.5 this season.
3. SCORING SOPHOMORES
Arkansas has received solid play from a pair of sophomores. Kelsey Brooks and Jessica Jackson lead the team in scoring, averaging 15.5 and 13.6 points per game, respectively. In fact, Jackson and Brooks have combined for 29.1 points, making them the second-highest scoring duo in the conference. They have also accounted for 46.6 percent of the team's total scoring, the most of any duo in the SEC. Ten times this season the Jackson and Brooks duo have combined for over 30 points and twice this season they have combined for over 40 points in a game (46 vs. Iowa, 47 vs. Oklahoma).
4. RAZORBACKS CLEAN THE GLASS
Under first-year head coach Jimmy Dykes, rebounding the basketball has become a calling card for the Razorbacks. Arkansas possesses a +6.9 edge on the boards, ranking third in the SEC. In fact, Arkansas has outrebounded 14 of 22 opponents (tying one) this season, registering an 11-3 (.786) mark in those games. Arkansas has limited opponents' second chances, ranking first in the SEC in defensive rebounding percentage at 71.4 percent. The Razorbacks have shown their will and grit on the boards, putting up these rebounding numbers despite having only the seventh-tallest (74.2 inch average) front-line in the SEC.
5. LITTLE BIT OF EVERYTHING
Senior Calli Berna has been a do-it-all point guard for the Razorbacks over her four-year career. In fact, she is only the third Razorback player ever to tally 600 points and grab 400 rebounds, while also dishing out 500 assists. Her 689 points, 470 rebounds, and 617 assists puts her in exclusive company with C'eira Rickets (1,537 points, 664 rebounds, 516 assists) and Amber (Nicholas) Shirey (1,209 points, 428 rebounds, 537 assists).
SCOUTING AUBURN
• Auburn enters Sunday's matchup 9-15 overall and still in search of its first conference victory with an 0-11 SEC mark.
• Tra'Cee Tanner and Brandy Montgomery lead the team in scoring, averaging 11.9 and 11.2 points per game, respectively
• Auburn ranks 14th in the SEC in scoring offense (58.0) and sixth in scoring defense (56.5)
• The Tigers rank fourth in the SEC in steals per game (10.7)
• Terri Williams-Flournoy (Penn State, '91) is 47-45 (.511) in her third season as head coach of the Tigers. She is 190-153 in her 10th season overall as a head coach, after previously coaching at Georgetown from 2004-2012. Auburn has advanced to the WNIT in each of Williams-Flournoy's first two seasons.
• Arkansas trails the all-time series with Auburn 13-20, including a 4-10 mark in games played in Auburn.
LAST MEETING: Jan. 29, 2015 – ARKANSAS 52, AUBURN 47
Arkansas kick started a three-game winning streak with a win over Auburn on Jan. 29. A strong defensive effort and 17 points from sophomore Kelsey Brooks contributed to the win. Brooks scored 14 of her 17 points in the first half, assisting the Razorbacks in building up a 31-15 halftime advantage. Arkansas would see its halftime lead cut to as low as two, but did not relinquish its lead. After the Tigers trimmed the lead down to two with seven minutes left, Arkansas answered back with a 6-0 run to push the lead back up to eight. Auburn again would cut the lead down to four with three minutes to go, but Arkansas' defense stood up, behind a couple of steals from seniors Calli Berna and Jhasmin Bowen, and held the Tigers at bay. Arkansas also shot 5-of-8 from the line in the last minute to help seal the win. The Razorbacks' starting five of Jessica Jackson, Jhasmin Bowen, Calli Berna, Kelsey Brooks, and Melissa Wolff combined for 49 of the teams' 52 points.
PREVIOUS GAME: NO. 15/16 TEXAS A&M 59, ARKANSAS 55 (Feb. 12, 2015)
Arkansas had its three-game winning streak in Southeastern Conference play snapped Thursday night at Reed Arena, falling to No. 15/16 Texas A&M by a final tally of 59-55. The conference's leading duo of sophomores Jessica Jackson and Kelsey Brooks were at it again, combining for 32 points, including a game-high 19 from Jackson. Senior Jhasmin Bowen poured in 13 points and grabbed eight rebounds. Jackson, Brooks, and Bowen combined for 45 of the team's 55 points. Arkansas has lost both games to Texas A&M this season by a combined six points. Trailing by seven at halftime and by as many as 10 in the second half, Arkansas trimmed the lead down to a single possession on multiple occasions down the stretch. The Razorbacks had the ball with a chance to tie or take the lead with 27 seconds remaining, but the possession resulted in a turnover and A&M was able to ice the game at the free throw line.
POSTGAME NOTES (Texas A&M)
• Bowen, Brooks, and Jackson all finished in double figures, the 17th time Arkansas has had three or more players with 10+ points. For Bowen it was her 11th time in double digits, Brooks her 20th time and for Jackson it was her 16th time
• Brooks and Jackson entered the game averaging 29.0 points combined and the duo combined for 32 points against A&M, the 10th time this season they have combined for 30 or more points.
• Senior Calli Berna played all 40 minutes, the fourth time this season she's recorded 40 or more minutes.
ARKANSAS BASKETBALL NOTES
WHERE ARE THEY NOW?
Along the way of its 10-2 non-conference record, the Razorbacks took down a number of quality opponents, including Middle Tennessee State, Iowa, and Oklahoma. Take a look at how some of Arkansas' non-conference opponents are currently faring as of Feb. 13: Middle Tennessee State is 16-6 overall, leads the C-USA standings with a 10-2 mark, and is No. 49 in RPI. Iowa is 20-4 overall, second in the Big Ten at 11-2, ranked No. 14/13 and is No. 7 in RPI. Oklahoma is 15-8 overall, second in the Big 12 at 9-3, and No. 22 in RPI.
ALWAYS IN IT
Even with their 4-7 conference record, the Razorbacks have been in every game and could make a case for having possibly only two losses on the schedule. Arkansas has been ahead at halftime in eight of 11 SEC games. And in five of their seven losses, the Razorbacks were leading, tied, or within one possession at the second half under eight media timeout. Twice, the Razorbacks have succumbed on the last possession of the game – against Texas A&M, the Aggies banked in a put back as time expired and at Vanderbilt, Arkansas missed a potential game-winning three pointer at the buzzer. Arkansas also had an opportunity to tie or take the lead in its last possession with 27 seconds remaining at Texas A&M (Feb. 12) but the resulted in a turnover.
BALANCED ATTACK
The Razorbacks have demonstrated a balanced offensive attack this season, with three players averaging double-digit points (Brooks 15.5, Jackson 13.6, Bowen 11.3) and a fourth nearing the threshold (Wolff 8.7). In fact, Arkansas is one of five teams in the SEC (Kentucky, LSU, Tennessee, South Carolina) to have at least three players averaging in double figures. Arkansas is also one of two teams (Kentucky) to have three players ranked in the conference's top 20 scorers. Arkansas has received double-digit scoring from at least three players in 17 of 23 games this season, with a record of 12-5 (.706) in those games.
ANOTHER GAME, ANOTHER START
Adding to the imprint she is leaving on the program, senior Calli Berna recorded her 100th career start against Texas A&M Feb. 12 and is the 10th player in program history to tally 100 or more starts. Appearing in a total of 119 career games and counting, Berna has started the last 86 games in a row.
PASS FIRST
Following her six assist performance against Auburn Jan. 29, senior Calli Berna tallied career assist no. 601, making her just the second Razorback ever to have 600 or more assists. Amy Wright (1998-02) owns the school record with 717 assists. In addition, Berna's 617 assists ranks her seventh for current active assist leaders in the NCAA.
LINE PROGRESSION
Poor free throw shooting plagued the Razorbacks in the non-conference portion of the schedule as the team shot just 63.0 percent. Arkansas has shown drastic improvement since the start of SEC play, however, shooting at nearly a 72 percent clip from the line, and ranking second in conference games. The Razorbacks' charity stripe shooting has been aided by Jessica Jackson's (89 percent) and Kelsey Brooks' (82 percent) hot shooting from the line in 11 conference games.
A WOLFF ON THE BOARDS
Coined the "heart and soul" of the team by Coach Dykes, junior Melissa Wolff has been a key Hog in Arkansas' rebounding numbers as she is averaging almost a double-double with 8.7 points and 8.1 rebounds per game. In fact, Wolff has tallied five 10+ points, 10+ rebound games this season, the most on the team. Wolff has seven career double-doubles, and Arkansas is 6-1 in those games. The Cabot, Ark., native very well could have had five more double-doubles added to her resume as she has been a threat in just about every game this season. She nearly finished with a double-double against Iowa (9 and 10), South Dakota State (9 and 16), Rutgers (11 and 8), Missouri State (10 and 9) and Texas A&M (8 and 10). Wolff's 8.1 boards per game leads the team and ranks sixth in the SEC.
TO START OR NOT TO START
Whether she starts or comes off the bench in SEC play, sophomore Jessica Jackson has similar numbers. Consider this: in the eight games she has started, Jackson's points (12.9), rebounds (5.5) and minutes (32.2) per game is comparable to the points (12.3), rebounds (4.0) and minutes (25.7) per game in the three games she has come off the bench.
GETTING DEFENSIVE
Arkansas has shown an ability to put the clamps down defensively this season. In fact, the Razorbacks are holding opponents to 35.7 percent shooting from the field, ranking fourth in the conference while also holding opponents to 55.7 points per game. Furthermore, Arkansas owns a defensive efficiency rating of 83.6, holding its opponents to 0.836 points per possession.
The Razorbacks have gotten after it on the defensive end of the floor and have held their opponents to without a field goal for large chunks of time. Through 23 games, 36 times the Razorback defense has held their opponent to without a field goal for over four minutes. Additionally, 23 times this season Arkansas has held their opponent to without a field goal for over five minutes. Arkansas held Tulsa to without a field goal for a 9:22 minute stretch on Dec. 14, a season-best for Arkansas' defense.
DEFENSIVELY STREAKING
The Razorbacks' three-game conference winning streak from Jan. 29 – Feb. 9 was sparked by its stout defense effort. Consider this: in those three games, Arkansas suffocated opponents into 45.7 points per game on 34.7 percent shooting, including a dismal 17.5 percent from three. For the first time in program history, the Razorbacks held three consecutive SEC opponents to under 50 points (Auburn 47, Alabama 42, Georgia 48).
DOUBLE TAKE
Arkansas has recorded 11 double-doubles from four different players this season, bettering last season's total of 10. Junior Melissa Wolff has accounted for five of them this season (17/13 vs. Nicholls, 14/10 vs. Savannah State, 15/11 vs. Richmond, 12/10 vs. Grambling, 10/10 vs. Tennessee), giving her seven for her career. In fact, she's statistically good for about one double-double every three to four starts (seven in 25 starts). Senior Jhasmin Bowen has tallied two this season (12/10 vs. Nicholls, 17/12 at Tulsa), giving her five for her career. Sophomore Jessica Jackson has eight career double-doubles, including three this season (19/12 vs. Savannah State, 18/10 vs. Texas A&M, 14/11 at Alabama) while sophomore Kelsey Brooks recorded her first career double-double Nov. 23 against Northwestern State (19/12).
DISHING IT OUT
Along with one of the top point guards in all of college basketball in Calli Berna, the Razorbacks have distributed the ball effectively this season. Arkansas has assisted on 56.6 percent of its made field goals this season, including a season-best 78.9 percent (15 assists on 19 field goals) in a road win against MTSU Nov. 20. Berna ranks first in the conference with an individual assist-to-turnover ratio of 1.9:1, and is second in the conference, averaging 5.0 assists per game. While she's on the floor, Berna assists on slightly more than one out of every four made field goals (28.7 assist percentage).
WINS AGAINST RANKED TEAMS
Arkansas has register two wins over ranked opponents this season (No. 17/16 Iowa and No. 24/21 Georgia), marking the first time since the 2011-12 season the Razorbacks have picked off multiple ranked teams in the same season. Fourteen times in program history the Razorbacks have beaten multiple ranked opponents in the same season (2014-15, 2011-12, 2010-11, 2005-06, 2002-03, 2001-02, 2000-01, 1998-99, 1996-97, 1995-96, 1994-95, 1993-94, 1990-91, 1985-86).
HOLDING ONTO THE ROCK
Don't let Arkansas' negative turnover margin be misleading. The Razorbacks are turning the ball over a league-low 13.8 times per game, but are only forcing 13.6 turnovers on the defensive end.
CONFERENCE CALL FOR JACKSON
A 2014-15 Preseason All-SEC first team selection, sophomore Jessica Jackson seems to find an extra gear when it comes to competing in the nation's toughest conference. During her freshman season, Jackson averaged 16.2 points and 6.2 rebounds per game and was named to the 2013-14 All-SEC freshman team and to the All-SEC second team. In 11 conference games this season, she is averaging 12.7 points and 5.1 rebounds per game. Jackson has played in 28 career conference games, reaching double figures in 20 of those games. In fact, she is averaging 15.2 points per game in 28 career SEC games compared to 14.1 points in 26 non-conference games.
BOSTAD NAMED FRESHMAN OF THE WEEK
On the heels of her first career start and posting a career-high 15 points in the Razorbacks' win over Missouri Jan. 18, freshman McKinley Bostad was named SEC Freshman of the Week as announced by the conference office Jan. 19. Against Missouri, she set new career highs in points (15), three-pointers made (4), three-pointers attempted (7), rebounds (3), and minutes (33). Bostad has seen her role gradually increase as the season has progressed, averaging 13.4 minutes and 2.8 points per contest in SEC play, compared to 12.7 minutes and 2.6 points in the non-conference games.
TOUGH ON THE ROAD
In non-conference play, the Razorbacks played away from Bud Walton Arena in six of their 12 games. Arkansas has established a perfect 6-0 (3-0 away, 3-0 neutral) mark in away/neutral site games, tied with South Carolina among SEC teams for the most wins coming away from home during the non-conference schedule.
The Razorbacks have grown accustomed to winning while donning the traveling red jerseys, having won their last 12 true non-conference road games in a row dating back to the 2009-10 season.
HOME SWEET ARKANSAS
With a large portion of Razorback supporters scattered across Arkansas, the Hogs have a history of playing games throughout the state. Facing Oklahoma Dec. 21, the Razorbacks made their first appearance in Little Rock and Verizon Arena since 2009 and the program's 10th overall trip to Little Rock, where the Hogs have tallied a 6-4 (.600) all-time record. The Oklahoma game also marked the 23rd overall game played in the state of Arkansas for the Razorbacks, owning an all-time record of 16-7 (.700). The 2015 SEC Women's Basketball Championship will be held in Verizon Arena March 4-8, 2015.
700 PROGRAM WINS
Arkansas defeated Tulsa 64-53 on Dec. 14, giving the Razorbacks their 700th program win. Arkansas joins nine other SEC schools (Tennessee, Georgia, LSU, Auburn, Vanderbilt, Ole Miss, Kentucky, South Carolina, Texas A&M) that have 700 or more program wins.
As the 2014-15 campaign continues, Arkansas is in the midst of its 39th season of women's basketball, owning an overall program record of 706-444 (.614). In those 39 years, Arkansas has advanced to postseason play a total of 21 times, including 10 trips to the NCAA Tournament.
"FINE WITH NINE"
It is no secret Arkansas will have one of the smaller roster sizes across the country. In fact, with only nine players the Razorbacks have the smallest roster in the SEC. However, head coach Jimmy Dykes has embraced each and every player on the roster and has continued his daily preaching of "Be Arkansas," saying he is "fine with nine."
"I'm fine with nine. That's where we are," Dykes said while addressing the media Nov. 7. "With only nine players, the first 23 practices, we didn't back off one second because we have to be in top physical condition. If we only have nine going into the season, those nine have to be ready to play a lot of minutes … That term 'Be Arkansas' has helped me in recruiting, but it's also helped me define who we are as a basketball team. Being Arkansas is being a great teammate, being tough, being coachable, working your tail off every day, understanding what it takes to be a legit program at this level. I only want players who want to 'Be Arkansas' and I have nine of them right now who want to 'Be Arkansas.'"
SENIOR LEADERSHIP
Coach Dykes has been open about his plans to build Arkansas women's basketball into a perennial top 25 program and what it will take to get there. Part of what it will take to get there is a change in mindset from his group of players. The way Coach Dykes lauds his two seniors Calli Berna and Jhasmin Bowen, it is evident those two players have bought in entirely to what Coach is teaching, despite having only one year to play for him.
"I fully expect eight or nine years from now to be holding some type of championship trophy and talking about this trophy was won back in my first year when Jhasmin Bowen and Calli Berna bought into how we're trying to do things. Those two have been terrific," Dykes said while addressing the media Jan. 16.
BERNA WALKS IN COMMENCEMENT
Senior Calli Berna has truly exemplified what it means to be a student-athlete at the University of Arkansas and participated in commencement exercises on Dec. 20 inside Barnhill Arena. Graduating with a bachelor of arts in broadcast journalism, Berna will move on to graduate school at UA where she will pursue sports management. The Fayetteville, Ark., native has earned academic distinction from the SEC three times (SEC First-Year Academic Honor Roll 2011-12, SEC Academic Honor Roll in 2012-13 and 2013-14) and from the university six times (Arkansas Athletic Director's List Fall 2011, Spring 2012, Fall 2012, Fall 2013, Spring 2014 and Arkansas Honor Roll Spring 2013). Berna joins Joey Bailey as the second graduate on the team as Bailey graduated with a degree in journalism and is pursuing her MBA.
JACKSON NAMED TO PRESEASON ALL-SEC COACHES FIRST TEAM
Sophomore Jessica Jackson was named to a Preseason All-SEC First Team selection by the coaches as released by the conference Nov. 5. As a freshman last season, Jackson led the team and ranked seventh in the conference in scoring, averaging 16.2 per game.
DYKES SIGNS FIVE IN FIRST RECRUITING CLASS
In his first full recruiting class, first-year head coach Jimmy Dykes added five players to his 2015 class during the early signing period in November. Two ESPN Top 100 nationally ranked players highlight the class and three of the five players are from the state of Arkansas, continuing Dykes' promise to "Be Arkansas" and keep top in-state talent at home. Jordan Danberry (G, 5-7) is a five-star recruit ranked No. 47 in the 2015 class by ESPN out of Conway, Ark. She was named the 2014 Arkansas Gatorade Player of the Year after averaging 15.7 points, 6.8 rebounds, and 6.5 assists as a junior. North Little Rock's Malica Monk (G, 5-5) is a four-star prospect ranked No. 64 in the 2015 class by ESPN. Monk was the first player to commit to Dykes and Coach says she is one of the fastest players baseline-to-baseline with a basketball in her hand in the entire 2015 class nationwide. Bailey Zimmerman (G/F, 6-1) is a three-time all-state tournament team selection out of Hattiville (Arkansas) High School and listed as a three-star prospect. Keiryn Swenson (G/F, 6-1) was a member of the 2014 6A All-State team out of Maize (Kansas) High School and is listed as a three-star prospect. Swenson had Division I offers in basketball, volleyball, and track and she will throw the javelin for Arkansas' track and field team in the spring. Briunna Freeman (G, 5-9) has scored over 1,500 points in her career at Pelham (Georgia) High School and is a two-time AA All-State first team selection. Dykes notes her incredible athleticism, adding in that Freeman can dunk a tennis ball.
2014-15 NEWSMAKERS
BOSTAD'S TOUGHNESS
In the later stages of the first half on the road at Ole Miss Jan. 2, freshman guard McKinley Bostad found a crease in the defense and drove down the lane. Bostad's feet got tangled up with the defender's, sending her face first onto the hardwood, leaving her front two teeth the only thing to break her fall. Her front two teeth broke off in half and where her teeth hit left a permanent indent on the surface at Tad Smith Coliseum. After only a few minutes on the bench to recollect herself and get the bleeding down, she told Coach Dykes she was ready to play. She finished the game playing 17 minutes and scoring three points. The following morning she had a double root canal and her teeth glued back together. Needless to say, she played 11 minutes Jan. 4 against Texas A&M.
"Her teeth were on the floor, I think I stepped on them when I went out there to check on her and she got up and she was saying 'coach my teeth are gone, my teeth are gone' and within five or six minutes she was saying 'coach put me back in.' Man, if I can get my whole team to play like that and believe like that and understand that that's how you're supposed to play the game no matter what jersey you have on but especially an Arkansas jersey. On the plane ride home, I told my staff the one positive I took out of that game was Bostad's fight and her willingness to say you're going to have to kill me to beat me because 99 players out of 100 last night would have said coach I can't go back in." – head coach Jimmy Dykes said addressing the media Jan. 3.
BERNA'S BIG WEEKEND
Senior Calli Berna had quite the busy weekend in December. On Dec. 19, she got engaged to former Razorback football player A.J. Derby. On Dec. 20, she walked in university commencement exercises, graduating with a degree in broadcast journalism. Finally, on Dec. 21 she started, scored three points and had four assists in Arkansas' victory over Oklahoma in North Little Rock, Ark.
BERNA'S BUCKET
With the score tied and just seconds remaining in the first half against Mississippi State Jan. 8, Berna swished a three-quarter court shot as time expired. Her incredible shot came in as the No. 1 play of the night on SportsCenter's Top 10. It is believed to be the first time Arkansas women's basketball has ever appeared on SC's Top 10. Relive the shot here.
TOP ARKANSAS GUARDS
Three of the top floor generals to ever don an Arkansas women's basketball jersey are all located on the Arkansas sideline this season. Amber (Nicholas) Shirey played for the Razorbacks from 1988-92 and is currently serving as the Director of Basketball Operations. Shirey appeared in 117 career games, scoring 1,209 points which ranks 18th in program history. She ranks third all-time in school history with 538 assists and she is the only starting point guard at Arkansas to lead her team to three consecutive NCAA Tournaments.
Christy Smith played for the Razorbacks from 1994-98 and is currently in her first season as an assistant coach on Jimmy Dykes' staff. Smith ranks eighth in Razorback basketball history as she scored 1,459 points in 111 games. She is also fifth all-time in assists with 507. Smith is forever engrained in Arkansas basketball lore as she helped guide the No. 9-seeded Razorbacks to the 1998 NCAA Final Four, the program's only Final Four appearance.
Calli Berna is a senior for the Razorbacks this season. She has appeared in 119 career games and started 100 of those. Berna ranks second all-time in school history with 617 assists. She ranks in the top 50 for scoring with 689 career points and counting. Berna is also tied for seventh in career steals with 206.
PLAYERS OF THE WEEK
Two Razorbacks have earned weekly honors from the conference this season. For the first time in her career, sophomore Kelsey Brooks was named SEC Player of the Week Dec. 1 and then followed up with another Player of the Week award on Dec. 15. Freshman McKinley Bostad earned her first career SEC Freshman of the Week award Jan. 19.