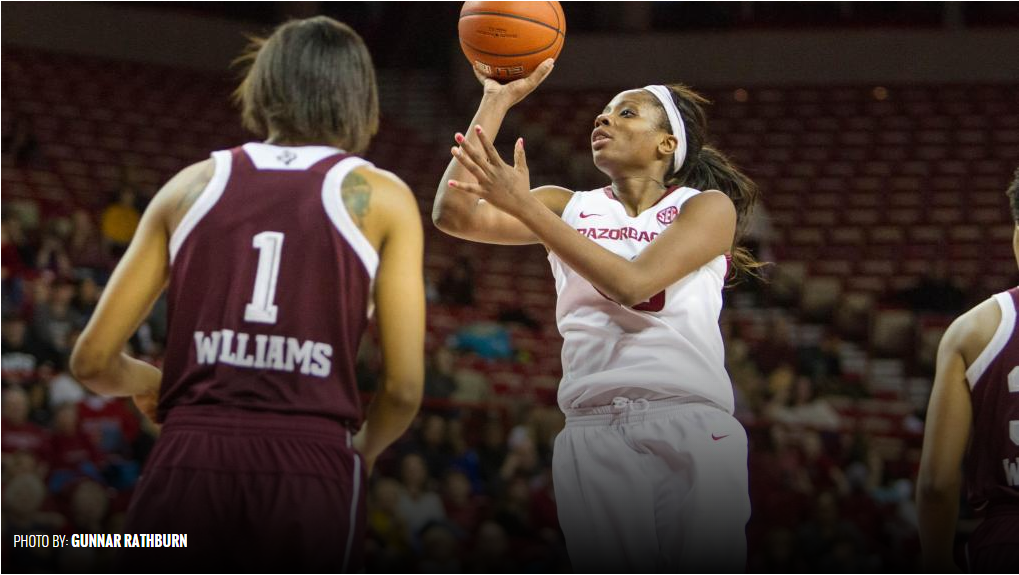 @Razorbackwbb Loses Nail-Bitter To No. 5/8 Texas A&M, 52-50
FAYETTEVILLE, Ark.  – The University of Arkansas women's basketball team lost its second consecutive Southeastern Conference game Sunday afternoon inside Bud Walton Arena in heartbreaking fashion, falling 52-50 to No. 5/8 Texas A&M. Arkansas battled the Aggies to a 50-50 tie with just seconds to go, until Achiri Ade converted a putback layup as time expired to give Texas A&M the win.
The Razorbacks drop to 10-4 overall and 0-2 in conference play.
A back-and-forth affair for the entire 40 minutes, the game featured 13 ties and 17 lead changes and neither team held a lead of more than five points.
Neither team was able to get their offenses fully flowing, as the teams combined for 26 turnovers and 35 made field goals. Arkansas shot 29.1 percent from the field while A&M shot 33.9 percent.
Sophomore Jessica Jackson registered her second double-double of the season and seventh of her career, scoring a game-high 18 points and pulling down 10 rebounds. Sophomore Kelsey Brooks scored 15 points and junior Melissa Wolff chipped in eight. Senior Calli Berna tallied seven assists and committed only one turnover against A&M's active defense.
Brooks got the scoring going early for Arkansas as she drove in for a layup and knocked down a triple in the game's first two possessions. The Hogs took an early 6-2 lead but would go on to miss their next six shots over the next five minutes. Texas A&M used a 7-0 run during that time to take its first lead of the game at 9-6. Arkansas pushed right back and eventually knotted the score back up at 12 apiece.
Both the Razorbacks and Aggies traded baskets the rest of the half as neither team could get ahead by more than four points. Neither team shot particularly well in the opening 20 minutes, with the Hogs shooting 29 percent and A&M slightly bettering that with 32 percent shooting. The Arkansas defense however, allowed just two made field goals from A&M over the final 8:20 of the half.
Brooks scored 12 in the first half, the eighth time she's scored in double figures in a half this season, to lead the way for the Razorbacks as they took a 28-25 lead into the locker room.
The second half saw Arkansas lead by as many as five in the first eight minutes as the defense held A&M to without a field goal for the first 5:21 of the half. Following a layup by A&M to tie the score at 34 with 13:22 left, the teams continued to exchange field goals.
Trailing 45-44, Jackson faced up and splashed a triple from the right wing to give Arkansas a 47-45 edge with just under five minutes to play. Texas A&M answered right back with a Courtney Williams jumper to tie the game. After both teams made one of two free throws to keep the game tied at 48, Courtney Walker knocked down an elbow jumper with 54 seconds left to give A&M the advantage. Following a timeout from Coach Dykes, Jackson drove baseline and made the layup to tie the game at 50 apiece with 31 seconds left.
With three seconds left, A&M's Jordan Jones missed a pull-up jumper but Achiri Ade grabbed the rebound and banked in the putback as time expired.
Achiri finished with 15 rebounds and 10 points, her second double-double of the season. Courtney Williams scored 18 points to lead the Aggies.
Arkansas will take to Starkville, Miss., for its next conference game, matching up with Mississippi State on Thursday night at 8 p.m. The game will be televised by Fox Sports Net.
QUOTABLE
"No one has out-fought us in this building. Even the number five team in the country, we had them. The locker room is really, really disappointed. I told them that there is no way I am disappointed in their fight and their effort and how hard they tried. I hate it for my players because they deserve it.
There is not any difference between A&M and Arkansas. They just happened to get another basket on us today. We are off to an 0-2 start in league play. We have a couple ranked teams coming up next. I want our players to be relentless and right now our schedule is relentless. We are not going to back away from them.
We did everything we could to win the game. It just didn't happen. I was really, really happy with the crowd. With the early start because of being on national TV, we had over 2,000 people here and they were loud and helped us. I just hope they continue to come back because 14 games into this thing right now as a head coach, we are building it for the long haul."
POST GAME NOTES
–    Sophomore Jessica Jackson tallied her second double-double of the season and seventh of her career, scoring 18 points and grabbing 10 rebounds.
–    With her 18 points today, Jackson has been in double figures in 15 of 19 career SEC games
–    Sophomore Kelsey Brooks has scored in double figures in 13 of 14 games this season after registering 15 points
–    Arkansas was outrebounded for just the third time all season. Texas A&M edged Arkansas 42-39 on the glass
–    Junior Joey Bailey started her first career game. She grabbed three rebounds in 14 minutes of action
–    Arkansas falls to 20-6 in the all-time series with A&M.