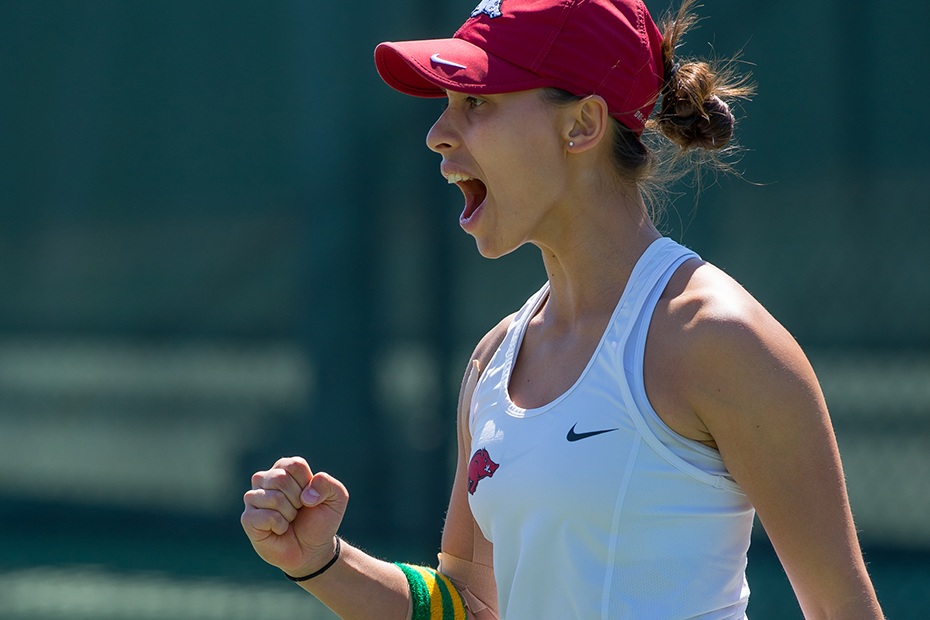 @RazorbackWTEN Sweeps Sunday's Matches, Concludes Fall Action
PROVIDENCE, R.I. – The Arkansas women's tennis team finished on a high note on its last day of competition for the 2014 fall schedule. During the final day of play from the Brown Classic in Providence, R.I., Sunday, the Razorbacks made it a clean sweep, winning all six of their matches against foes from Utah.
Over the last two days of the tournament, Arkansas won 11 of its 12 matches and overall for the tournament won 14 out of a possible 18 matches.
"Obviously we were happy to go 11 for 12 the final two days," head coach Michael Hegarty said. "This strong play will help us as we leave the fall season energized for the winter break and the all-important training block ahead."
In doubles, junior Makenize Craft and sophomore Nastassia Rubel teamed to beat Utah's Jena Cheng and Elena Najera, 8-5. Freshmen Mia Jurasic and Peyton Jennings bested Lucia Kovarcikova and Alexia Petrovic of Utah, 8-5.
Arkansas finished the tournament undefeated in doubles play, with each of its two tandems both going 3-0.
In singles, Rubel improved to a perfect 3-0 on the tournament with her 6-3, 6-1 win over Petrovic. Jurasic and Jennings both won their singles matches on Sunday and finished the tournament 2-1. Additionally, Craft earned a straight sets win over Cheng, 7-5, 6-4.
The Brown Classic marked the last event of the fall schedule for the Razorbacks. Arkansas will be back in action to serve up its 2015 spring schedule on Jan. 17, 2015, as it hosts Wichita State and Mercer in a doubleheader. For the full spring schedule, click here.
RESULTS
Doubles:
Makenzie Craft/Nastassia Rubel (UA) def. Jena Cheng/Elena Najera (Utah) 8-5
Mia Jurasic/Peyton Jennings (UA) def. Lucia Kovarcikova/Alexia Petrovic (Utah) 8-5
Singles:
Makenzie Craft (UA) def. Jena Cheng (Utah) 7-5, 6-4
Mia Jurasic (UA) def. Lucia Kovarcikova (Utah) 3-6, 7-5, 6-3
Nastassia Rubel (UA) def. Alexia Petrovic (Utah) 6-3, 6-1
Peyton Jennings (UA) def. Elena Najera (Utah) 6-2, 6-1
For more information on Arkansas women's tennis, follow @RazorbackWTEN on Twitter.