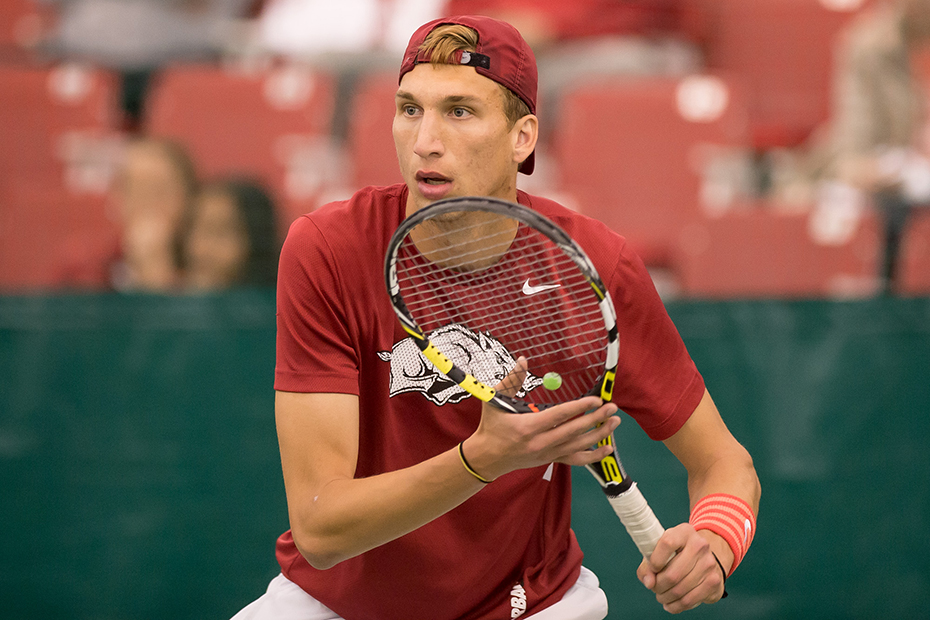 Redlicki, Doubles Duo Earn NCAA Spots
INDIANAPOLIS — The NCAA Division I Men's Tennis Subcommittee has selected the 64 singles players and 32 doubles teams that will compete in the 2016 NCAA Championships.
The No. 19 Arkansas men's tennis team will have representatives in each of the brackets, competing from May 25-30 at the Michael D. Case Tennis Center in Tulsa, Oklahoma.
For singles, No. 23 Mike Redlicki earned one of 50 at-large spots, while the No. 23 duo of Giammarco Micolani and Redlicki will have an opportunity to play for the doubles title among the 31 other pairs. In addition, No. 70 Jose Salazar is listed as the sixth alternate in the singles draw.
"Mike has had one of the best overall seasons in the NCAA," head coach Andy Jackson said. "Making the NCAA field in both singles and doubles while leading the team to a top-20 regular season finish are all major achievements. We are very proud of Giammarco and also Jose. We are hopeful that he can get in as an alternate."
So far during his first season as a Razorback, Redlicki has a 14-5 record at the top singles spot, including an 8-3 record in SEC play and a 9-4 mark against ranked opponents. In the Oracle/ITA Rankings as of April 26, the All-SEC First Teamer sits at No. 23 in singles as the fourth-highest ranked player in the conference.
The Micolani-Redlicki duo has a 10-9 overall mark this season – all at the top doubles spot – including five wins over ranked opponents. Their most notable victory was a 7-6 (7) decision over LSU's No. 8 pair of Boris Arias and Jordan Daigle on March 13.
Just one day after Arkansas earned its first team appearance in the NCAA Tournament since 2006, Redlicki knows this is another substantial opportunity to represent the Razorbacks on a national stage.
"The NCAA Championships are something every college tennis player dreams of taking part in," he said. "Nothing gets me more excited than the opportunity to make some noise in the singles bracket, and then again in doubles with one of my best friends in Marco."
For more information on Razorback men's tennis, please follow @RazorbackMTEN on Twitter.