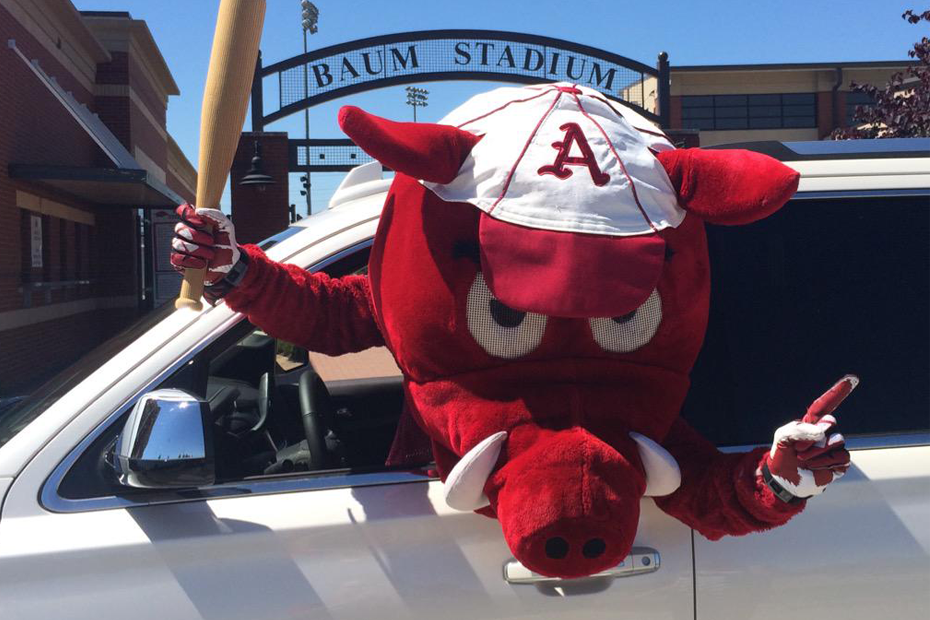 #RibbysRoadtrip: First Mascot to Omaha
Ribby just couldn't wait to get back to Omaha and decided to hop in the car on Tuesday and be the first mascot to arrive at the 2015 College World Series. The next few days he'll be going all around Omaha visiting restaurants, parks and of course TD Ameritrade Park.
To follow along all the action, go give @Ribby_UA a follow.
Here's a look at his trip so far:
Leaving home and headin to Omaha. Stay tuned for updates on my big adventure. #RibbysRoadTrip #OmaHogs pic.twitter.com/cN0v2DtIle

— Ribby (@Ribby_UA) June 9, 2015
Jammin to @JustinColeMoore and passing through Nevada, MO. #RibbysRoadTrip #RoadToOmaha pic.twitter.com/FfxBcQt39z

— Ribby (@Ribby_UA) June 9, 2015
YES! I made it!! Wow, it's great to be the first mascot in Omaha! Time to hit up the town. #RibbysRoadTrip pic.twitter.com/hmfspalmEN

— Ribby (@Ribby_UA) June 10, 2015
Hey @RazorbackBSB — Practicing my Hog Call at TD Ameritrade. This place will be rockin' on Saturday! 🐗⚾️ pic.twitter.com/A3g1kLGkEk

— Ribby (@Ribby_UA) June 10, 2015
Made some new friends at Gene Leahy Mall Park. They are now cheering for the #OmaHogs in new @RazorbackBSB swag! pic.twitter.com/x9V2Zdl5eu

— Ribby (@Ribby_UA) June 10, 2015
High Fives & Hog Calls all around downtown #Omaha. Warm welcomes from everyone. #RibbysRoadTrip pic.twitter.com/Cns8W7hfKD

— Ribby (@Ribby_UA) June 10, 2015
#WoooPig 🐗⚾️ #RibbysRoadTrip https://t.co/ceZj0lzPdm

— Ribby (@Ribby_UA) June 10, 2015
Day 1 in Omaha is in the books! Now it's time to get my🚿 & hit the sack. Big day tomorrow. Goodnight my friends! ⚾️ #RibbysRoadTrip

— Ribby (@Ribby_UA) June 10, 2015