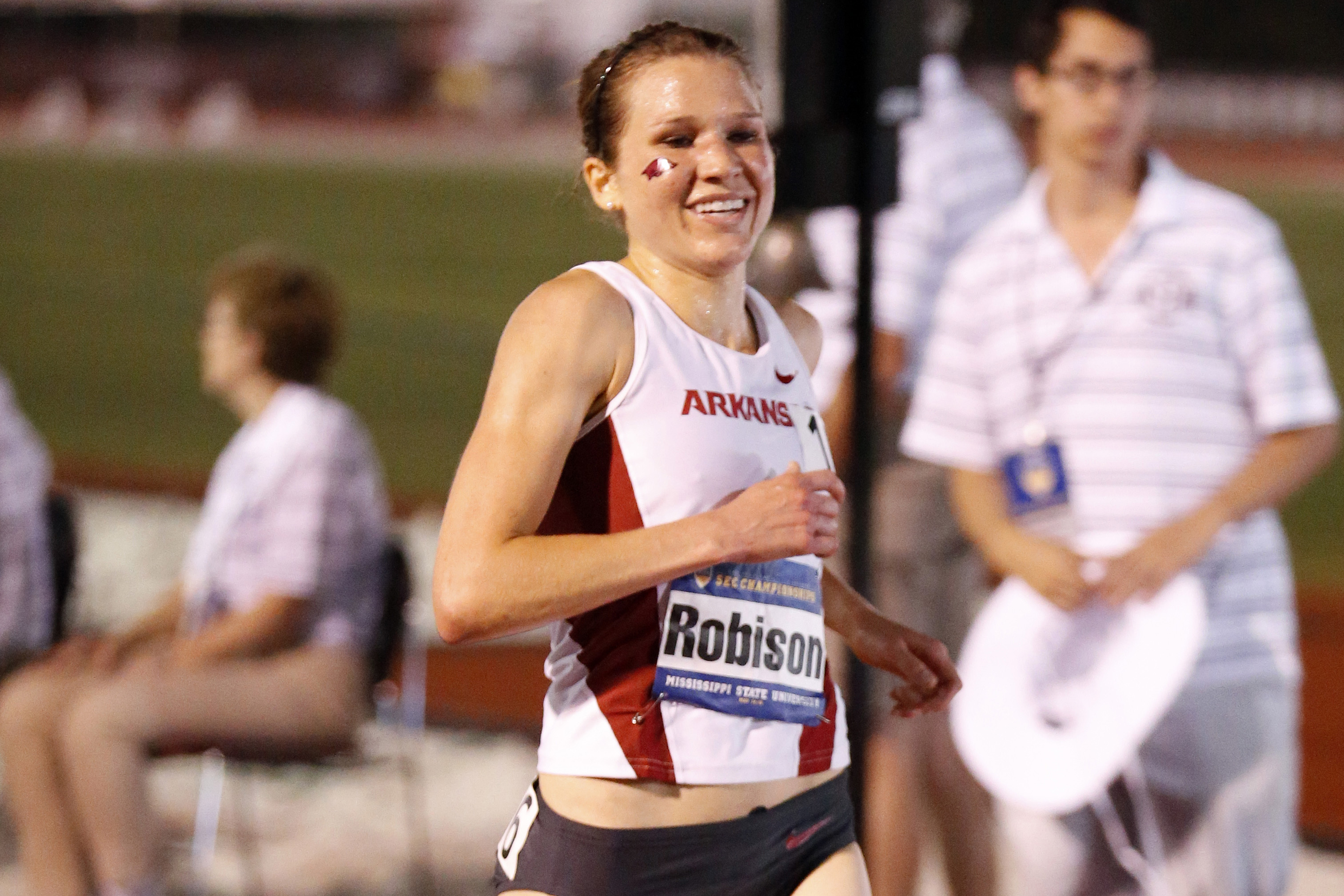 Robison Puts No. 1 Razorbacks on the Board with #SECTF 10K Title
STARKVILLE, Miss. – In the final event of the night, senior Diane Robison scored 10 points for the No. 1 University of Arkansas women's track and field team with a first-place finish at 10,000 meters at the SEC Outdoor Championships at the Mike Sanders Track Complex. In addition to three qualifiers for event finals, the Razorbacks also have Taliyah Brooks and Alex Gochenour in scoring position after day one of the heptathlon.
The final two days of the 2015 SEC Outdoor Championships will be streamed on SEC Network PLUS beginning Friday at 3:40 p.m. and Saturday at 2:50 p.m. The meet will also air as a two-hour highlight show May 21 beginning at 7 p.m. on ESPNU. Dwight Stones and Larry Rawson will handle the play-by-play and color commentary duties, respectively, with Jill Montgomery reporting along trackside.
With her win, Robison became the seventh runner in program history to win an SEC title at 10,000 meters and the second to do so in as many years with Dominique Scott taking the top spot in 2014. The victory is Robison's second overall SEC title having won at 5,000 meters last year. The Razorbacks have now collected 66 SEC outdoor event titles including 10 wins at 10,000 meters.
In Thursday's preliminary action, Arkansas picked up qualifying efforts from Taylor Ellis-Watson at 400 meters and the 800-meter duo of Rebekka Simko and Chrishuna Williams. Ellis-Watson won her heat in 23.13 to advance to Saturday's final as the third-fastest qualifier. At 800 meters, Simko (2:05.80) and Williams (2:05.97) finished 1-2 in the opening heat of the event to claim the two automatic qualifying berths in the final
Through the first four events of the heptathlon, Brooks and Gochenour are in third and fourth place, respectively with three events to go in the two-day competition. Brooks scored 3,602 points with the help of personal-best marks in the high jump and shot put while Gochenour posted 3,583 points with a PR of her own in the shot put. Teammate Leigha Brown sits just outside of scoring position in 10th place with 3,206 points.
2015 SEC Outdoor Championships | Day 1
Mike Sanders Track and Field Complex
Starkville, Miss.
200 Meters (prelim)
3. Taylor Ellis-Watson – 23.13Q
18. Regine Williams – 24.12
800 Meters (prelim)
4. Rebekka Simko – 2:05.80Q
5. Chrishuna Williams – 2:05.97Q
400m Hurdles (prelim)
11. Brianna Swinton – 59.43 [PR – previous: 59.63]
10,000 Meters
1. Diane Robison – 33:55.12 [10 points]
–. Samantha Mohler – DNF
Heptathlon (Day 1)
3. Taliyah Brooks – 3,602 points
3. 100m Hurdles – 13.33 (+0.7) [1,075 points]
4. High Jump – 1.76m/5-9.25 [PR – previous: 5-8.75] [928]
7. Shot Put – 11.97m/39-3.25 [PR – previous: 38-5.5] [659]
4. 200 Meters – 24.43 (+1.8) [940]
4. Alex Gochenour – 3,583 points
4. 100m Hurdles – 13.41 (+0.7) [1,063 points]
7. High Jump – 1.70m/5-7 [855]
3. Shot Put – 13.09m/42-11.5 [PR – previous: 42-8.75] [733]
5. 200 Meters – 24.51 (+1.8) [932]
10. Leigha Brown – 3,206 points
7. 100m Hurdles – 14.02 (+0.5) [PR – previous: 14.12] [976 points]
12. High Jump – 1.61m/5-3.25 [747]
5. Shot Put – 12.06m/39-6.75 [665]
10. 200 Meters – 25.76 (+2.0) [818]
Entering the 2015 championship season, the Razorbacks have collected 33 top-10 conference performances including top marks from Morris in the pole vault, Scott at 5,000 and 10,000 meters, Williams at 800 meters and Jessica Kamilos in the 3,000-meter steeplechase.
Following the conference meet, the season will conclude at the NCAA West Preliminary on May 28-30 in Austin, Texas, and the NCAA Outdoor Championships on June 10-13 in Eugene, Ore.
For more information on Arkansas track and field including in-meet updates, follow @RazorbackTF on Twitter.