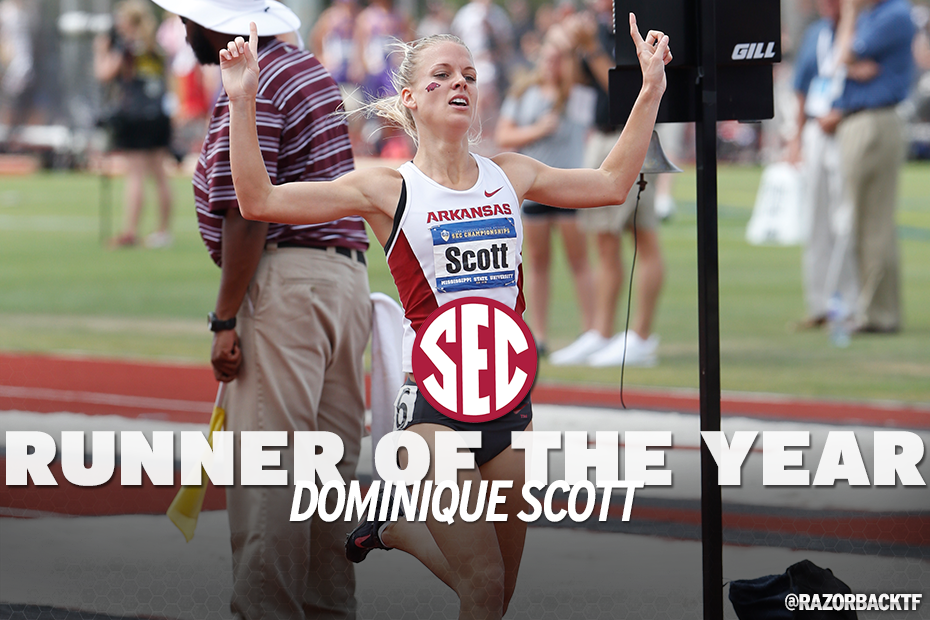 Scott and Harter Earn SEC Accolades
FAYETTEVILLE, Ark. – Following the completion of a regular season capped with an SEC Championship victory, Dominique Scott has been named SEC Runner of the Year while Lance Harter has received the Coach of the Year honor as per the Tuesday release by the conference office.
The duo has combined for a successful 2014-15 academic year earning the top conference honor during the cross country and indoor track and field seasons prior to being recognized this season. At the helm of a determined team, Harter led the Razorbacks to a decisive SEC Championship win, outscoring the runner-up by more than 20 points to secure the program's third SEC Triple Crown. Scott assisted in the team's efforts finishing first in both the 1,500 meters and 5,000 meters for the Razorbacks earning her the Commissioner's Trophy as the meet's high-point (20) scorer.
Scott is the third Razorback in the program history to earn SEC Runner of the Year accolades, joining former top performers Catherine White (2009) and Aneita Denton (2005).  In her last outing at the NCAA West Preliminary, Scott went on to solidify her place at the national championships, earning an automatic bid at 5,000 and 10,000 meters. This is Harter's fifth outdoor and second consecutive honor of his career. Prior to this year and last, Harter was also recognized as SEC Coach of the Year in 2000-01, and 2004.
The program has turned its attention to next week's NCAA Championship in Eugene, Oregon. Scott, a qualifier in two events will be joined by 15 more qualifiers who will assist in its efforts toward the program's second NCAA Championship.
For more information on Arkansas track and field including in-meet updates, follow @RazorbackTF on Twitter.