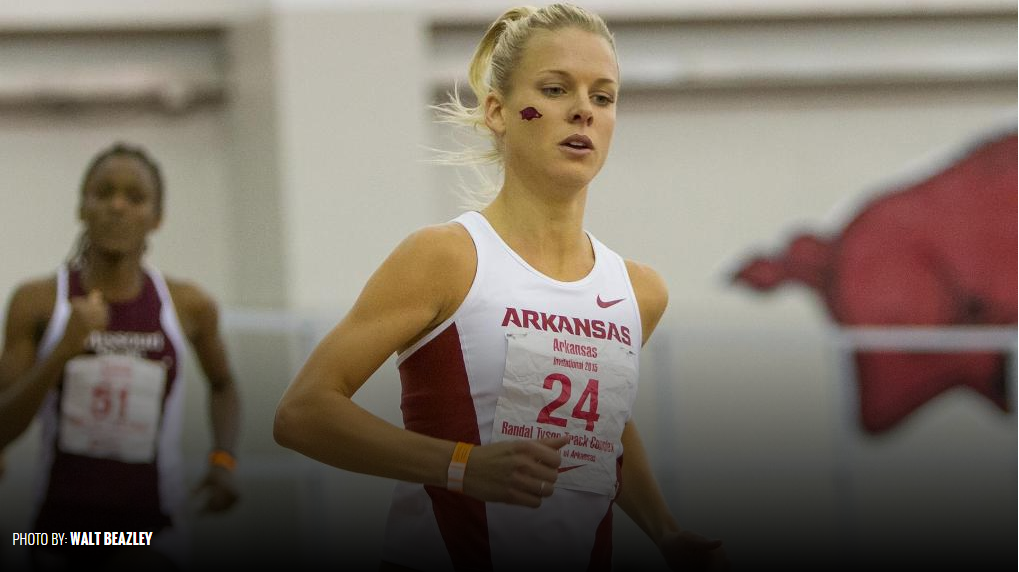 Scott Wins Mile and Sets Records on Final Day of McCravy Memorial
LEXINGTON, Ky. – Senior Dominique Scott won the women's mile as the No. 7 Arkansas women's track and field team finished competition on the final day of the 2015 Rod McCravy Memorial at Nutter Field House.
Kentucky's Rod McCravy Memorial Meet was initially billed as the best track meet anywhere in America all weekend. The level of competition definitely lived up to expectations, as there were 17 meet records and nine Nutter Field House records that went down during the event.
2015 ROD MCCRAVY MEMORIAL

DATE

Friday, Jan. 23, 2015

PARTICIPANTS

No. 1 Florida, No. 3 Oregon, No. 4 Georgia, No. 5 Texas, No. 6 Kentucky, No. 7 Arkansas, No. 9 Florida State, No. 24 Missouri, Ohio State, Baylor, Illinois, Miami, USC, Virginia

VENUE

Nutter Field House | Lexington, Ky.

FINAL RESULTS

Final Results – Day 1 & 2 (PDF)

SOCIAL

Twitter  |  Facebook  |  #TrackCapitalOfTheWorld
Scott wrapped up a solid weekend by winning the mile with a personal-best time of 4:32.48, after helping the Razorback DMR team pick up a win on Friday afternoon. Not only was the Capetown, South Africa native's time a program record, a McCravy Meet record and a Nutter Field House record, but it was also the fastest mile ever ran in the state of Kentucky and is the No. 1 mark in the NCAA and SEC so far this season.
Senior Diane Robison (4:44.47), sophomore Therese Haiss (4:46.52) and senior Shannon Klenke (4:53.69) all set personal-bests in the mile, en route to finishing sixth, eighth and 15th, respectively.
Sophomore Valerie Reina took ninth-place in the 3,000 meters with a career-best time of 9:35.49, while sophomore Regan Ward came in 10th in a personal-best 9:38.13.
The team of senior Sparkle McKnight, senior Chrishuna Williams, junior Taylor Ellis-Watson and sophomore Daina Harper placed second in the 4×400 meter relay with a time of 3:30.50, less than one second behind first-place Florida (3:29.58). The quartet's time is the second fastest time in the NCAA and SEC so far this season.
The Razorbacks will return to the track next weekend when they host a highly talented field in the 2015 Razorback Invitational (Jan. 30-31) at the Randal Tyson Track Center.
For the latest information on Arkansas women's track and field, follow @RazorbackTF on Twitter.
ROD MCCRAVY MEMORIAL – DAY 2
60 Meters (prelims)
33. Tamara Myers – 7.83
47. Aatiyah Henry – 7.99 (PR)
60M Hurdles (prelims)
29. Leigha Brown – 8.86
400 Meters
11. Daina Harper – 54.40
23. Brianna Swinton – 55.74
800 Meters
24. Annika Sisson – 2:15.69 (PR)
26. Holly Hankenson – 2:16.04 (PR)
Mile
1. Dominique Scott – 4:32.48 – (PR, Arkansas Record, McCravy Meet Record, Nutter Field House Record) – *NCAA/SEC leader
6. Diane Robison – 4:44.47 (PR)
8. Therese Haiss – 4:46.52 (PR)
9. Jessica Kamilos – 4:46.72
15. Shannon Klenke – 4:53.69 (PR)
22. Kaitlin Flattmann – 4:58.49
3,000 Meters
9. Valerie Reina – 9:35.49 (PR)
10. Regan Ward – 9:38.13 (PR)
4x400M Relay
2. C. Williams/Harper/Ellis-Watson/McKnight – 3:30.50
15. Swinton/Brooks/Brown/Hankenson – 3:51.45
Shot Put
11. Micah Dennis – 13.72/45-0.25
PR – personal best | * – based on marks entering weekend
Fayetteville, the "Track Capital of the World", will be at the center of the track and field universe on the weekend of March 13-14 as the Razorbacks will host the 2015 NCAA Indoor Track and Field Championships at the Randal Tyson Track Center, the home of the "Fastest Indoor Track in the World". Since the facility's opening in 2000, Arkansas and the Randal Tyson Track Center have hosted the event 11 times, including nine straight seasons and 11 of the last 13 championships.
A two-day, all-session ticket to the NCAA Indoor Championships is $40 for reserved seating and $30 for general admission adult ticket.
Season tickets and NCAA all-session passes are available online at HERE, by contacting the Razorback Athletics Ticket Center via phone at (800) 982-HOGS or in person at the Razorback Athletics Ticket Center, located just east of Baum Stadium at 1295 S. Razorback Rd. in Fayetteville.