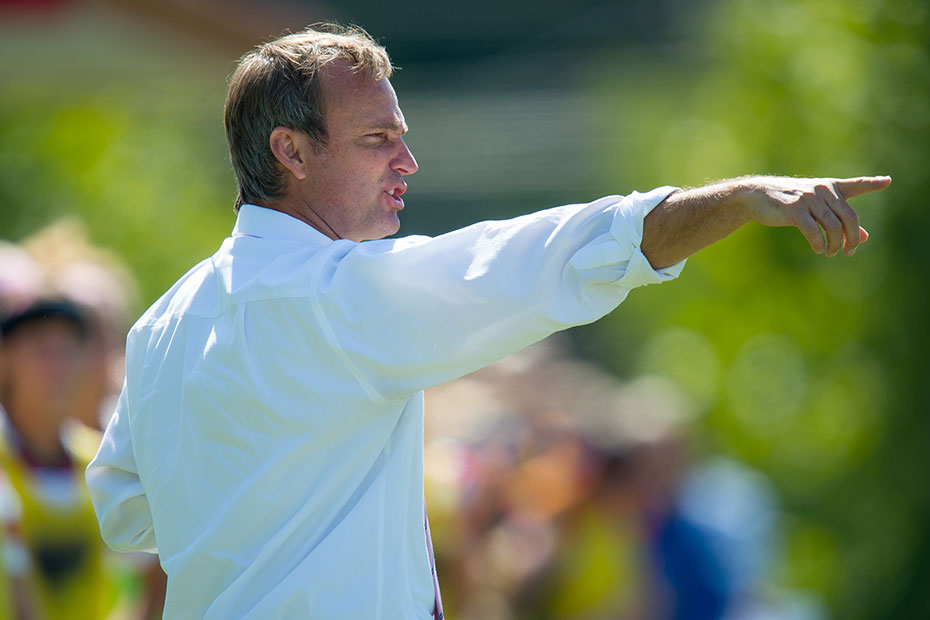 Soccer Opens Preseason Camp Wednesday
FAYETTEVILLE, Ark. – Coming off back-to-back NCAA Tournament appearances, the Arkansas soccer team reports to campus on Tuesday with preseason practice set to start Wednesday morning.
Fourth-year head coach Colby Hale and the Razorbacks will officially start training Wednesday morning and will have eight days of preparation before a pair of road exhibition matches.
The Razorbacks will travel to Oral Roberts on Thursday, Aug. 13, before making their way to Kansas City to take on Missouri. Both preseason tune-up are slated to start at 7 p.m.
"This group has a lot to prove," said Hale. "We have a new team, new identity and really like some of the personalities on and off the field. I'm really excited to see it all come together. We have some new wrinkles we think we'll be capable of adding in."
The Razorbacks will open the regular season on Friday, Aug. 21, welcoming Stephen F. Austin to town for a 7 p.m. start in Fayetteville. Arkansas' 2015 schedule includes three matches against teams that finished in the top 10 of the final RPI last year and six teams ranked in the newly released NSCAA Preseason Top 25 Poll.
Hale became the first Arkansas head coach in program history to lead the Razorbacks to the NCAA Tournament, advancing to the Sweet 16 in 2013 and the round of 32 during the 2014 campaign. The Razorbacks are coming off back-to-back winning seasons for the first time since 2009.
Just 13 wins shy of becoming the all-time wins leader in school history, Hale returns 74-percent of his point production from a year ago, including seven of his top eight goal scorers. The defense posted six shutouts last season and allowed just 1.18 goals per contest.
Coming up first for Arkansas is an intrasquad scrimmage on Thursday, Aug. 6 at 7 p.m. at Razorbacks Field.
Key Preseason Dates
Intrasquad scrimmage: Thursday, Aug. 6 at 7 p.m.
Exhibition at Oral Roberts: Thursday, Aug. 13 at 7 p.m.
Exhibition in Kansas City vs Missouri: Saturday, Aug. 15 at 7 p.m.
For more information on Razorback Soccer during the preseason follow @RazorbackSoccer on Twitter.