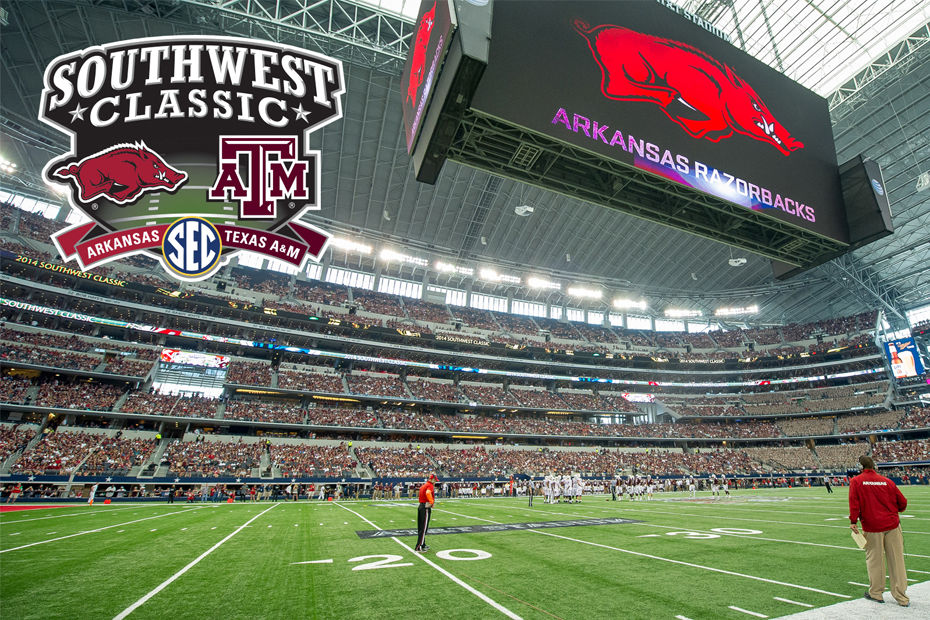 Southwest Classic Tickets Now On Sale
FAYETTEVILLE, Ark. – Tickets to the 2015 Southwest Classic are now on sale, the University of Arkansas announced Wednesday. The Southwest Classic is the annual football rivalry played between Arkansas and Texas A&M.
The 2015 Southwest Classic will take place on Saturday, Sept. 26 at AT&T Stadium in Arlington, Texas. Tickets for the contest start at $85. Ticket orders will be accepted through June 30. Seats will be allocated based on Razorback Foundation guidelines after the June 30 priority order deadline.
For more information and to place your order, please visit bit.ly/SouthwestClassicTix. Fans may also call the Razorback Ticket Center at 800-982-4647. To learn more about the Razorback Foundation and how you can impact the lives of more than 460 student-athletes, visit www.razorbackfoundation.com or call 877-436-0013.
Season ticket orders are now being accepted for the 2015 season at ArkansasRazorbacks.com. The 2015 home schedule includes six games in Fayetteville, four against opponents that played in bowl games last season – UTEP, Auburn, Mississippi State and Missouri. Arkansas will also take on Toledo at War Memorial Stadium in Little Rock.
For more information on Arkansas Football, follow @RazorbackFB on Twitter.