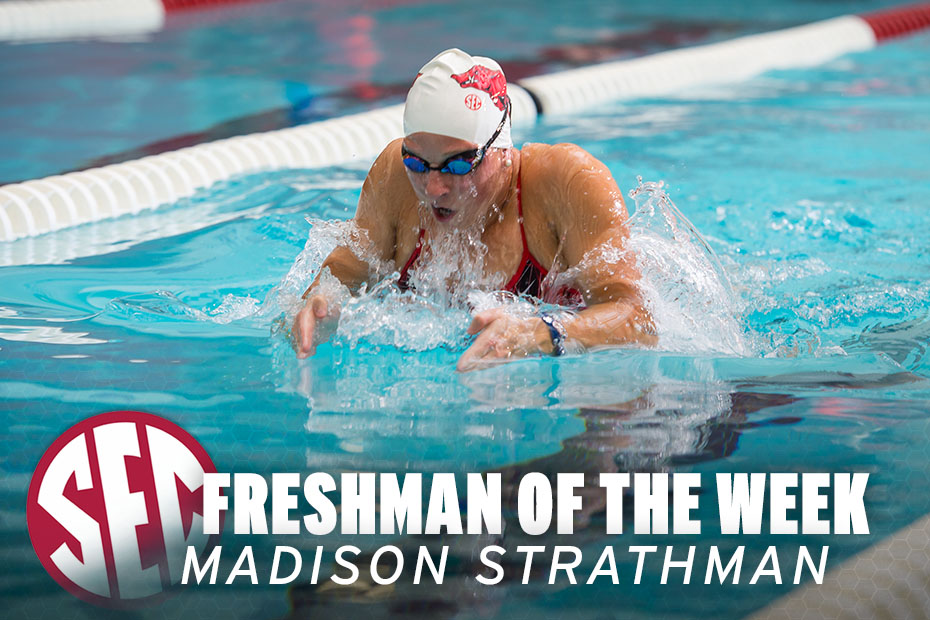 Strathman Races to SEC Freshman of the Week
FAYETTEVILLE, Ark.- University of Arkansas freshman Madison Strathman has been selected as the Southeastern Conference Female Freshman of the Week for the second time this season.
The Kearney, Mo. native, Strathman competed at the 2015 AT&T Winter National Championships in Federal Way, Washington on Dec. 3-5th. Her performances landed her the SEC award for the second time. She was awarded SEC Freshman of the Week on Oct. 27th.
"Every time Madison has an opportunity to perform, she steps up. She maximizes all of her opportunities and has had a life time best time in almost every race this fall." Head coach Sean Schimmel said.
Strathman finished first in her heat for the 100 breaststroke to advance to the bonus finals. In prelims, she went a 1:10.63 and went under the Olympic Trial cut. In the finals, she went a time of 1:10.43. She also competed in the 200 breaststroke time trials and was under the Olympic Trials cut with a time of 2:34.77.
"Madison has done a great job this fall. She is extremely competitive and driven and has definitely earned this honor." Schimmel said.
UP NEXT
Dec. 29- Jan. 4- Puerto Rico Training Trip
Jan. 15- at Auburn
For more information on Arkansas swimming and diving, follow @RazorbackSD on Twitter.