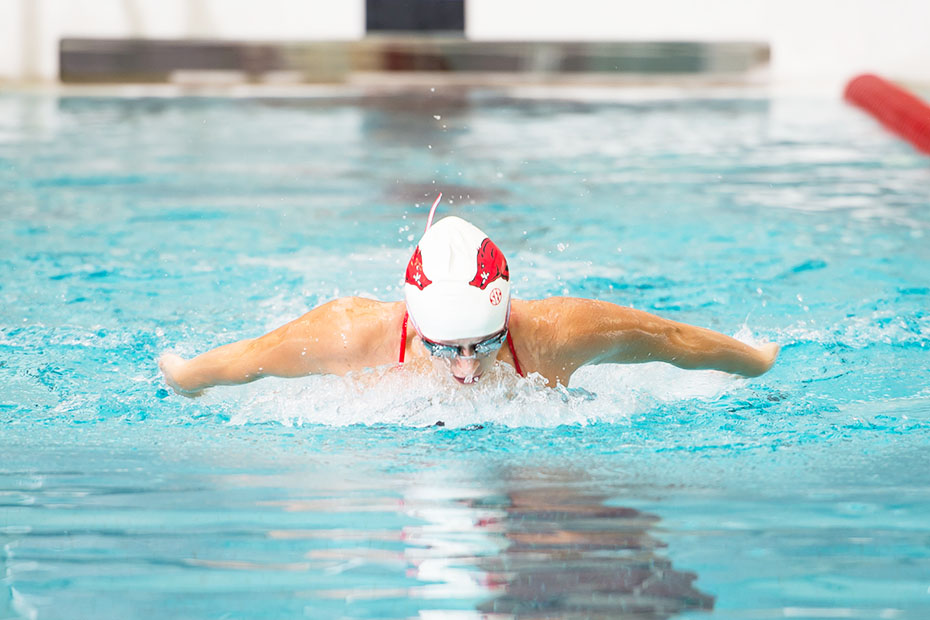 Strong Start For Razorbacks At GT Invitational
ATLANTA, Georgia- The University of Arkansas swimming and diving team leads the competition after day one of the Georgia Tech Invitational. The three day meet is being held at the McAuley Aquatic Center Nov. 19th-21st.
After day one, Arkansas leads with 338 points, followed by FGCU with 263 points, Alabama with 258 points and South Carolina with 253 points.
The field consists of Alabama, Arkansas, Campbell, Carson-Newman, Florida Atlantic, Florida Gulf Coast, Georgia Southern, Indian River CC, UNLV, UNC Asheville and South Carolina along with Georgia Tech.
Nina Drolc, Natalie Burnett, Maddie Monroe, and Anna Mayfield started the evening finishing second in the 200 freestyle relay with a time 1:30.93. Mayfield bounced back after the relay and dropped eight seconds off her 500 freestyle season best time and finished first in the event with a time 4:42.56. Aiden Lister finished third in the event (4:46.57) and Rachel Stoehr in sixth (4:51.37). Stoehr and Lister both had season best times. Freshman Annah Carney competed in the B Finals for the 500 free (4:58.29) and finished 19th, scoring two points for the Razorbacks.
In the 200 IM, Chelsea Tatlow shed five seconds off her season best time (1:59.07) and finished second in the event. Chloe Hannam placed fourth (2:00.43) and Mary Margaret Soderberg finished seventh (2:01.19).  Sydney Angell and Jessie Garrison competed in the B Finals of the 200 IM. Angell finished 15th (2:02.68) and Garrison finished 18th (2:03.20). Arkansas finished third, fourth and fifth in the 50 free. Monroe in third (22.83), Drolc finished fourth (22.95) and Burnett in fifth (23.02). The Razorbacks scored a total of 63 points in the 50 free.
Mayfield, Strathman, Burnett, and Monroe finished day one of the Georgia Tech Invitational finishing third in the 400 medley relay with a time 3:38.33.
"We had a strong first day with very determined performances." Head coach Sean Schimmel said. "We had numerous life time best times and we are looking to come into session three and be better than we were yesterday."
DIVING:
The Razorback divers had a great first day of competition in the one meter diving. In the finals sophomore Nicole Gillis finished fourth (293.10) and senior Hannah Bortnick finished seventh (283.10). Senior Shelby Barlett finished 14th and freshman Marissa Green finished 42nd.
Bortnick had a great performance with her first time ever to make a finals event. She also improved her prelims score in the finals.
"Shelby, Hannah and Nicole all had a solid day." Diving coach Jeff DiNicola said. "Nicole was very consistent all day long. Her fourth place finish was a great finish."
Tomorrow the Razorbacks divers will compete in the three meter event.
VIDEO STREAMING:
THURSDAY PRELIMS | THURSDAY FINALS
FRIDAY PRELIMS | FRIDAY FINALS
SATURDAY PRELIMS | SATURDAY FINALS
SCHEDULE OF EVENTS:
Friday, November 20th
(Prelims 10 a.m. – Finals 6 p.m.)
200 Medley Relay
400 IM
100 Fly
200 Free
100 Breast
100 Back
3-Meter Diving
800 Free Relay
Saturday, November 21st
(Prelims 10 a.m. – Finals 6 p.m.)
1650 Free
200 Back
100 Free
200 Breast
200 Fly
Platform Diving
400 Free Relay
UP NEXT:
Arkansas will compete in the LC Time Trials in Atlanta, Georgia on Sunday, Nov. 22. The team will then head to Seattle, Washington from Dec. 3-5 for the US Winter LC Swim Nationals.
For more information on Arkansas swimming and diving, follow @RazorbackSD on Twitter.