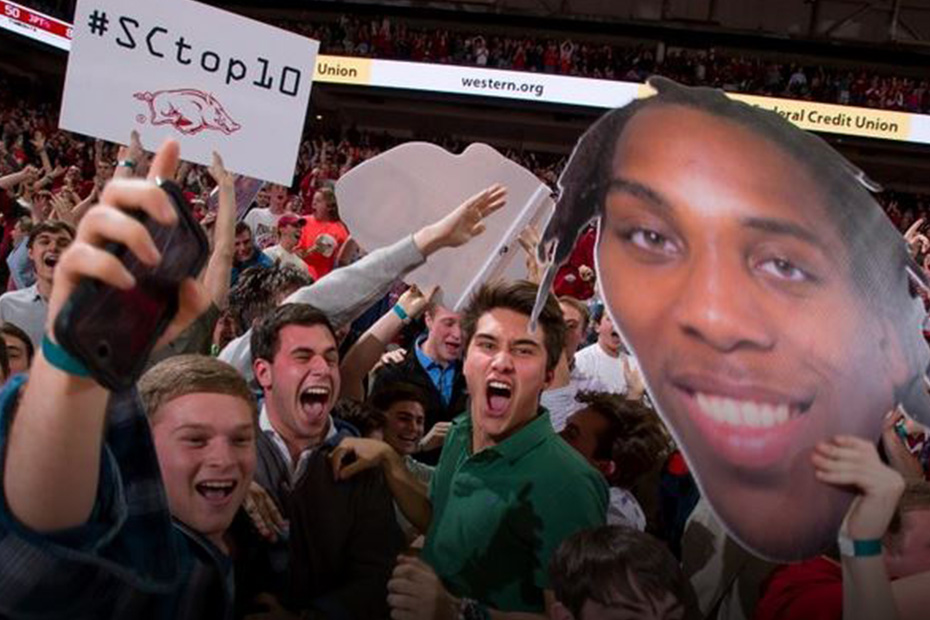 Student Attendance Challenge Set For ESPN Super Tuesday
FAYETTEVILLE, Ark. – ESPN Super Tuesday is returning to Bud Walton Arena next week and the Arkansas Athletics Department in rolling out its first Student Attendance Challenge for the No. 18/17 men's basketball team's home showdown with Texas A&M at Bud Walton Arena on Feb. 24.
The student attendance record of 4,347 was set last year on ESPN Super Tuesday when the Razorbacks defeated No. 13 Kentucky on a put-back dunk by Michael Qualls with 0.4 seconds left in overtime. The student attendance challenge goal for this Tuesday is 4,500.
The student entrance located on the east side of Bud Walton Arena will open at 6:30 p.m. for the 8 p.m. tip, while the Collegiate Foundation member line will begin at 6:15 p.m. Food will be provided by Pizza Hut and will be given to students waiting outside to get into Bud Walton Arena.
Access-Pass holders will also have the opportunity to participate in a sign contest as part of this unique student-centered promotion. Students are encouraged to make a funny and noticeable sign with the winner getting $250 and video board recognition during the game. Posters must be no larger than 22×28 with no vulgar or otherwise inappropriate messaging. Signs will be approved at the student entrance on game day. Marketing reserves the right to prohibit a sign that doesn't meet the specific standards.
Currently No. 18 in the Associated Press Top 25, Arkansas is in sole possession of second place in the SEC at 10-3 and its five straights wins has its overall record at 21-5. The Razorbacks, who are 4-2 on the road in SEC play, are on the road Saturday at Mississippi State at 3 p.m. CT on Fox Sports South.