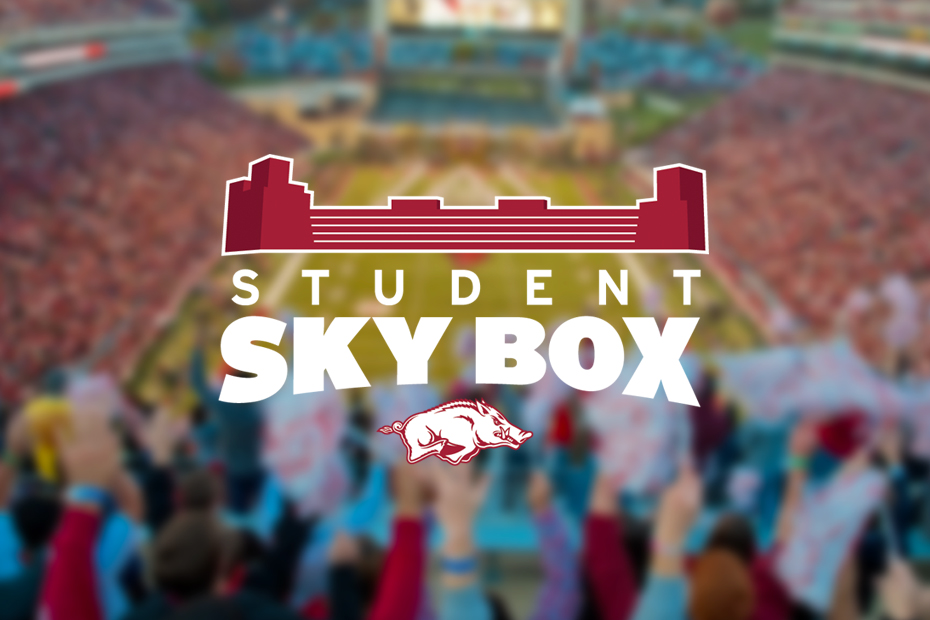 Student Skyboxes Available For Razorback Football
FAYETTEVILLE, Ark. – The University of Arkansas Athletics Department begins its second season offering Student Skyboxes on the upper South End Zone area at the Donald W. Reynold Razorback Stadium.
After a successful launch of the program last year, student groups will again be able to reserve one of four available Student Skyboxes. Each skybox will include a reserved area with a tent, carpeted flooring, lounge furniture, two big screen TVs and a full sports-oriented cable package. In addition, a section of bench seating will be reserved exclusively for Skybox holders.
Last year, the Arkansas Student Government approached Razorback Athletics, asking for a defined space to congregate, especially during Homecoming and Family Weekend when they host alumni and parents. That request led to the creation of the Student Skybox area.
Each skybox will accommodate up to 150 students. The Student Skyboxes will only be available for rental by officially registered University of Arkansas student organizations. Multiple student organizations may team up to purchase skyboxes. An online registration system will allow student organization contacts to request the game(s) of their choice.
"ASG is proud to promote the continuation of the Student Skyboxes for all Razorback student organizations," said Associated Student Government President Connor Flocks said. "Whether students prefer to Call the Hogs from the front row or kick back on a couch, Razorback Stadium is the place to be. With the home schedule of a lifetime just weeks away, the best game day experience in the SEC just keeps getting better."
Arkansas hosts six games at Donald W. Reynolds Razorback Stadium this season, including Louisiana Tech (Sept. 3), Texas State (Sept. 17), Alabama (Oct. 8), Ole Miss (Oct. 15), Florida (Nov. 5) and LSU (Nov. 12).
Registration for the Student Skyboxes will begin on Monday, Aug. 15. Skyboxes are limited and reservations will fill up quickly. Contact the Razorback Marketing Office at 479-575-6055 for more information.