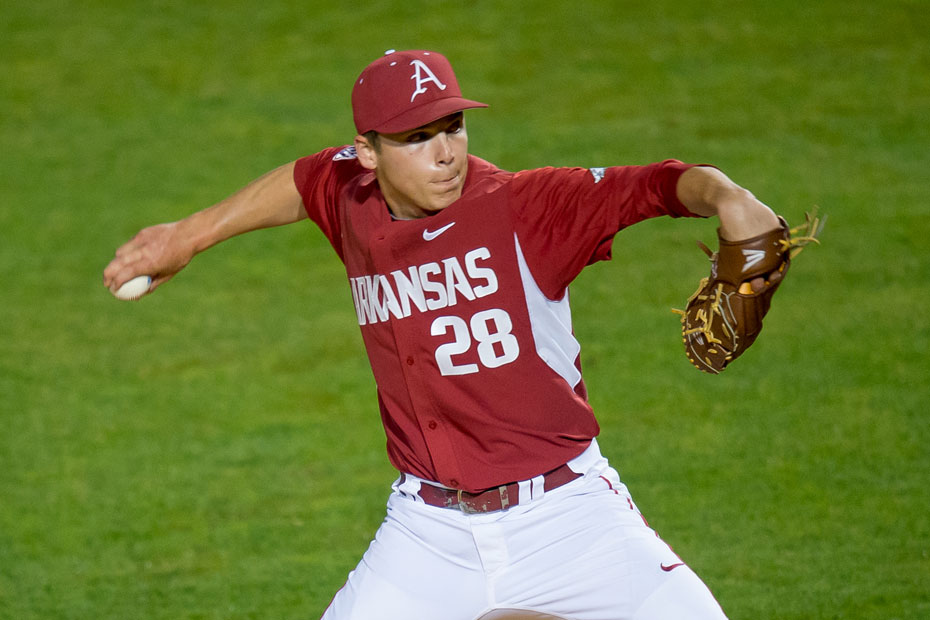 Teague Signs With Baltimore Orioles
FAYETTEVILLE, Ark. – Arkansas junior pitcher James Teague announced Tuesday that he has officially signed with the Baltimore Orioles after being selected in the 37th round of the MLB Draft last week.
"The last three years have far exceeded my childhood dreams of one day playing as a Razorback," Teague said. "I could not be more grateful for all the support from my girlfriend, friends and family along with the coaching staff for believing in me along the way. I have decided to continue my career with the Baltimore Orioles as I am very excited and grateful for the opportunity they have given me to fulfill another dream of playing professional baseball. Here at Arkansas, we truly do have the greatest fans in the world and it has been a privilege to represent this state and such an amazing program. As always, Wooo Pig!"
From Bartlesville, Oklahoma, Teague was one of Arkansas' go-to pitchers during the last three seasons. Last year, in the Razorbacks' run to Omaha, he won six games in 23 appearances and did not allow an earned run in five of his final seven appearances.
He also earned the victory in Arkansas' NCAA Regional Championship over St. John's last season, throwing 1 2/3 innings of relief and not allowing a hit. Working in both of the team's NCAA Super Regional wins over Missouri State, Teague added four innings without allowing a run in the clinching victory.
During his three-year Razorback career, Teague compiled a 4.58 ERA to go along with 10 wins and 90 strikeouts over 106 innings. He's held opponents to a .266 batting average over the 49 games he's pitched since 2014.
For more information on Razorback Baseball, follow @RazorbackBSB on Twitter.